Po-tay-to, po-tah-to: Either way, it's healthier than you think
Despite potatoes' bad rap due to a prejudice against carbs, a recent study found that potatoes are actually equal to beans and peas in terms of health benefits. And while not advising you to eat more extra salty french fries, LSU's Pennington Biomedical Research Center reports that eating less meat and more potatoes can actually reduce your overall calorie intake.
"We demonstrated that contrary to common belief, potatoes do not negatively impact blood glucose levels. In fact, the individuals who participated in our study lost weight," says Candida Rebello, co-investigator and registered dietician at Pennington.
"People tend to eat the same weight of food regardless of calorie content in order to feel full," Rebello continues. "By eating foods with a heavier weight that are low in calories, you can easily reduce the number of calories you consume."
The participants' portion sizes were not reduced, but the caloric content was lowered by replacing a portion of the meat with another type of food. Their diets were high in fruit and vegetable content, for example, but about 40% of their typical meat consumption was substituted with either beans and peas or potatoes.
This confirms previous research that eating less meat and more plant food is beneficial to your health. According to the study, "Participants found themselves getting fuller, quicker, and often did not even finish their meal. In effect, you can lose weight with little effort."
Eating less meat is easier said than done, but starting small is still a start. Try cutting out meat just one day a week with "meatless Monday," and check out the two recipes below. Although they both contain meat, you'll be reducing calories by increasing potatoes. Both recipes were given to participants of LSU's Pennington PREMO study in 2020.
---
Find more food and drink recipes @inregister.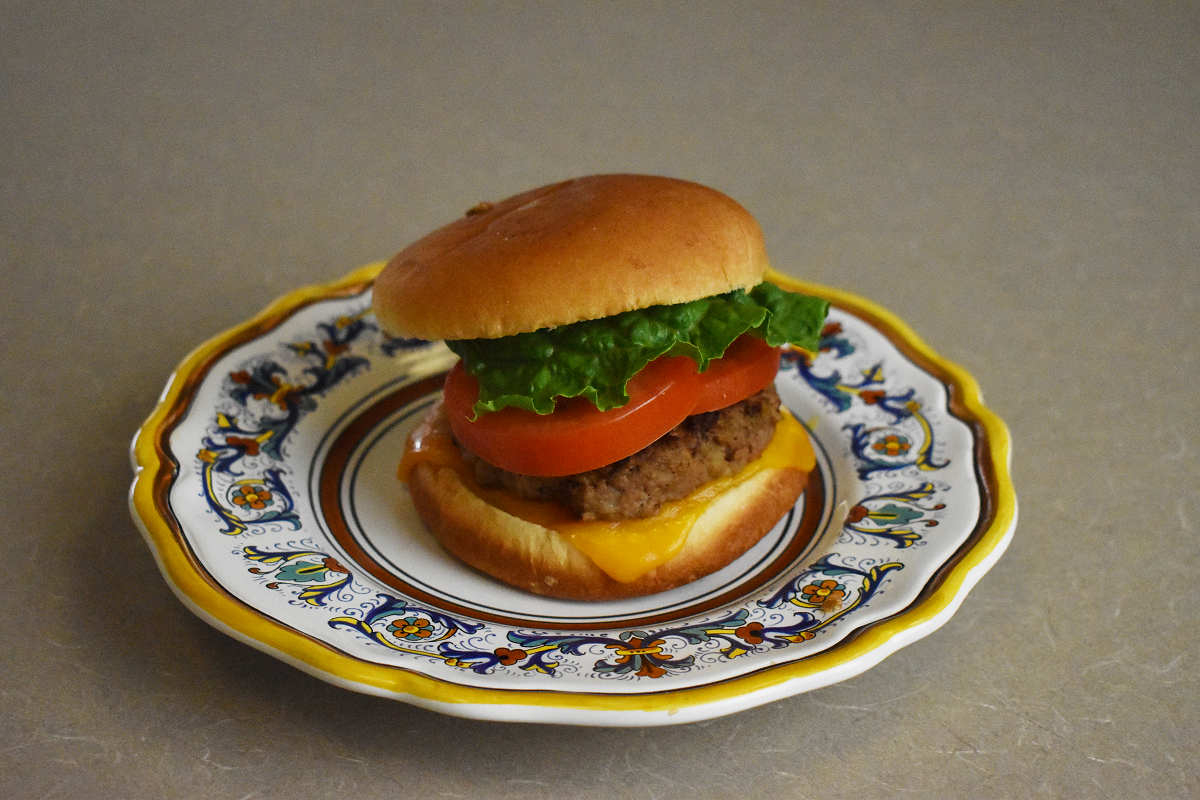 POTATO AND BEEF CAJUN BURGER
1 lb. lean ground beef (90/10), raw
1 large potato with skin, cooked, cooled, and mashed
1/2 cup chopped onion
1 large egg
1/2 Tbsp. Worcestershire sauce
1/2 tsp. salt
1/4 tsp. black pepper
1/4 tsp. garlic powder
1/4 tsp. lemon pepper
Cajun seasoning to taste (see recipe below or use your favorite store-bought version)
Olive oil for the pan
Gently mix together all ingredients except Cajun seasoning and olive oil. Once ingredients are well combined, form into 8 patties about 3/4 inch thick. Sprinkle patties on both sides with Cajun seasoning mix. Add 1 to 2 Tbsp. olive oil to a frying pan and set over medium heat. Gently place patties into pan and cook for about 4 minutes. Flip patties and continue cooking on the other side for 4 more minutes or until cooked through. Serve on whole wheat buns or in lettuce wraps.
Makes 8 servings.
Nutrition info per serving: 155 calories | 8g fat | 3g saturated fat | 7g carbohydrate | 1g fiber | 13g protein
Cajun Seasoning Blend:
2 tsp. salt
2 tsp. garlic powder
1 tsp. parsley flakes
1 tsp. black pepper
1 tsp. paprika
1 tsp. onion powder
1 tsp. celery seed
½ tsp. cayenne pepper
In a small bowl, mix together all ingredients.
Makes about 3 Tbsp. seasoning blend.
---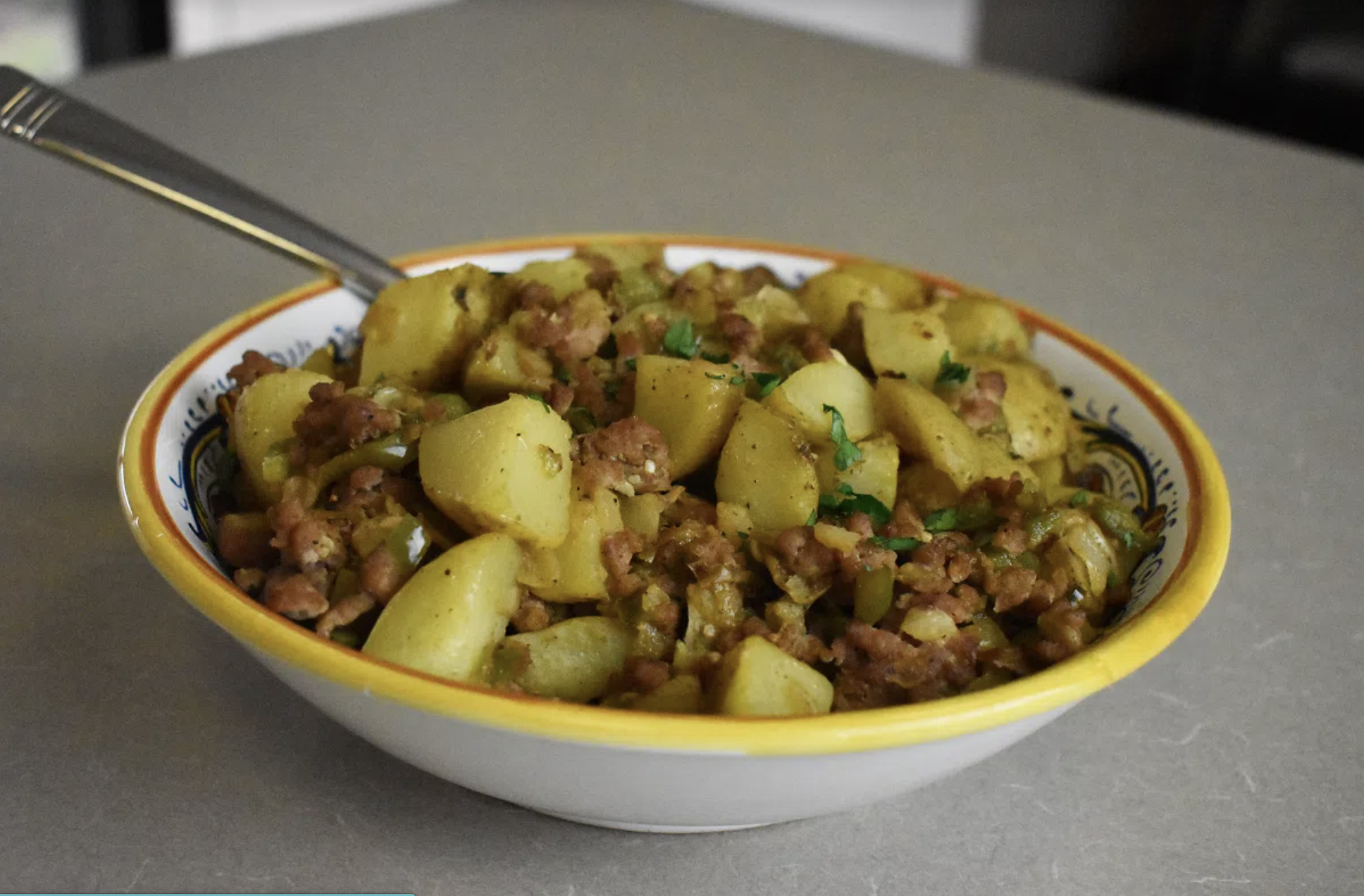 CHICKEN POTATO HASH
1 lb. ground chicken, raw
3 Tbsp. olive oil
2 Tbsp. butter
1 cup diced onion
1 large bell pepper, diced
4 cloves garlic, minced
1/2  tsp. salt
1/4 tsp. black pepper
1/2 tsp. garlic powder
1/4 tsp. lemon pepper
1/4 tsp. dried thyme
1/4 tsp. paprika
1 large potato with skin, cooked, cooled, and diced
1/4 cup chicken broth
Set a skillet over medium heat. Add chicken to skillet and cook until no longer pink. Once cooked through, remove chicken from skillet and set aside.
Set skillet over medium heat again, and add olive oil and butter. Add onions and bell pepper to skillet, and sauté until soft, about 5 minutes. Add minced garlic to pan and continue to sauté for a few more seconds or until fragrant. Add cooked chicken back to pan, along with seasonings. Mix everything and let cook for about 2 minutes, then mix in diced potato and continue cooking for 2 more minutes. Finally, stir in chicken broth and cook for 1 or 2 more minutes, until thickened.
Makes 6 servings.
Nutrition info per serving: 300 calories | 20g fat | 6g saturated fat | 16g carbohydrate | 3g dietary fiber | 16g protein