Dishes served at friendly feasts form a delicious scrapbook for revisiting
As Thanksgiving approaches, I reflect on every one of these special Thursdays shared with family and friends. I can count on a single hand how many Thanksgiving feasts I have had outside of my family's Florida home, and this year I will count on two fingers how many times I've hosted this special occasion, both times here at my home in Baton Rouge.
I think about my mom's always-perfect turkey, roasted mahogany brown with dark gravy to accompany, along with the treasured side dishes and her famous rolls, and wonder how she consistently fed a dozen or more people year after year, always with a smile and room at the table for one or six more. There were the years when my brother-in-law from Japan brought his signature sculpted sushi for the masses, complete with wasabi art, and the sushi starter became a tradition for us.
Having just attended the current exhibition at the Southern Food & Beverage Museum (SoFAB) in New Orleans, titled "Documenting Dinner," I wish I could turn back the clock and revisit every menu and guest list of all those Thanksgiving feasts. Artful menus adorn the lilac walls at the back of the museum, listing each dish in beautiful penmanship or calligraphy, along with a hand-painted accent.
I contacted the two artist friends at the center of the exhibit to learn more and expand my recipe collection. The story goes that roughly 40 years ago, Susan Henning invited new-to-New Orleans couple Pam and Steve Fritch for dinner and the cooking and dining friendship was forever forged. Their archives are impressive with all the menus on display. They all seem to start with nibbles and bubbles. I'll follow suit. Each menu is also signed by all the dinner guests and given as a keepsake after the closing toasts and the dessert forks make their final clink on the plates.
After perusing each menu, I whittled down the many tempting offerings and asked for four recipes. They generously indulged my request, and I am thrilled to share the dishes that will fill my table.
As the souvenir booklet from SoFAB states: "The menus serve as a documentation of the joys of enduring friendship." It's not too late for me to start documenting. Though the menu and guest list might fluctuate, a few essentials remain: my mother-in-law's soup tureen, my dad's Dartmouth plates, the clamshell bowl my mom made, and friends' pottery creations. They all make the table feel like my Florida home. This year and every year, it's all about celebrating gratitude and making memories with family and friends.
---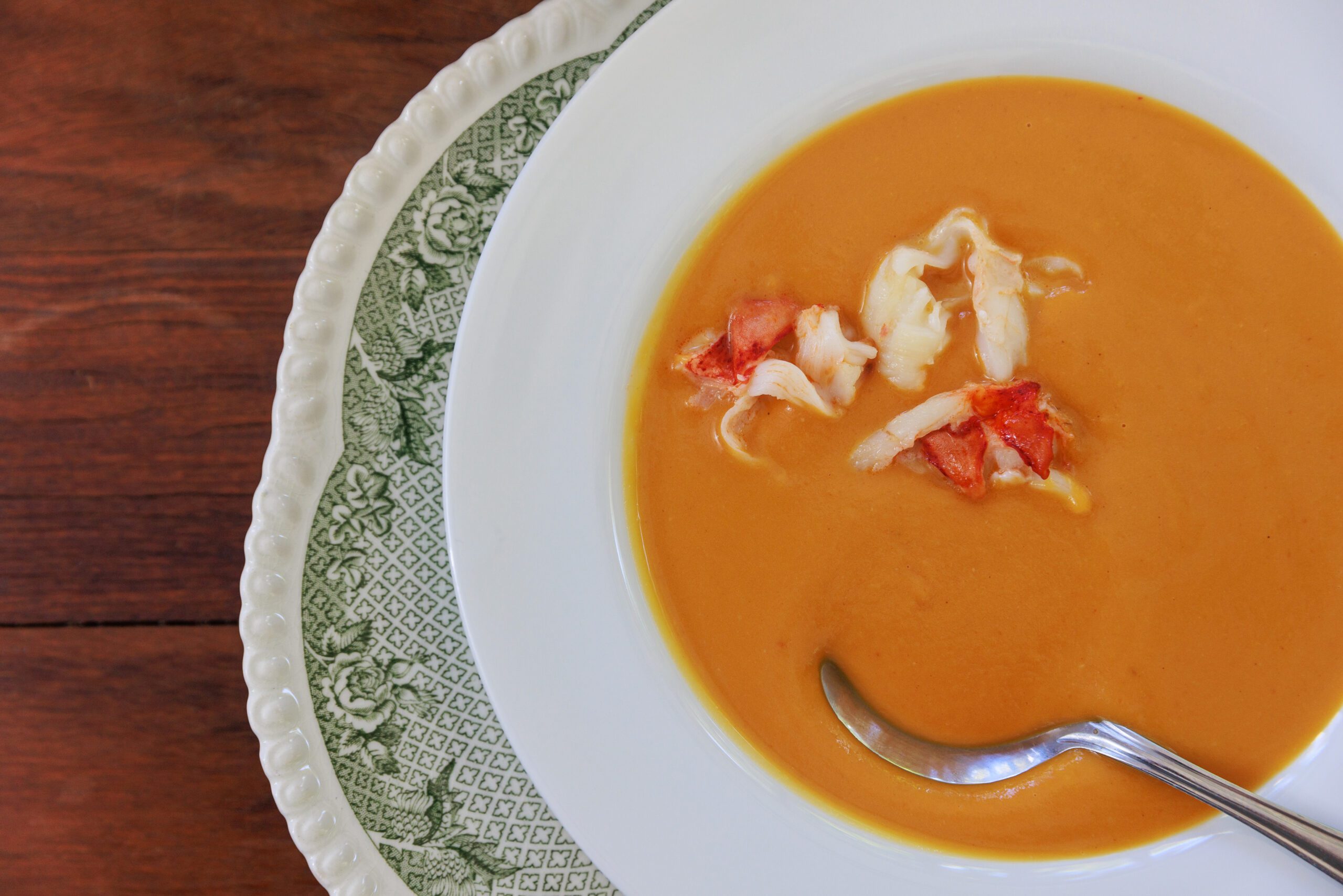 Susan's Butternut Squash Lobster Bisque
Susan shares a recipe inspired by New Orleans Chef Frank Brigtsen, to which she has added her signature touches. Lobster makes it luxurious and homemade shellfish stock is a nice touch. I'll also try it with shrimp or crawfish.
Ingredients:
2 Tbsp. butter or extra virgin olive oil
1 medium yellow onion, chopped
2 cloves garlic, minced or crushed
1 bay leaf
1 butternut squash, peeled, seeds removed, cut into
½

-in. dice (Susan buys the squash already cut up, fresh or frozen)
2 to 3 lobster tails in shells
1 tsp. salt
¼

tsp. cayenne (or more to taste)
1

⁄

8

tsp. white pepper
Optional Sriracha or other hot sauce to taste
1
½

cups (or more) shellfish stock*
½

cup (or to taste) half and half or unsweetened almond cream
Instructions:
Remove lobster meat from tails and reserve shells for stock. (Poach lobster tails in boiling water for 3 minutes if raw lobster meat cannot easily be removed from the shells.) Dice and refrigerate lobster meat until ready to serve.
Prepare Shellfish Stock* and reserve.
Heat butter or oil in a stockpot over medium heat. Add onions and bay leaf and cook, stirring occasionally, until onions become soft and
 

clear.
Add garlic and butternut squash. Cook mixture, stirring occasionally, until squash begins to soften. Turn heat to low, and add stock*, salt, cayenne, and white pepper. Cook, stirring occasionally to scrape any bits from the bottom of the pan.
Remove bay leaf and discard. Transfer squash mixture to a blender and puree, or blend in the pot with an immersion blender. Add more stock as needed to create a very loose, but not too thin purée. (At this point, soup may be cooled and refrigerated for 3 days, or frozen for a month, for later use).
Just before serving, heat soup in a saucepan and add diced raw or lightly poached lobster; some poached lobster may be reserved to place on top of soup. Whisk in cream to taste to achieve desired consistency. Bring to a gentle boil, then reduce heat to a simmer for a few minutes until the bisque is heated through. Taste and adjust salt and pepper. Serve in pre-warmed bowls.
Makes 6 servings.
---
Shellfish Stock
Ingredients:
2 to 3 lobster shells (and/or shrimp heads and shells)
1 small onion, coarsely chopped
1 carrot, coarsely chopped
Garlic cloves, peeled (chef's choice quantity)
1 Tbsp. tomato paste (or 2 Tbsp. tomato powder)
½

cup cognac or brandy
Instructions:
Place reserved lobster shells into a saucepan. Add onion, garlic cloves and carrot. Stir in tomato paste or tomato powder. Heat mixture on high and stir until shells start to brown and stick to bottom of pan. Remove pan from heat and deglaze with cognac or brandy.
Return pan to heat and reduce slightly to burn off raw alcohol taste. Add water to cover shells and vegetables by about one inch. Bring to a boil, reduce to a simmer for about 45 minutes or until carrots are soft. Cool slightly then strain liquid pressing on shells and vegetables to release juices. Cool stock to room temperature and refrigerate up to 3 days or freeze for later.
Note: I usually season with salt and pepper when I use the stock so that I can control the seasoning a little better based on the level of salt and pepper in the dish.
---
Brussels Sprouts Cacio e Pepé
This one caught my eye immediately. Anything given the cacio-e-pepe treatment is delicious. I've gotten non-believers to say, "More please" to Brussels sprouts done this way.
Recipe courtesy of Susan Henning.
Ingredients:
1 lb. Brussels sprouts, ends trimmed and cut in half through the stem
2 Tbsp. extra virgin olive oil
1½ tsp. freshly ground black pepper, divided use
1 tsp. kosher salt, divided use
Shaved Parmigiano Reggiano cheese (chef's choice quantity)
Grated zest of 1 lemon
1

⁄

3

cup toasted pecans, finely chopped
Instructions:
Preheat oven to 375 degrees.
Toss sprouts and remnant leaves in olive oil,
½

tsp. salt, and

½

tsp. black pepper.
Place sprouts cut side down on a parchment or Silpat-lined baking sheet and roast in the oven for about 30 minutes. Check after 15 minutes and flip when sprouts are browned and crisp on the bottom. Remove any individual browned leaves to keep from burning (these make an excellent snack for the cook or transfer them to a serving bowl). Continue to roast until sprouts are golden and crisp on the outside. Transfer to a serving bowl and toss with shaved Parmesan cheese, lemon zest, pecans, and remaining salt and pepper.
Makes 4-6 servings.
---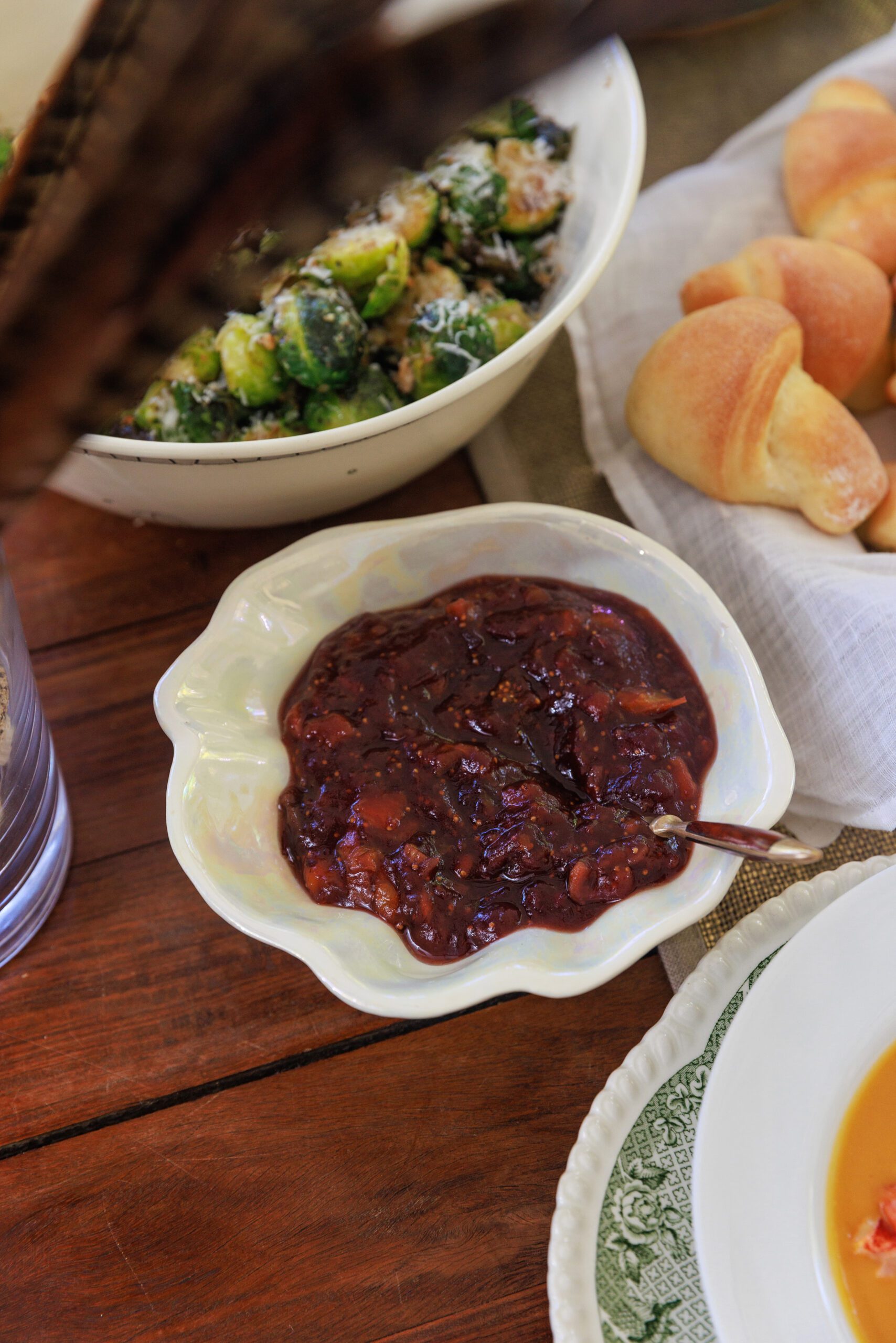 Cranberry-Fig Chutney
In a pinch, I made a half batch with a can of whole berry sauce, and it was a hit. When time is tight and cranberries are out of sight, I recommend this shortcut.
Original recipe courtesy of Pam Fritch.
Ingredients:
2 12-ounce bags of cranberries (about 9 cups)
1
½

cups sugar
2 medium oranges, unpeeled, chopped and seeded
1 Tbsp. grated onion
½

 

cup raisins
8 dried figs, chopped
3 Tbsp. peeled, finely chopped fresh ginger
1 tsp. salt
1 tsp. cinnamon
¼

to

½

tsp. cayenne pepper
1 tsp. dry mustard
Instructions:
Cook all ingredients in a large non-aluminum saucepan over medium-low heat, stirring until sugar dissolves.
Increase heat and boil until cranberries pop, about
3 minutes.
Let cool, then refrigerate until serving time. Extras can be frozen in small storage containers or jarred and processed for canning. Pam jars up the extras for hostess gifts. Susan shared, "happily, she supplies me with a jar of her latest version every year."
Makes about 6 cups.
---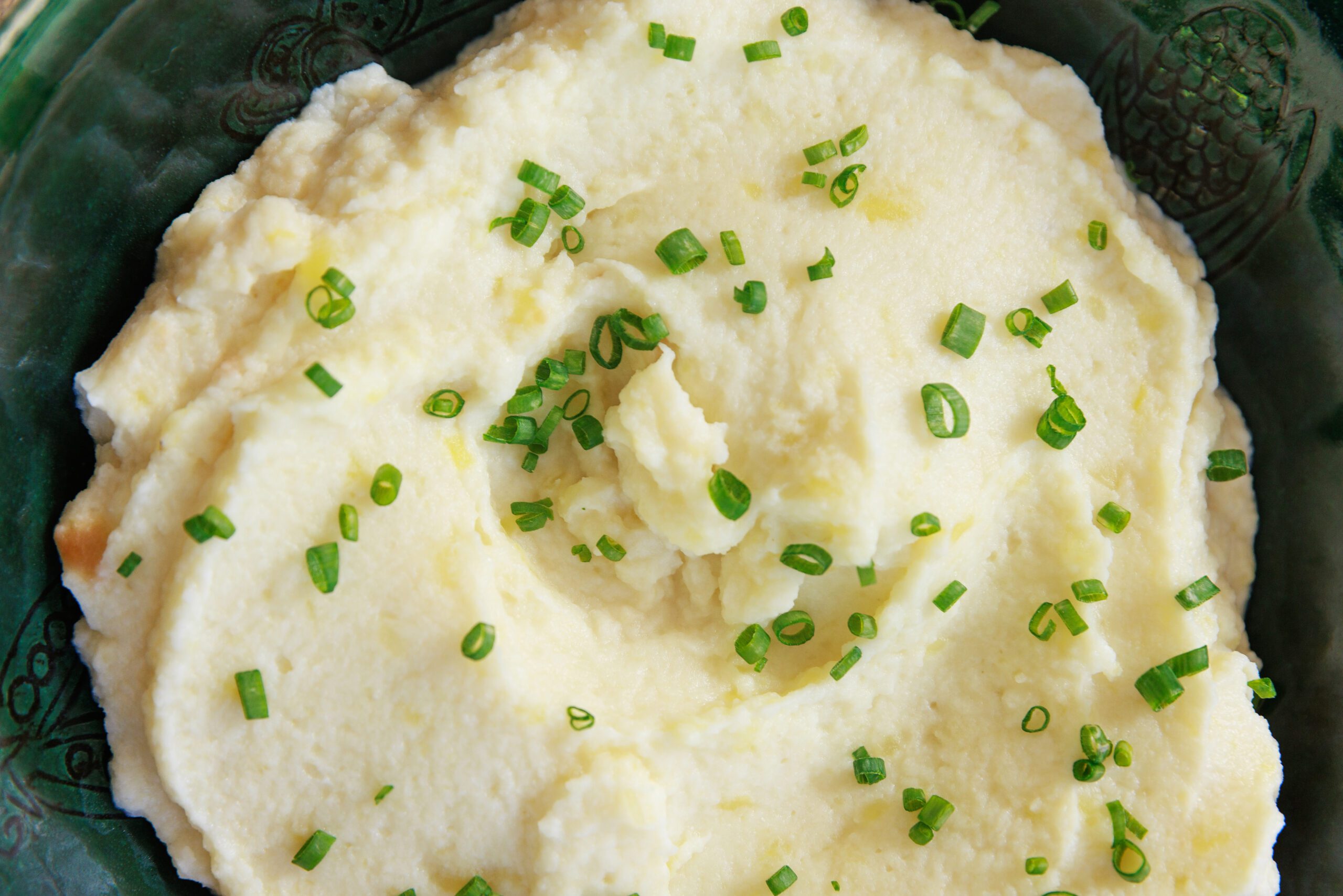 Garlic Cauliflower Mashed Potatoes
A lighter and luscious version of mashed potatoes.
Recipe courtesy of Susan Henning
Ingredients:
1 head of cauliflower, stem removed and cut into florets
1 medium or 2 small Yukon Gold potatoes
6 cloves garlic, peeled
2 tsp. kosher salt divided use
Freshly ground pepper to taste
2 to 3 Tbsp. Greek yogurt or sour cream
2 to 3 Tbsp. extra virgin olive oil or softened butter
Small bunch of chives for garnish
Instructions:
Place cauliflower florets, whole potatoes, garlic and 1 tsp. salt in a pot. Cover vegetables with cold water (or optional chicken or vegetable stock) by 1 to 2 inches, and bring to a boil. Reduce to a simmer, cover and cook until cauliflower is tender when pierced with a knife, about 15 minutes. Remove cauliflower florets with a slotted spoon or 'spider' and place cauliflower into a food processor with the yogurt or sour cream and pulse until smooth.
Continue to cook potatoes and garlic until potatoes are fully cooked and easily pierced with a knife, about 15 more minutes. Drain liquid from the pan and allow potatoes to cool slightly before removing the skin. Rice or smash the potatoes and garlic (do not use the food processor for the potatoes. I used a potato masher). Add the cauliflower purée to the potatoes in the pot and mix in remaining salt, pepper, olive oil and/or butter. Taste and adjust seasoning.
Transfer to a serving bowl. (Keep warm in a covered serving bowl over barely simmering pan of water, or gently reheat just  before serving). Drizzle with a little olive oil or melted butter and garnish with finely chopped or snipped chives and serve.
Makes 6 servings.