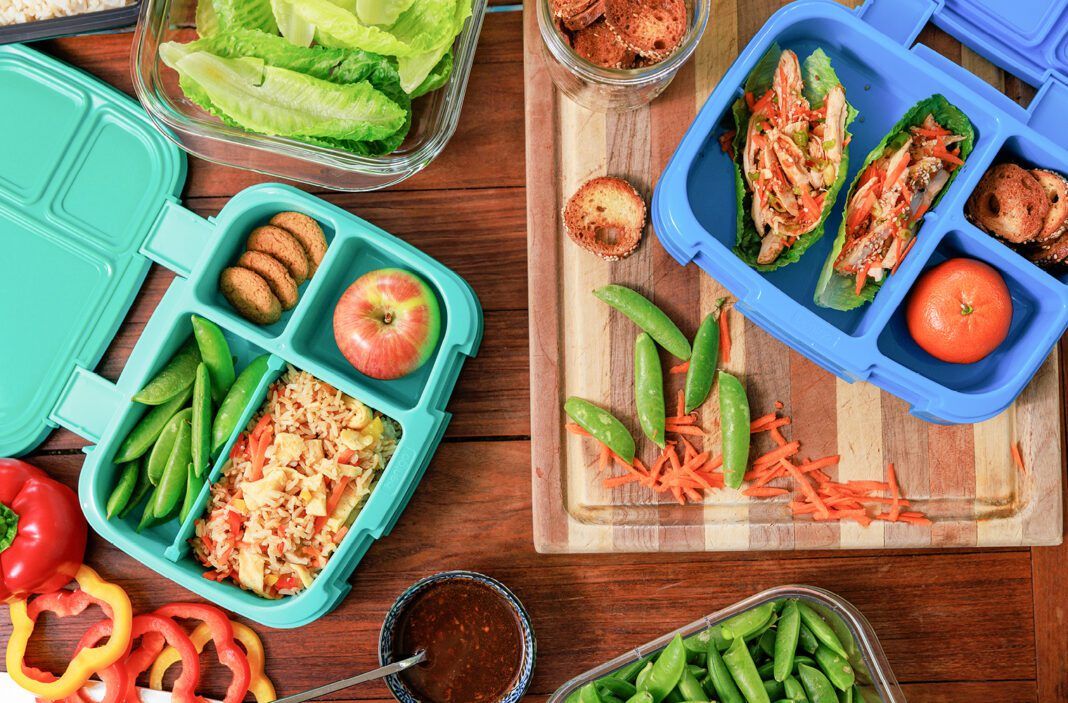 Nutritious and delicious lunchbox ideas for kids and adults alike
---
When my oldest daughter started kindergarten (a quick 24 years ago), her enthusiasm for big-kid school was like she won a trip to Disney. She picked out a little backpack and filled it with school supplies. Then, we switched to my favorite subject: lunch.
I gave her the choice of the classic brown bag or a cute lunchbox, and we planned the first week's menus. Not surprising, she opted for PB&J all the way. Each day, I supplemented with apples or orange slices, carrot sticks or cucumbers, and an occasional pack of fruit gummies.
A few days into this routine, she hopped off the school bus and told me about these premade lunch kits some of her classmates were eating and finished with this question: "Can we buy those?"
What's a mother to do? My immediate response, which I kept to myself, was, "Absolutely not!" An echo of what my own mother would say with lots of disdain about packaging and preservatives.
Thinking on my feet, I took a chance with an after-school field trip to the store and let her choose one from the wall of bright yellow boxes, all the while holding my breath. She skipped off to school with it the next day, and when she got home, announced, "I like our homemade lunches better." Cue my giant sigh of relief. Reverse psychology is an awesome tool, especially when it doesn't backfire.
Our lunch-packing tradition continued with my three girls all the way until high school, when they could catch a ride off campus and maybe stop by my kitchen for home cooking. Now, it's my turn.
Empty nest to nursing school, and it's a trilogy of sleep, eat and study, which works in harmony to keep my brain humming. Two days a week, I commute to clinicals in New Orleans. I bring my lunch, which I enjoy planning and packing just like those good old days.
When I was purchasing my notebooks, pens, pencils and every color of highlighter, I got myself a bento box—two, actually—which checks all the boxes (no single-use plastic, compartments to fill, dishwasher safe) and makes me feel like a kid again.
---

Lunchbox Packing 101
1. Pick a protein.
2. Add veggies and fruits.
3. Choose whole grain cereal bars and snacks for sides.
4. Prep ahead.
5. Encore your leftovers.
6. Involve your child with assembly.
7. Avoid single-use plastic.
8. Make it fun with a focus on good nutrition.
---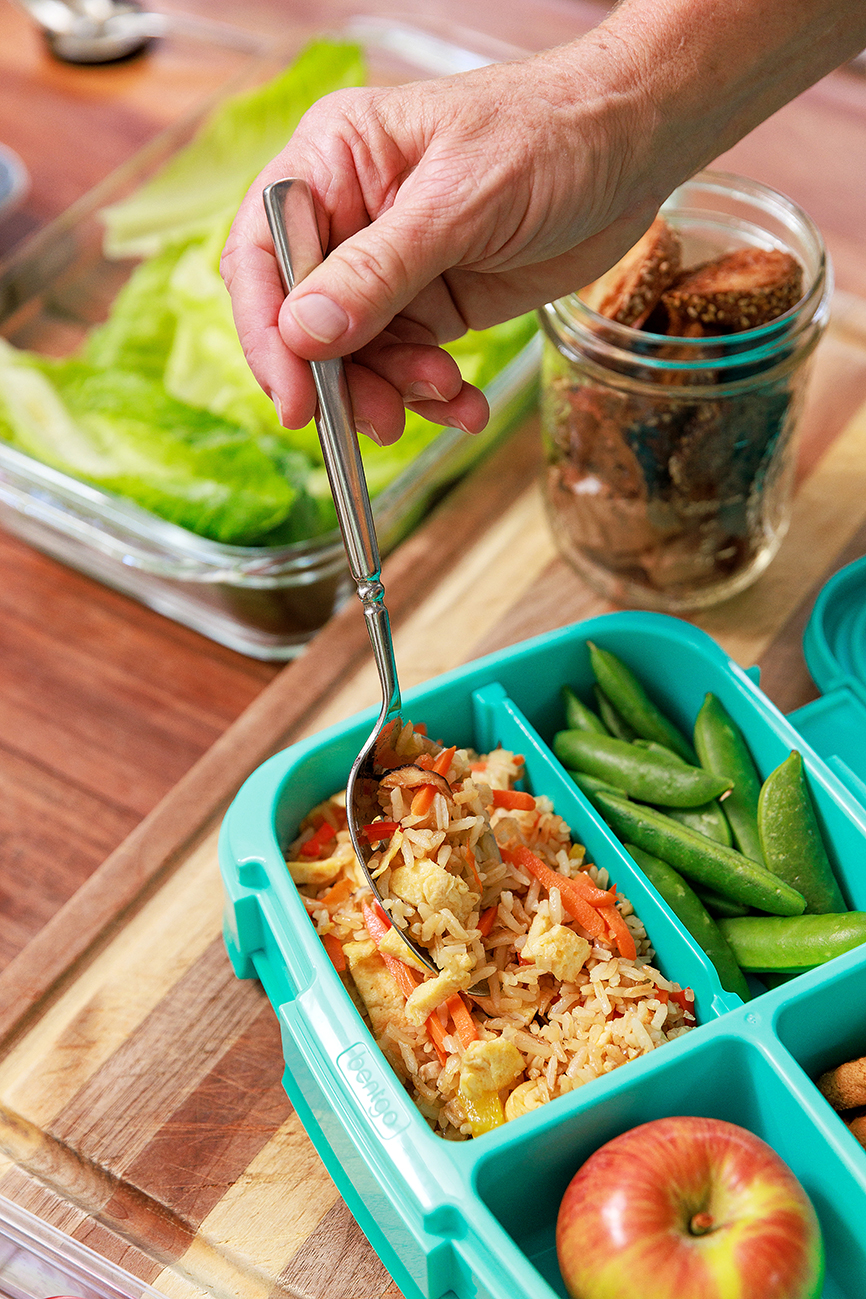 Fried Rice
Last night's extras are today's treasure. Fried rice is a great canvas for lots of veggies and protein.
Ingredients:
1 Tbsp. avocado or canola oil, divided
2 eggs, lightly beaten
1 cup chopped mixed vegetables (I used bell peppers, carrots and mushrooms)
2 cups cooked rice (brown rice is nice for a nutrient boost, or go for half each brown and white)
1 Tbsp. soy sauce
1 green onion, chopped
Instructions:
Heat 1 tsp. oil in a nonstick or seasoned cast iron skillet over medium-high heat, swirling the skillet to coat. Add the beaten eggs, tilting the skillet to make a thin pancake. Lift the edge of the egg to let the uncooked portion run underneath. When it is set, transfer to a cutting board. When cool enough to handle, chop into small pieces.
 

Wipe out the skillet if any egg remains.
Add the remaining 2 tsp. of oil to the skillet and heat over medium-high heat. Add the vegetables and cook until almost tender, stirring occasionally. Push the vegetables to the perimeter of the skillet and add the rice in the center, breaking up any clumps with a spatula or wooden spoon. Drizzle with soy sauce and add the chopped egg, stirring together to combine. Add the green onion and divide the rice into 2 portions for serving. Take it to go in the bento, it will be the perfect temperature come lunchtime. Or make ahead and enjoy it as a cool rice salad.
Makes 2 servings.
---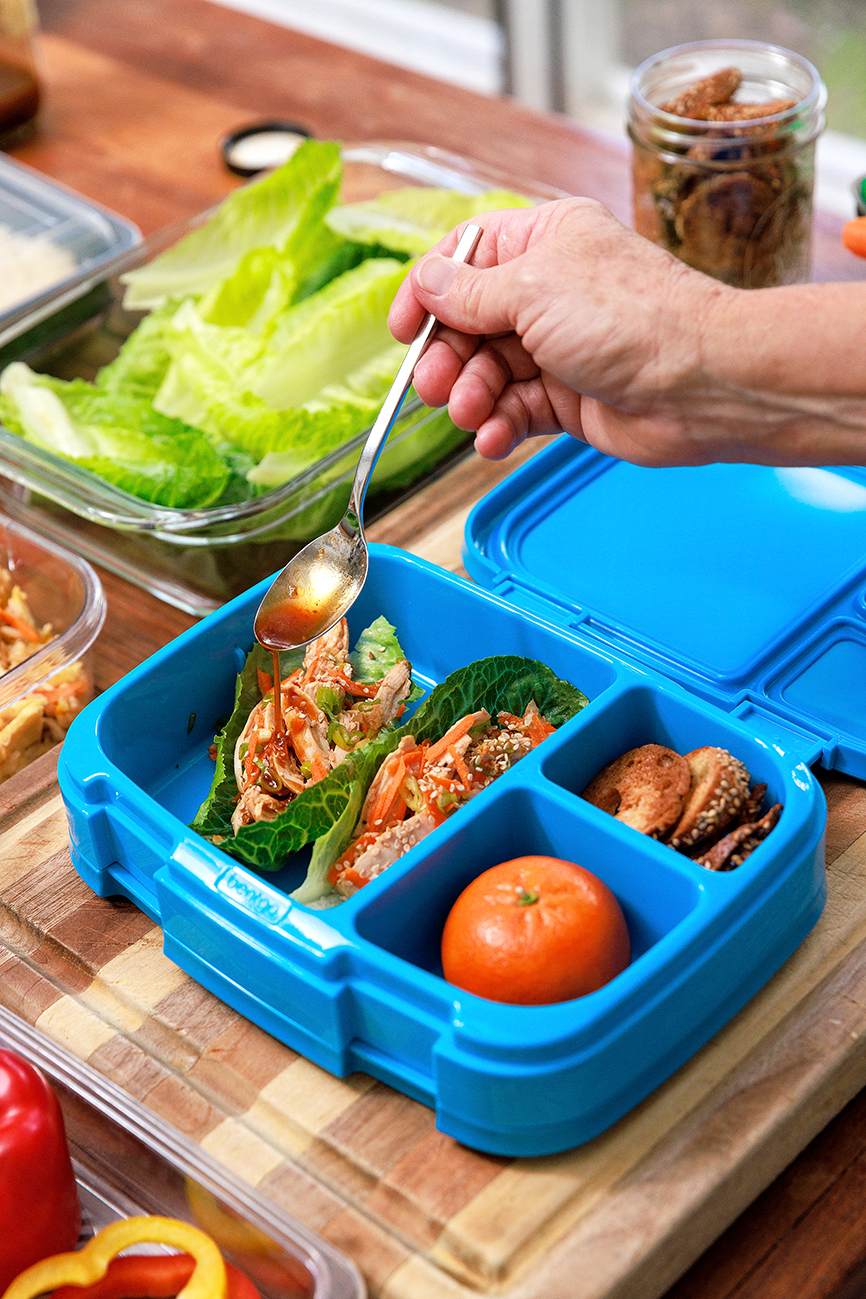 Lunchbox Lettuce Wraps
This is a starting point that can go in any direction. Switch up the flavor profile with Caesar dressing or taco seasoning, or top your lettuce boats with refried beans, some chunky salsa and a sprinkle of cheese. Almost anything goes!
Ingredients:
2 small romaine lettuce leaves (or a large one cut in half crosswise)
2 oz. cooked chicken, about
¾

cup
1 Tbsp. Japanese barbecue sauce or soy sauce
1 green onion, chopped
Grated carrot
Sesame seeds
Instructions:
Place the lettuce leaves in the lunch container. Toss the chicken with the sauce, green onion and carrot. Fill the lettuce leaves with the mixture and sprinkle with sesame seeds.
Makes 1 serving.