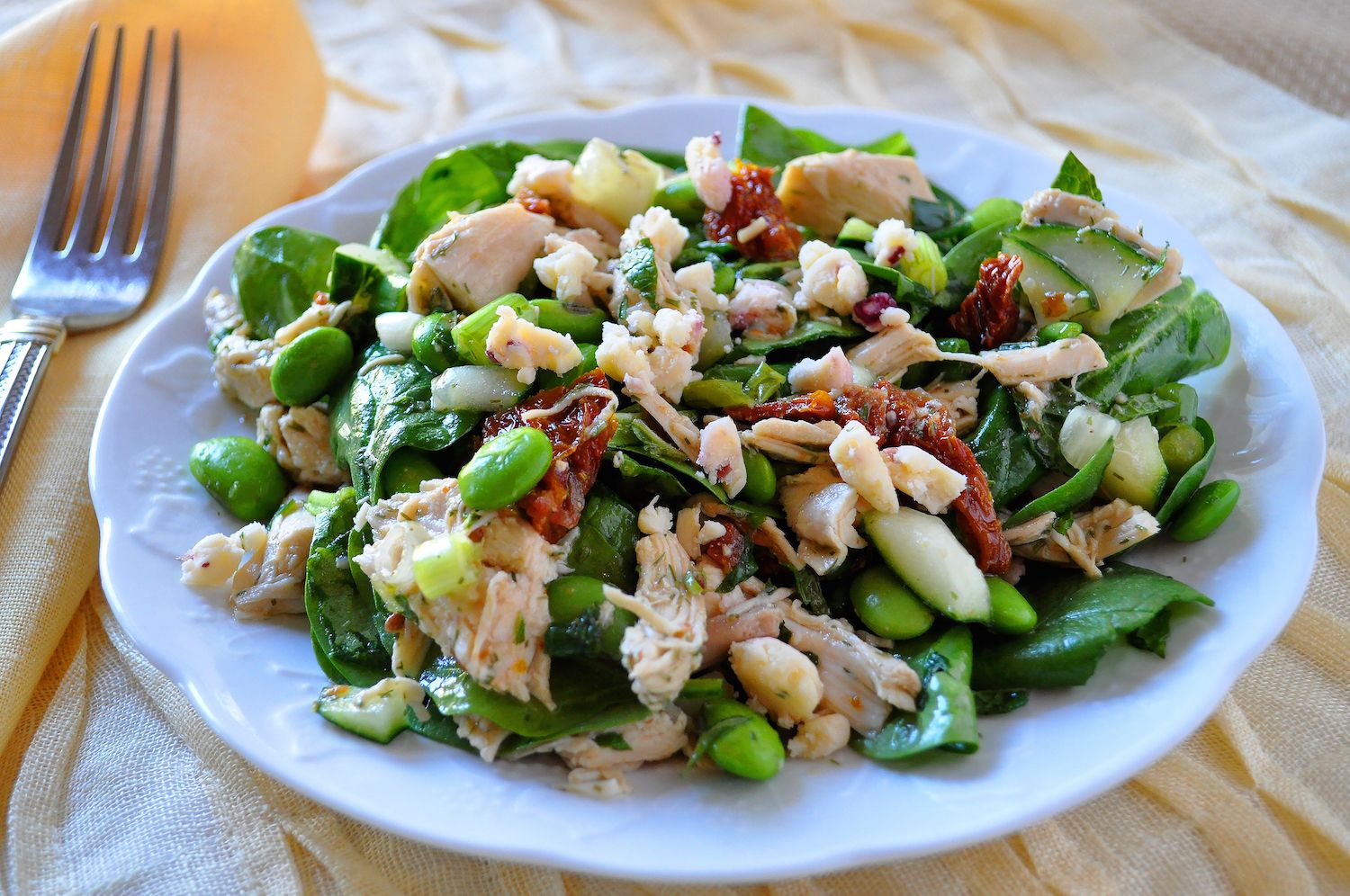 Holly's Scoop: Rotisserie to the rescue
If you are like me, you enjoy making a healthy meal for your family, but time is of the essence. Dinner has to be fast and it has to be easy. Rotisserie chicken to the rescue! This is my not-so-secret time-saving tip—rotisserie chicken saves a step and is flavorful and readily available. That is why I included a whole "Rotisserie Ready" chapter in my Trim and Terrific KITCHEN 101 cookbook. It's delicious on its own, but with the skin removed this lean protein is even more outstanding, especially when combined with fresh summer ingredients in my favorite family-pleasing recipes.
Mediterranean Chicken Spinach Salad is one of my go-to entrée salads, with its nutrient-rich flavors of the Mediterranean. Rotisserie chicken over a bed of spinach makes a super salad meal! In this dish, fresh mint really makes a difference. If you don't have it growing rampant, check any grocery—but if I can grow it, anyone can! Instead of spinach, you can toss the chicken mixture with quick-cooking quinoa for a higher-protein option.
Light and fruity with a delightful tangy citrus dressing, Chicken Salad with Citrus Vinaigrette is the perfect warm-weather meal. Napa cabbage is a milder and more delicate alternative to green cabbage, but you can also substitute bok choy or green cabbage. I love the crunch and zing of grapes and vitamin C-rich citrus in my chicken salad.
Cooking from scratch is great, but not if it keeps you from cooking at all. Don't let time be what holds you back from whipping up a homemade meal. Chicken Pot Pie is the ultimate homemade comfort food, and you will love how easy it is to prepare. If you are really in a hurry, just pour the filling into a baking dish and top with biscuits. For extra nutrition, try adding mixed vegetables or sweet potatoes to the filling, and use low-sodium chicken broth for a diabetic-friendly recipe.
With rotisserie chicken, my all-time favorite time-saving ingredient, you will be surprised at how quickly you can put a delicious meal on the table—faster, healthier and more budget friendly than you can grab takeout!
Mediterranean Chicken Spinach Salad
Add edamame, sun-dried tomatoes and feta to rotisserie chicken to create a satisfying and stylish salad.
2 cups skinless rotisserie chicken breast, diced
1 cup edamame, cooked according to package directions
1⁄2 cup chopped sun-dried tomatoes, reconstituted
1 bunch green onions, chopped
1 cucumber, peeled and chopped
1⁄4 cup chopped fresh mint leaves or 1 Tbsp. dried mint
2 tsp. dried dill weed leaves
3 Tbsp. roasted garlic seasoned rice vinegar (or any vinegar)
1 Tbsp. lemon juice
2 Tbsp. olive oil
3 cups packed baby spinach leaves
1⁄3 cup crumbled reduced-fat feta cheese
In a large bowl, combine chicken, edamame, sun-dried tomatoes, green onions, cucumber, mint and dill, mixing well. In a small bowl, whisk together vinegar, lemon juice and olive oil. Toss with spinach and feta, and divide mixture evenly among individual plates. Top with chicken mixture. Makes 6 servings.
Nutritional information per serving: Calories 204 | Calories from fat 37% | Fat 8g | Saturated fat 2g | Cholesterol 45mg | Sodium 452mg | Carbohydrates 12g | Dietary fiber 4g | Sugars 5g | Protein 20g | Dietary exchanges: 2 vegetable, 2
1

⁄2 lean meat
Chicken Salad with Citrus Vinaigrette
Fast and fabulous, this chicken salad has a zippy flair.
3 cups cooked, diced skinless rotisserie chicken breasts
1 cup red grapes, cut in half
1 (11-oz.) can mandarin oranges, drained
1 bunch green onions, chopped
1⁄3 cup pecan halves, toasted
1⁄2 cup chopped celery
2 cups shredded Napa cabbage
Citrus Vinaigrette (recipe follows)
In large bowl, combine all ingredients and toss with Citrus Vinaigrette (see recipe). Makes 8 (1-cup) servings.
Citrus Vinaigrette
2 tsp. Dijon mustard
Salt and pepper to taste
2 Tbsp. lemon juice
2 Tbsp. olive oil
1⁄3 cup orange juice
1 Tbsp. honey
In a bowl, whisk together all ingredients. Makes 3⁄4 cup.
Nutritional information per serving: Calories 199 | Calories from fat 39% | Fat 9g
 |

Saturated fat 1g | Cholesterol 47mg | Sodium 222mg | Carbohydrates 14g | Dietary fiber 2g | Sugars 11g

 

| Protein 17g | Dietary exchanges: 1 fruit, 2

1

⁄2 lean meat
Chicken Pot Pies
Nothing beats Southern comfort food.
1 cup chopped onion
1 cup chopped celery
1 cup sliced baby carrots
2 Tbsp. cornstarch
1 1⁄2 cups fat-free chicken broth, divided
1⁄2 cup evaporated skimmed milk
1⁄2 tsp. dried thyme leaves
2 cups chopped skinless chicken breasts
18 refrigerated canned biscuits
Preheat oven to 400 degrees. Coat muffin pan with cooking spray. In skillet coated with cooking spray, sauté onion, celery and carrots until tender, stirring. In small cup, add cornstarch to 1⁄2 cup chicken broth, mixing well. Pour into skillet, stirring. Gradually add remaining chicken broth, stirring and cooking over medium heat until thickened and bubbly. Add evaporated milk and thyme. Return to a boil and add chicken, cooking until mixture is thickened and bubbly.
While filling cooks, pat biscuits into large circles with hand; place in muffin pan. Spoon about 1⁄4 cup filling into each biscuit and pull sides of biscuit over top. Repeat until all biscuits are filled. Bake for 10 to 12 minutes or until biscuits are golden brown. Makes 6 servings (of 3 small pies each).
Nutritional info per serving: Calories 282 | Calories from fat 20% | Fat 6g | Saturated fat 1g | Cholesterol 43mg | Sodium 961mg | Carbohydrates 37g | Dietary fiber 2g | Sugars 8g | Protein 20g | Dietary exchanges:
 

2 starch, 1 vegetable, 2 lean meat
---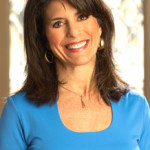 Holly Clegg has sold over 1 million cookbooks in her trim&TERRIFIC and Eating Well series. Sign up for her Monthly Menu newsletter at hollyclegg.com, check out her blog at thehealthycookingblog.com, or watch Holly on YouTube at youtube.com/user/hollycleggonline.