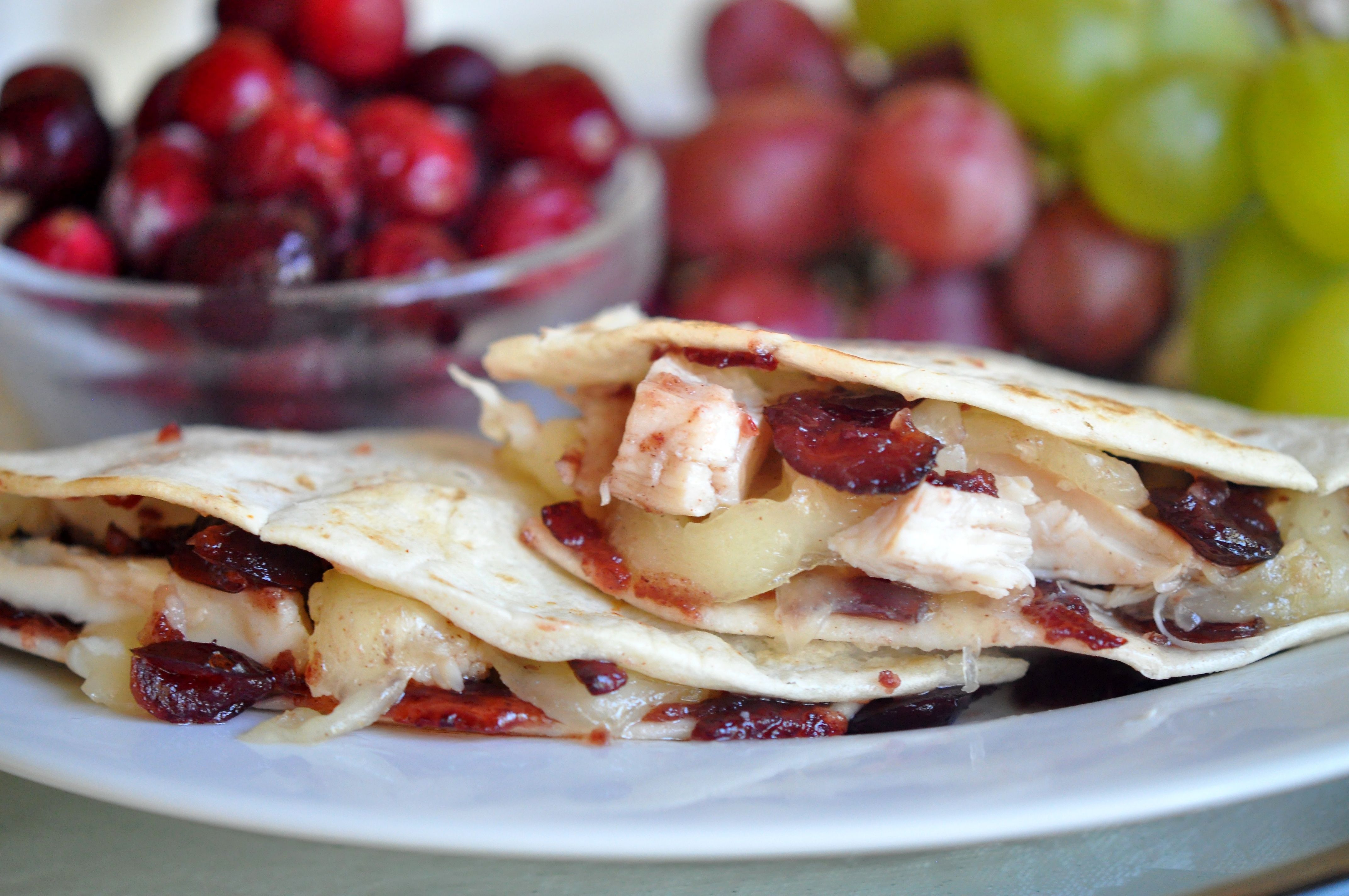 Holly's Scoop: Holly jolly Christmas
The hectic holidays are here, but you don't have to spend time worrying about what you will make this season because I have already figured it out for you! From evening cocktail parties to teacher gifts, even leftover turkey supper solutions—these festive favorite recipes are my go-to dishes that will get you through all of the get-togethers this December.
Shrimp Cocktail Spread is an all-time favorite "fancy" party appetizer that couldn't be easier to prepare. Red and green ingredients make it holiday festive, not to mention delicious. This dip is ideal for a gathering since you can make it ahead of time and refrigerate until ready to serve. Also, it can easily be doubled or tripled depending on the size of your crowd. For a nutrition boost, sneak soy protein into your recipe by using half cream cheese and half silken tofu.
Nothing beats a bite of sweet and savory, especially when combined with the creaminess of Brie cheese. My Turkey, Brie, and Cranberry Chutney Quesadillas have it all! This recipe is the perfect light dinner in the days after the big holiday meal. Although this dish originally called for chicken, turkey is an easy substitute, especially when you just can't eat another leftover turkey sandwich! Think of that turkey as a no-stress convenience item by using this versatile lean protein in a delicious new meal. Look for whole-wheat tortillas for extra fiber and nutrition.
The spice is right with a touch of sweet in my tasty Spiced Walnuts recipe. And you can easily swap out the walnuts for pecans if they are your nuts of choice. And these nutty goodies are oh so versatile—they can be set out as a savory snack or party pickup, tossed on salads, or even packaged as homemade gifts. Simply wrap in cellophane bags or glass jars and tie with bows. These bites make delectable Christmas gifts for just about anyone, from teachers and neighbors to friends and doctors. Everyone will love getting this trim and terrific gift this season!

Holly Clegg has sold over 1 million cookbooks in her trim&TERRIFIC and Eating Well series. Sign up for her Monthly Menu newsletter at hollyclegg.com, check out her blog at thehealthycookingblog.com, or watch Holly on YouTube at youtube.com/user/hollycleggonline. 
---
Spiced Walnuts
Wonderful walnuts with a touch of spice, heat and sweet.
2 cups walnut halves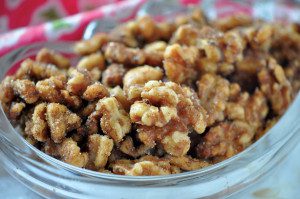 1 Tbsp. sugar
1⁄4 tsp. salt
1⁄2 tsp. garlic powder
1⁄2 tsp. ground cumin
1⁄4 tsp. ground cinnamon
1⁄4 tsp. cayenne pepper
1 Tbsp. canola oil
Preheat oven to 375 degrees. Spread walnuts on a baking sheet, and bake for about 5 to 7 minutes or until golden. In a small bowl, combine sugar, salt, garlic powder, cumin, cinnamon and cayenne. In a nonstick skillet, heat oil over medium heat. Add nuts and stir to coat with oil. Add seasoning mix, stirring until nuts are coated. Remove to paper towel to cool. Makes 8 (1⁄4-cup) servings.

Nutritional information per serving: 
Calories 187 | Calories from fat 82% | Fat 18g Saturated fat 2g | Cholesterol 0mg | Sodium 74mg | Carbohydrates 5g | Dietary fiber 2g | Sugars 2g | Protein 4g | Dietary exchanges: 1⁄2 other carbohydrate, 1⁄2 lean meat, 3 fat
The name "shrimp cocktail" is always a head turner, and this dip combines all the cocktail parts into one zestyspread. The colorful presentation is a holiday favorite.
2 (8-oz.) packages reduced-fat cream cheese, softened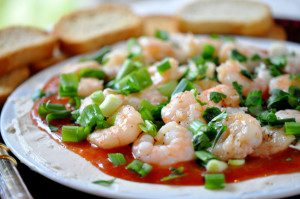 1 Tbsp. Worcestershire sauce
1⁄2 tsp. minced garlic
1⁄2 tsp. hot pepper sauce
1 (12-oz.) bottle cocktail sauce
1⁄2 cup sliced green onions (scallions)
2 cups cooked, peeled small shrimp
2 Tbsp. minced parsley
In a large bowl, blend cream cheese, Worcestershire sauce, garlic and hot pepper sauce until creamy. Spread on bottom of a (9-in.) serving plate. Cover cream cheese mixture with cocktail sauce, then sprinkle with green onions, shrimp and parsley. Refrigerate until ready to serve. Makes 8 (1⁄4-cup) servings.
Nutritional information per serving:
Calories 167 | Protein 9g | Carbohydrate 12g | Fat 9g | Calories from fat 49% | Saturated fat 6g | Dietary fiber 1g | Cholesterol 84mg | Sodium 587mg | Dietary exchanges: 1 lean meat, 1 other carbohydrate, 1 fat
---
Turkey, Brie, and Cranberry Chutney Quesadillas
Turn leftover holiday turkey into a dinnertime delight with the addition of Brie cheese and cranberry chutney in these easy quesadillas.
6 (8- to 10-in.) flour tortillas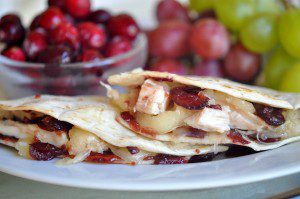 1 (9-oz.) jar cranberry chutney
8 oz. Brie cheese, rind removed and sliced
2⁄3  cup chopped turkey, cooked
Preheat oven to 425 degrees. Spread one side of each tortilla with cranberry chutney, and top with sliced Brie. Add turkey. Fold in half, pressing edges together. Place on a baking sheet coated with nonstick cooking spray, and bake until cheese is melted and tortillas are golden, about 5 minutes. Let sit for a few minutes before cutting into wedges. Makes 24 wedges.
Nutrition information per serving:
Calories 85 | Calories from fat 31g | Fat 3g | Saturated fat 2g | Cholesterol 13mg | Sodium 149mg | Carbohydrate 10g | Dietary fiber 1g | Sugars 4g | Protein 4g | Dietary exchanges: 1⁄2 starch, 1⁄2 lean meat