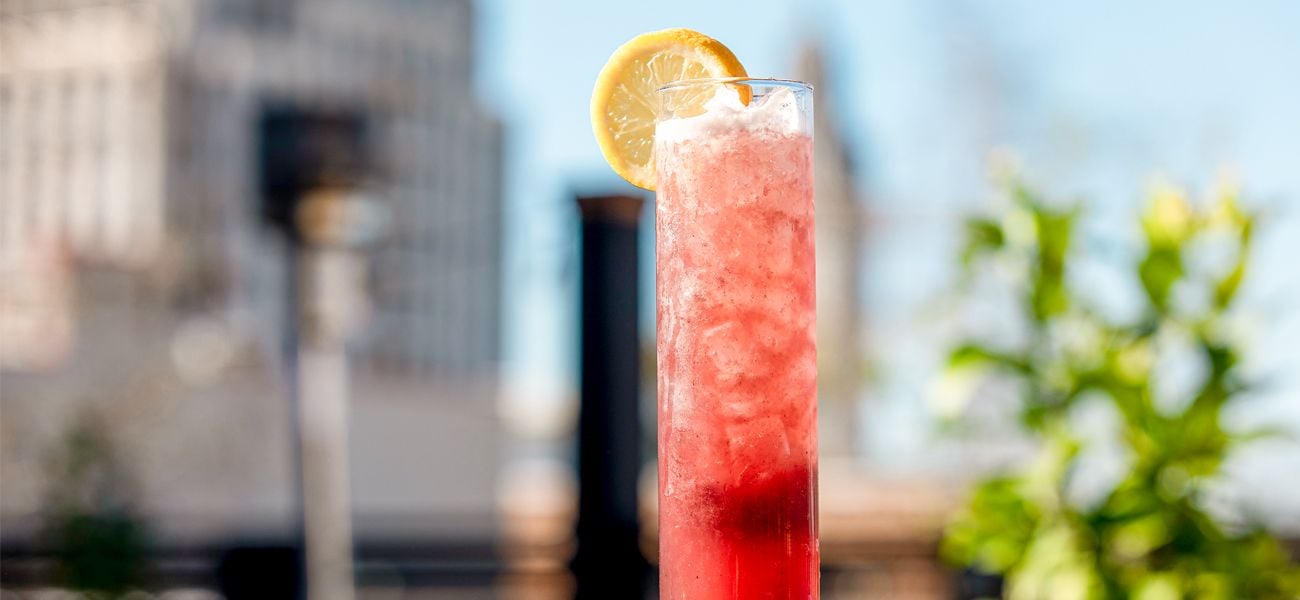 8 rooftop and patio bars to soak up the sun in Baton Rouge
Baton Rouge is on the up and up (literally). Slowly but surely, the city is gaining more lavish rooftop and patio bars. When you live in a sunny state like Louisiana, why drink in an enclosed space indoors when you can imbibe outdoors surrounded by greenery, fresh air and views of the city? Local open-air bars feature thriving plants, wall art, outdoor games, elegant seating and sights you can only see in the Capital City.
---
Raise the roof(top)
The Chimes on Highland
The Chimes rooftop bar is a spacious getaway where you can watch games on the big screens, drink your favorite beer on tap, eat American and Cajun dishes and look over Highland Road with LSU's campus right next door. The rooftop has comfy booth seating, a full-service bar and games like Jenga Giant. thechimes.com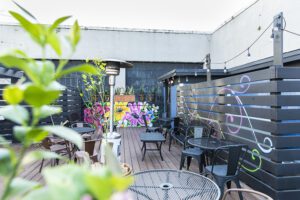 The Main Lobby
Say hello to the newest rooftop bar in the city. Open since February, this decorative downtown two-story spot pulled out all of the stops. The rustic-chic outdoor bar on the second floor has stylish rattan chairs, rows of snake plants, a floral mural, flamingo decor and patio heaters for chilly days. themainlobbybr.com
Tsunami Sushi
This sushi spot has been the downtown rooftop staple since 2005, and for good reason. Admire the Mississippi River from the elegant space enjoying sushi and sake. At night, the city lights brighten the sky, creating a romantic setting. batonrouge.servingsushi.com
---
Drinks on the patio
bldg 5
It doesn't get much better than handcrafted cocktails on a patio bursting with vibrant greenery. This one-of-a-kind restaurant and bar under the Perkins Road overpass has homey backyard vibes with a sophisticated twist (and retractable floor-to-ceiling glass doors). Enjoy a charcuterie board with a refreshing drink under string lights. bldg5.com
Mid City Beer Garden
This Government Street favorite is the embodiment of the term "open-air." Inside, locals can breathe easily surrounded by tropical plants and fresh air flowing from the ceilingless building. Pair local beers on tap with the restaurant's tasty bar bites like grilled cheese and cheese fries. midcitybeergarden.com
SoLou
This stylish south Louisiana-inspired restaurant and bar is just as tasty as it is photogenic. The Perkins Road spot has a plant wall, neon signage, string lights, twinkle globes dangling overhead and cozy blue couches to relax with a craft cocktail. eatsolou.com
Talluah Crafted Food and Wine Bar
Looking for an upscale outdoor experience? Stop by this restaurant and wine bar in the Renaissance Baton Rouge Hotel. The moody patio has blue lighting and fire displays during the evening. tallulahrestaurant.com
Thai Kitchen
Thai food and booze? Yes, please. This restaurant and bar's large patio boasts cabana seating, a grand waterfall, string lights, umbrellas and a stage for live music. thaikitchenla.com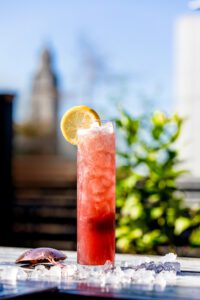 KEY TERMS
Learn the lingo
Back
A shot of non-alcoholic drink taken as a chaser following a shot of straight liquor or a stiff cocktail. A "pickle back"—a shot of pickle juice—is one of the most common and effective: the sharp, briney flavor does wonders to neutralize the burn of liquor.
Shaken or stirred?
The classic 007 query refers to drinkers' preferences for how their martinis are mixed: shaken in a cocktail shaker or stirred in the glass with a bar spoon. And, though the cannon preference of fictional icon James Bond is to take his martinis "shaken, not stirred," liquor aficionados will tell you gin should never be shaken, as the delicate spirit will become "bruised."
Rinse
Coating a cocktail glass with the subtle flavors of liqueurs or bitters. A Sazerac is often served in an absinthe-rinsed glass.
Neat
This one's simple: no ice.
On the rocks
This one's also easy: with ice.
---
This article was originally published in the May 2022 issue of 225 magazine.