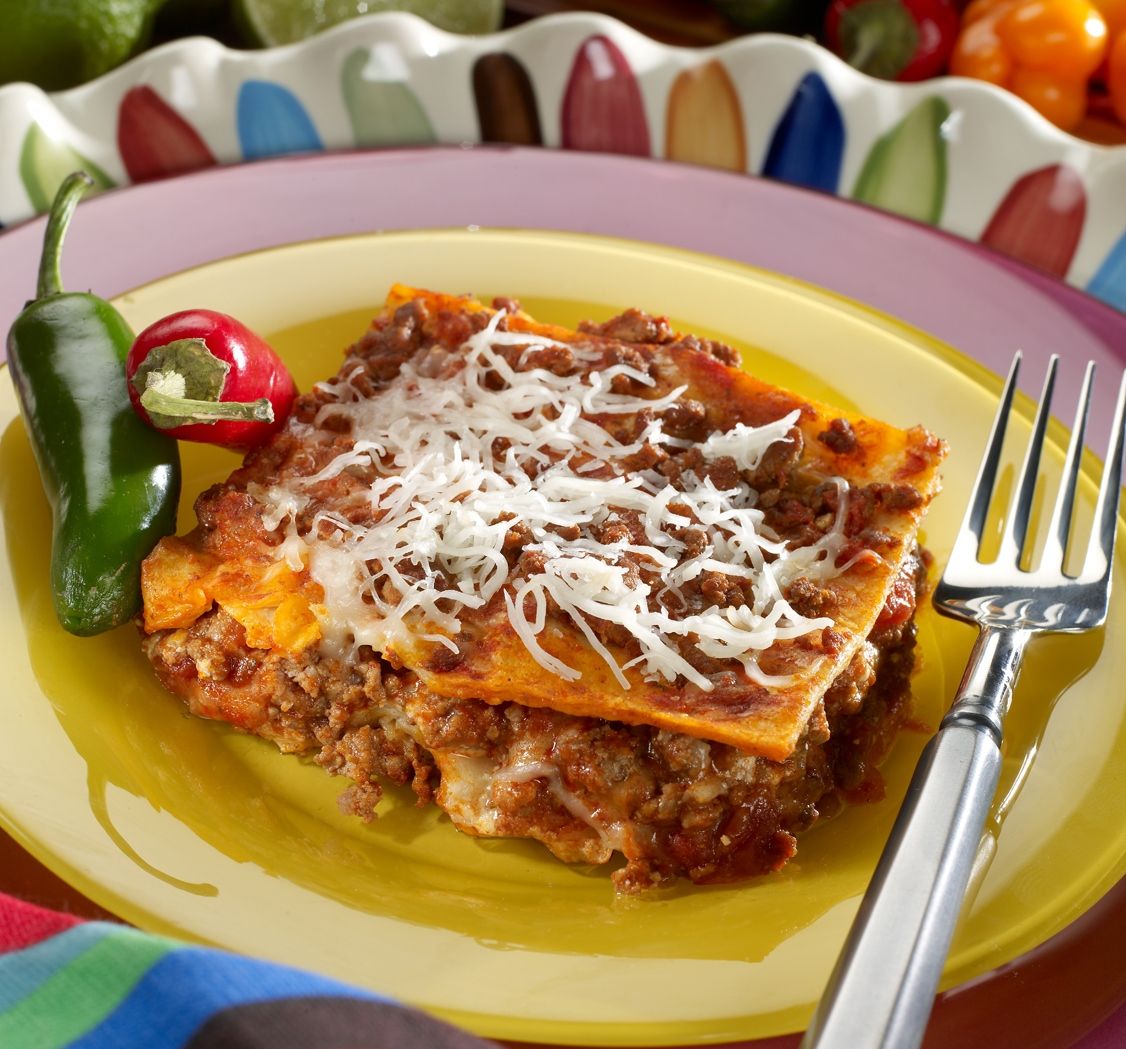 Freezing temperatures outside often encourage home chefs to heat up the kitchen inside. Nothing is better than a warm meal on a cold night. With Mardi Gras in full swing and house guests aplenty, few of us have time to cook every evening. Create meals ahead, freeze them and make your week manageable!
I learned about the importance of freezing years ago when I appeared on the NBC Weekend Today show. My segment featured a Crispy Southwestern Lasagna. On air, I pointed out the snowflake symbol in my cookbook that indicated if a recipe would freeze well. My book immediately shot to number four on Amazon (first time my kids were impressed). I credit my freezer points. That segment led me to create my Freezer Friendly cookbook and to always include the snowflake/freezer friendly symbol in my cookbooks to indicate if a recipe will freeze well.
Using proper freezing techniques makes a difference in the flavor and texture of the finished dish. Always remember to label and date your food to prevent mystery freezer containers.
Here are some important facts and tips for successful freezing:
• Food must be at room temperature before freezing.
• Do not put a cold glass or ceramic dish in a hot oven. The dish may break.
• When the power goes out, foods will stay frozen for two to four days in an unopened freezer.
• Freezer storage containers and wraps must be moisture proof and airtight to ward off freezer burn and prolong shelf life.
• Allow room for food to expand as the food freezes.
A great freezer appetizer is the Olive Cheese Cocktail Bread: These savory little bites are one of my best friends' favorites, and I like to keep them in the freezer to pull out for last-minute company or even an afternoon snack. So easy! Simply mix ingredients, spread on bread and flash freeze on baking sheet, then place in resealable freezer plastic bag.
All lasagnas freeze well and the Crispy Southwestern Lasagna is no exception. If you are using pasta for your lasagna, cook the lasagna first and then freeze. For smaller portions, I recommend making your own individual TV dinners by freezing individual lasagna portions in plastic wrap and storing in resealable plastic bags to pop out, thaw and heat when ready to serve.
Most desserts freeze well except recipes with creamed puddings and fillings. Cookies, bar cookies and cakes are very freezer friendly. In fact, I always have frozen cookies in my freezer, and my family prefers to eat them frozen. I've included my Crispy Oatmeal Cookie recipe here to finish the meal off with a sweet.
---
Crispy Southwestern Lasagna 
Layers of tortillas and spicy meat create a delicious twist on a classic favorite.

1 tsp. minced garlic
1 16-oz. jar salsa
1 1⁄4 cups enchilada sauce
Salt and pepper to taste (optional)
1 cup fat-free cottage cheese
1 large egg white, beaten
6 6-inch flour tortillas, cut into thirds
1 cup shredded reduced-fat Monterey Jack cheese
Preheat oven to 350 degrees. In large nonstick skillet coated with nonstick cooking spray, brown beef and garlic over medium heat about 8 minutes or until meat is done. Drain any excess fat. Add salsa, enchilada sauce, and salt and pepper (if using). Bring mixture to a boil, then reduce heat and simmer 10 minutes. In small bowl, combine the cottage cheese and egg white. Coat 13x9x2-inch baking dish with nonstick cooking spray. Spread thin layer of meat sauce in the dish. Layer with half the tortillas, all of the cottage cheese mixture, half the remaining meat mixture, and half the cheese. Repeat layers, omitting the cottage cheese layer and ending with the meat sauce. Sprinkle the remaining cheese on top and bake for 25–30 minutes or until bubbly. Let stand for 5 minutes before cutting. Makes 10 servings.
Holly's hints: You can substitute mozzarella cheese instead of Monterey Jack if you prefer. Try different-flavored tortillas and salsas to vary this lasagna's flavor.
Nutritional information per serving: Calories 193 | Calories from fat 51% | Fat 6g | Saturated fat 2g | Cholesterol 32mg | Sodium 597mg | Carbohydrate 17g | Dietary fiber 1g | Sugars 4g | Protein 18g | Diabetic exchanges: 1 starch, 2 lean meat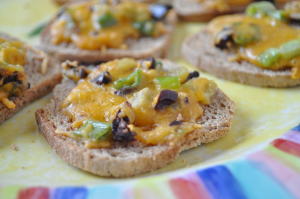 Olive Cheese Bread
Distinct flavors meld together in this outstanding party pick-up.

1 bunch green onions, finely chopped
1⁄3 cup chopped Kalamata olives
1 4-oz. can chopped green chilies
1 8-oz. package shredded reduced fat sharp cheddar cheese
2 Tbsp. olive oil
1 loaf cocktail rye bread or sourdough bread
In bowl, mix together all the ingredients except the bread. Spread on top of bread slices. Freeze flat on baking sheet for a few hours, then place in resealable freezable bags. When ready to cook, preheat oven to 350 degrees. Bake 10-12 minutes, just until corners of bread start to turn brown. Makes 48-50 slices.
Holly's hints: If cooking immediately (not freezing), bake 8-10 minutes. Raid an olive bar for good-quality Kalamata olives. … It makes a difference.
Nutritional information per serving:
Calories 46 | Calories from fat 36% | Fat 2g | Saturated fat 1g | Cholesterol 2mg Sodium 138mg | Carbohydrate 5g Dietary fiber 1g | Sugars 1g | Protein 2g Dietary exchanges: 1/2 starch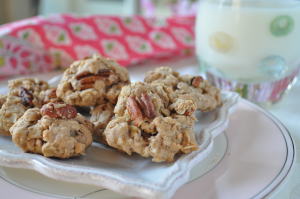 Crispy Oatmeal Cookies
Using oil for crispiness and butter for chewiness, this slightly more delicate oatmeal cookie has a light maple undertone.
3 Tbsp. butter
1⁄4 cup canola oil
1⁄2 cup light brown sugar
1⁄2 cup sugar
1 egg
1⁄4 cup pure maple syrup
1 tsp. vanilla extract
1 cup all-purpose flour
1⁄2 tsp. baking powder
1⁄2 tsp. baking soda
1 tsp. ground cinnamon
2 cups old-fashioned oatmeal
1⁄2 cup chopped pecans
Preheat oven to 350 degrees. Coat baking sheet with nonstick cooking spray. In large mixing bowl, beat butter, oil, brown sugar, sugar, egg, maple syrup and vanilla until light. In small bowl, combine flour, baking powder, baking soda and cinnamon. Add to mixing bowl. Stir in oatmeal and pecans, and mix well. Drop by rounded teaspoonfuls onto prepared baking sheet. Bake 10–12 minutes or until lightly browned. Remove and let cool on wax paper. Makes 4 dozen cookies.
Nutritional information per serving: Calories 67 | Calories from fat 40% | Fat 3g | Saturated fat 1g | Cholesterol 6 mg | Sodium 25 mg | Carbohydrate 9g | Dietary fiber 1g | Sugars 5g | Protein 1g | Diabetic exchanges: 1/2 carbohydrate, 1/2 fat
| | |
| --- | --- |
| | Holly Clegg is the author of the best-selling trim&TERRIFIC cookbooks, Eating Well Through Cancer and Too Hot in the Kitchen: Secrets to Sizzle at Any Age. For more information, visit hollyclegg.com or thehealthycookingblog.com. |