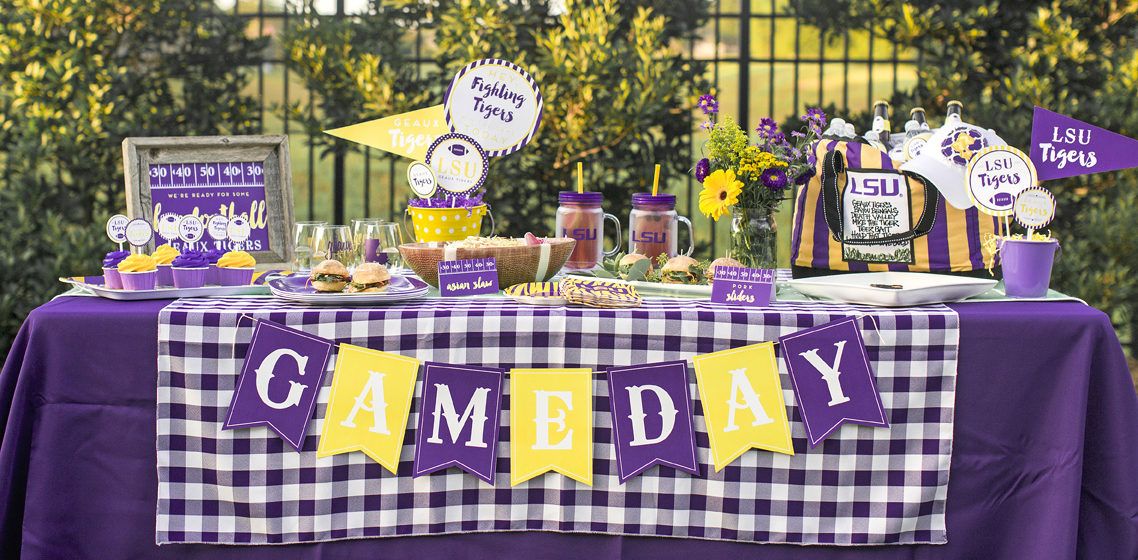 Game changer: Take tailgating to the next level
The action isn't only on the field this football season—plenty of plays are made behind the scenes. This is especially true when it comes to tailgating. To score with friends and fans, it's fun to pay as much attention to the decorations as you do to the dishes you serve. And sometimes the two come together.
"I love using food as décor," says Angela DiVincenti of Angela Marie Events. "Here, the cupcakes and cookies are so cute and colorful, they enhance the overall scene."
And this scene is replete with everything an LSU tiger fan could dream up: fantastic fare and adorable accessories. No detail is overlooked. Turn the page for additional inspiration to kick off the season with a bang.
---
Blueberry Lemonade
3 cups fresh or frozen blueberries
3⁄4 cups sugar
2 cups freshly squeezed  lemon juice
3 cups cold water
Ice cubes
Place blueberries and sugar in a blender and purée. Add lemon juice and water to a pitcher and strain puréed blueberries through a medium mesh sieve into pitcher. Stir well and pour into tall, ice-filled glasses
---
2 Tbsp. butter
1 cup shredded ramen noodles
6 cups shredded green or red
cabbage
1 cup shredded carrots
1⁄2 cup roughly chopped cilantro
1⁄2 cup roasted peanuts
In a large skillet over medium heat, melt butter. Add shredded ramen noodles and sauté until lightly golden. In a large bowl, combine all ingredients. Toss with dressing right before serving.
Dressing:
1⁄4 cup rice vinegar
1 Tbsp. Thai chili paste
2 Tbsp. olive oil
1 Tbsp. agave nectar
1 Tbsp. Tamari
2 tsp. toasted sesame oil
Combine all ingredients in a small bowl.
Recipe courtesy Gourmet Girls
---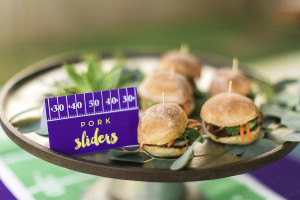 Spicy Asian Pork Sliders
1 1⁄2 lbs. pork tenderloin, trimmed
Marinade:
3 Tbsp. Tamari
2 Tbsp. honey
1⁄4 cup chopped cilantro
1 Tbsp. lime juice
1⁄2  tsp. red pepper flakes
Salt to taste
Combine marinade ingredients in a shallow pan. Place pork in pan, and marinate overnight. Heat grill to medium and cook pork until medium temperature. Let pork rest for 20 minutes, then slice thinly and assemble with the following ingredients:
24 cocktail rolls
Sliced jalapeños
Julienned carrots
Thinly sliced cucumber
24 sprigs cilantro
Recipe courtesy Gourmet Girls
---