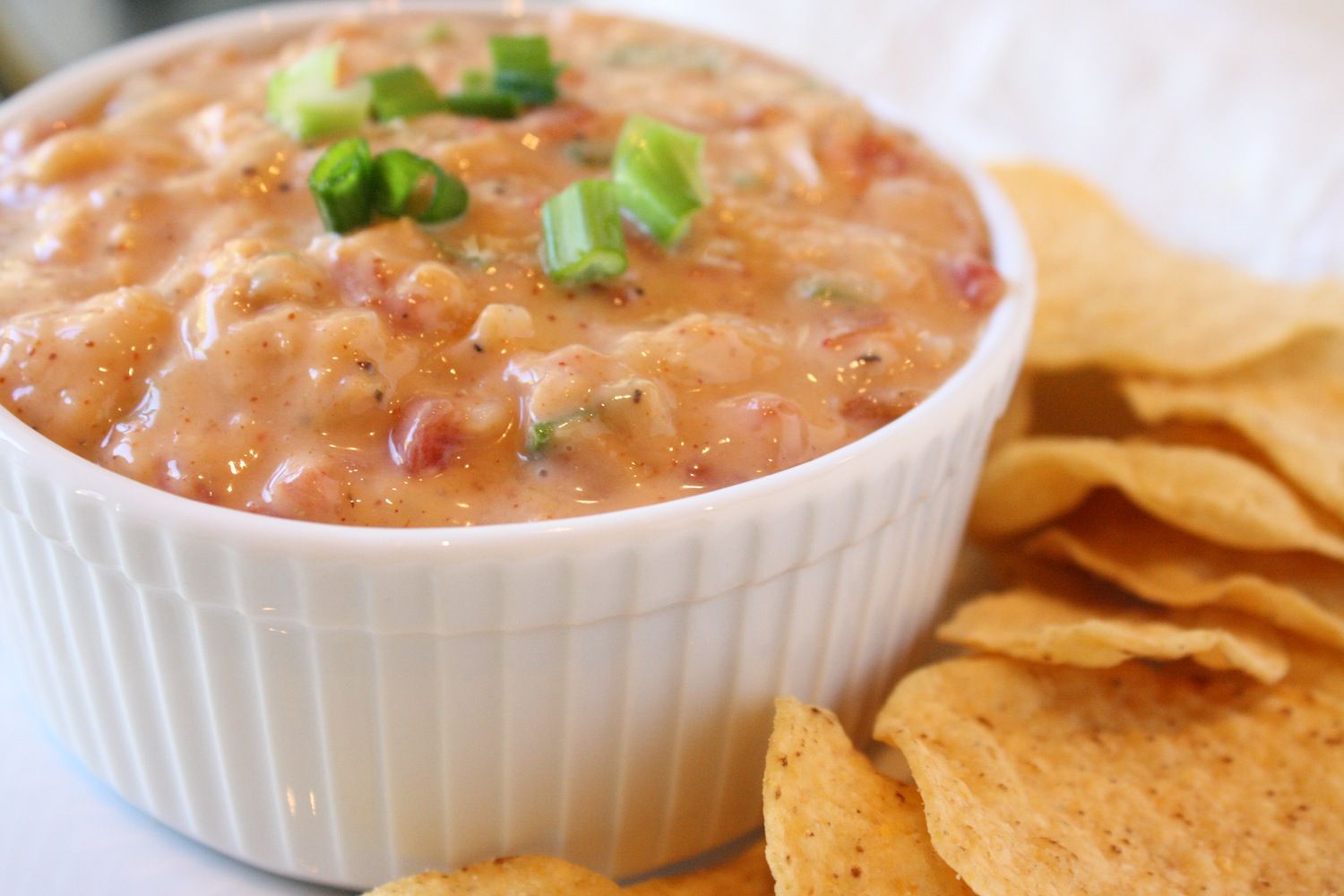 By Holly Clegg
I love to throw a themed party, and a Mexican fiesta is always a delicious way to go! Cinco de Mayo, primarily a U.S. holiday commemorating Mexican heritage, is the perfect reason to celebrate. To delight amigos of all ages, try this menu filled with south-of-the-border flavors combined with Louisiana's fresh ingredients.
Salsa, guacamole, and chips are mainstays at a fiesta done right, but my Chili con Queso brings dips to the next level! It can be whipped up in moments, yet it tastes like it was a time-consuming dish. Be sure to set the appetizers out with the meal as well. I think the term "grazing" must have originated with Southwestern food—I always keep nibbling on these wonderful dips and sauces throughout the party. And don't wait for a themed party to prepare this queso (cheese) dip. It pairs well with just about anything.
I love shrimp, especially its versatility in cooking. My BBQ Shrimp Tacos is a Louisiana version of the traditional taco. If you are low on time, buy peeled shrimp from your local grocery store. Once the shrimp are marinated, the tacos can be prepared in 10-15 minutes!
To really kick back and have a good time, many hosting Cinco de Mayo parties will serve a pitcher of margaritas. An alternative is my Margarita Cake: a sweet way to end a satisfying Mexican meal. Lime zest gives true margarita flavor to this crowd-pleasing dessert, while the pretzel crust reflects the salted rim of the cocktail glass.
Colored veggies, piatas and sombreros make festive table decorations and reduce the need for flowers. In addition, you can create colorful groupings of peppers, eggplant, chilies, cherry tomatoes, and other veggies. A bonus: They serve as excellent healthy ingredients later. Also, if I can find sunflowers, I like to spread them around as an accent. Ole!
---
Chili con Queso
This sensational cheese dip comes together in no time. Serve heated with chips.
1 onion, chopped
1/2 tsp. minced garlic
1/2 cup light beer
1 1/4 cups skim milk, divided
3 Tbsp. cornstarch
1 1/2 cups shredded reduced-fat sharp Cheddar cheese
1 10-oz. can diced tomatoes and green chilies, drained
1/3 cup chopped green onions
1 tsp. ground cumin
1 tsp. chili powder
In large nonstick pot coated with cooking spray, saute onion and garlic until onion is tender. Add beer and cook until reduced slightly, about 1 minute. Add 1 cup milk and heat until almost boiling. Meanwhile, in small bowl, whisk remaining 1/4 cup milk and cornstarch. Add to pot, and cook, stirring, until bubbling and thickened. Reduce heat and add remaining ingredients, stirring until cheese is melted. Makes 12 1/4-cup servings.
Nutritional information per serving: Calories 64 | Calories from fat 31% | Fat 2g | Saturated fat 2g | Cholesterol 8mg | Sodium 196mg | Carbohydrates6g Dietary fiber 1g | Total sugars 2g | Protein 5g | Dietary exchanges: 1/2 starch, 1/2 lean meat
BBQ Shrimp Tacos
Two of my favorites—BBQ shrimp and tacos—in one marvelous recipe.
1 lb. medium shrimp, peeled
1 Tbsp. olive oil
2 Tbsp. minced garlic
3 Tbsp. Worcestershire sauce
1 bunch green onions, chopped
1 tsp. dried basil leaves
1 Tbsp. chili powder
2 Tbsp. lemon juice
1/4 cup barbecue sauce
1 cup chopped tomato
1/4 cup chopped red onion
Salt and pepper to taste
4 flour tortillas, warmed
In bowl or resealable plastic bag, coat shrimp with olive oil. Add in all ingredients except tomato, onion, and tortillas. Marinate 1-2 hours, time permitting. In large nonstick skillet coated with nonstick cooking spray, place shrimp (discarding extra marinade) and saute until done. In small bowl, combine tomato and onion. Season to taste. Make tacos with tortillas, shrimp, and tomato mixture. Makes 4 servings.
Nutritional information per serving: Calories 228 | Calories from fat 22% | Fat 5g | Saturated fat 1g Cholesterol 143mg | Sodium 662mg | Carbohydrates 24g Dietary fiber 2g | Total sugars 6g | Protein 19g | Dietary exchanges: 1 1/2 starch, 3 lean meat

Margarita Cake
Sweet and salty, light and refreshing, this white cake flavored with lime makes a great impression.
1 1/2 cups coarsely crushed pretzels
2 Tbsp. light brown sugar
5 Tbsp. butter, melted
1 18.25-oz. box white cake mix
1 1/4 cups bottled non-alcoholic margarita mix
1/4 cup canola oil
1 Tbsp. grated lime rind
3 egg whites
1 8-oz. tub fat-free whipped topping, thawed
Additional grated lime rind, if desired
Heat oven to 350 degrees. Coat a 13x9x2-inch pan with cooking spray. In medium bowl, mix pretzels, brown sugar and melted butter. Press into pan. In large bowl, beat cake mix, margarita mix, oil, lime rind and egg whites until well mixed. Carefully pour batter over pretzel mixture. Bake 25-30 minutes or until light golden brown and top springs back when touched lightly in the center. Cool completely. Frost with whipped topping; sprinkle with additional lime rind. Refrigerate. Makes 24 servings.
Holly's hint: Don't skimp on the lime rind as it infuses the cake with essential flavor.
Nutritional information per serving: Calories 176 | Calories from fat 34% | Fat 7g | Saturated fat 2g | Cholesterol 6mg | Sodium 260mg | Carbohydrate 27g | Dietary fiber 0g | Sugars 12g | Protein 2g | Dietary exchanges: 2 other carbohydrate, 1 1/2 fat
| | |
| --- | --- |
| | Holly Clegg is the author of the best-selling trim&TERRIFIC cookbooks, Eating Well Through Cancer and Too Hot in the Kitchen: Secrets to Sizzle at Any Age. For more information, visit hollyclegg.com or thehealthycookingblog.com. |