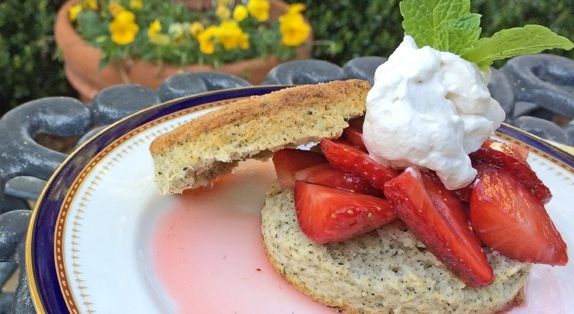 Story and photos by Lori Zachary
Spring has sprung! What better way to celebrate than to have a dessert that is practically spring on a plate?
This Earl Grey Strawberry Shortcake with Vanilla Whipped Cream fills the bill in a most delightful way. Louisiana strawberries are abundant this time of the year. They're at the farmer's markets, in CSA boxes and especially at the Ponchatoula Strawberry Festival this month.
I know what you're thinking. Tea in my biscuit? Doesn't that break some sort of Southern cooking rule? After all, biscuit recipes are often sacred family heirlooms passed down through the generations. This recipe is a basic biscuit dough with the addition of a little more sugar and some ground Earl Grey tea. If tea in my biscuit is wrong, I don't want to be right.
Tea is one of the world's oldest ingredients and has been used extensively for thousands of years in Chinese, Japanese and Indian cuisines to add flavor and aroma. This ancient wisdom recently made its way across the seas, and cooking with tea is becoming all the rage in North America.
Here, the bergamot-flavored Earl Grey lends a slight orange and fragrantly floral taste that pairs wonderfully with the strawberries and vanilla whipped cream. Give it a try!
Lori Zachary is a wife, mother of two grown daughters and trained chef who is the author of the Little White Apron food blog (littlewhiteapron.com).
Earl Grey Strawberry Shortcake with Vanilla Whipped Cream
4 pints strawberries, washed, stemmed and sliced
3 Tbsp. vanilla sugar (available at Red Stick Spice Company)
1 Tbsp. Grand Marnier (optional)
2 cups all-purpose flour
1 Tbsp. baking powder
5 Tbsp. sugar, divided
3⁄4 tsp. salt
1 Tbsp. Earl Grey tea, finely ground
1⁄2 cup unsalted butter, cold, cut into small pieces
3⁄4 cup buttermilk
3⁄4 cup plus 4 Tbsp. heavy whipping cream, divided
2 to 3 heaping Tbsp. confectioner's sugar
1 tsp. vanilla purée (available at Red Stick Spice Company) or vanilla extract
Place strawberries with vanilla sugar and Grand Marnier (if using) in a bowl and set aside or in the refrigerator to let strawberries macerate.
Preheat oven to 450 degrees. For biscuits, whisk flour, baking powder, 4 Tbsp. sugar, salt and tea in a large mixing bowl. Cut in cold butter using a pastry cutter or your fingers (like you're snapping your fingers). Add buttermilk and 2 Tbsp. heavy whipping cream; mix just until soft dough forms.
Turn dough out onto a floured countertop and very gently pat into a circle about 1 inch thick. Handling dough as little as possible, cut into 8 or 9 circles with a biscuit cutter. Brush tops of biscuits with 2 Tbsp. heavy whipping cream and sprinkle with remaining 1 Tbsp. sugar.
Place biscuits on a lined baking sheet and bake for 10-12 minutes until tops are golden brown and biscuits are done.
For whipped cream, pour remaining 3⁄4 cup heaving whipping cream (making sure it is ice cold) into a metal bowl with confectioner's sugar and vanilla purée or extract. Either by hand or using a hand mixer, whisk cream until it reaches desired consistency. Place in refrigerator until ready to use.
Split each biscuit in half, spoon macerated strawberries over biscuit, and top with whipped cream. Serve immediately. Makes 8-9 biscuits.
Note: Biscuits can be frozen before baking for up to 1 month. They also make great breakfast biscuits.