Aimee's Pretty Palatte: Father's Day Doodle
---
One weekend as my husband and I were contemplating the age-old question of what do you want to eat, he suggested "burger doodle."
"Burger doodle?" I asked.
He went on to explain that when he was growing up, his father, Jim, would often refer to going out for burgers as going to the burger doodle. Not an actual location for some sensationalized specialty burgers, as I was imagining, just an affectionate form of suggesting burgers for dinner. 
So in his honor, this Father's Day we shall shower him with a homemade form of doing the burger doodle via some Classic Patty Melts. Like a cheeseburger in that it involves ground beef and melted cheese, but because we've already served burgers a time or two or ten, I've elected to deviate ever so slightly with melted patties encased in thick Texas-toast-type bread instead.
Another slight deviation is skipping the fries, onion rings or chips for some Quick Macaroni Salad. I love a macaroni salad because it can be made ahead of time and it's there ready when you need it. Macaroni salad is one of those dishes where the add-ins are virtually limitless. I add chopped bell peppers to mine for color and crunch and have also been known to throw in some ham and bacon as well. 
If there were ever a time for some Honey Bourbon Peach Skillet Cobbler, it's probably Father's Day. It combines a hint of booze that most men love with the freshness of peach season all melded together in a cast-iron skillet. It's the perfect way to sweetly wrap up a day devoted to celebrating the main guys in your life. 
High five for burger doodling.  
---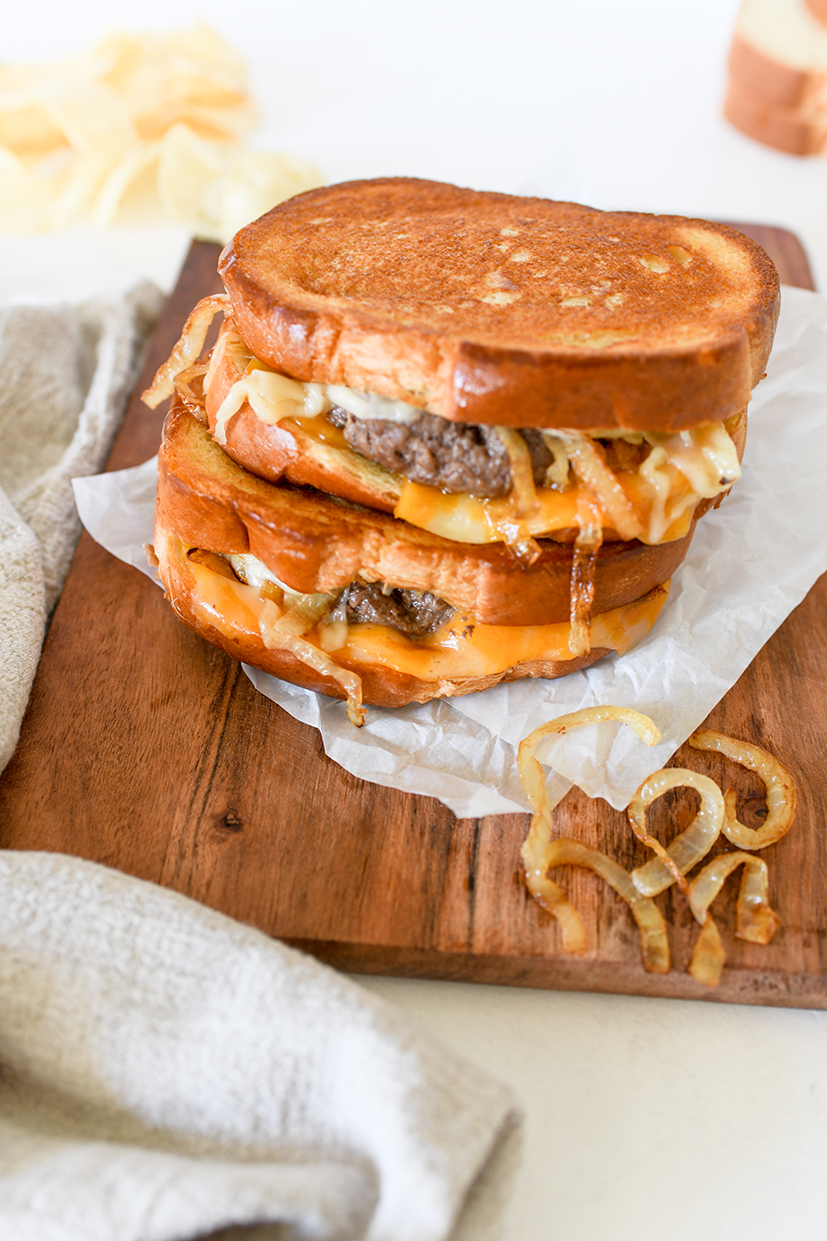 Classic Patty Melts
Ingredients:
6 Tbsp. butter, softened, divided
1 large sweet onion, peeled and thinly sliced
1½ lbs. ground beef
2 tsp. Worcestershire sauce
1 tsp. garlic powder
1 tsp. salt
½ tsp. pepper
8 slices thick bread
4 slices Swiss cheese
4 slices Monterey Jack cheese
In a medium or large skillet, melt
2 Tbsp. butter over medium-low heat. Add sliced onions and cook until onions are golden brown and soft, about
15 minutes, stirring occasionally.
In a medium bowl, mix together ground beef, Worcestershire, garlic powder, salt and pepper. Form 4 patties.
Wipe pan used for onions, return pan to medium heat, and melt 2 Tbsp. butter over medium heat. Cook patties on both sides until centers are done and no longer pink in the middle. Remove patties and wipe pan clean once again.
Butter bread with remaining
2 Tbsp. butter.
Assemble each patty melt: 1 slice bread, butter side down; 1 slice cheese; 1 hamburger patty; ¼ of cooked onions; another 1 slice cheese; 1 slice bread, butter side up. Grill sandwiches until golden brown and cheese is melted. Carefully flip each sandwich. Once golden, serve immediately.
Makes 4 servings.
---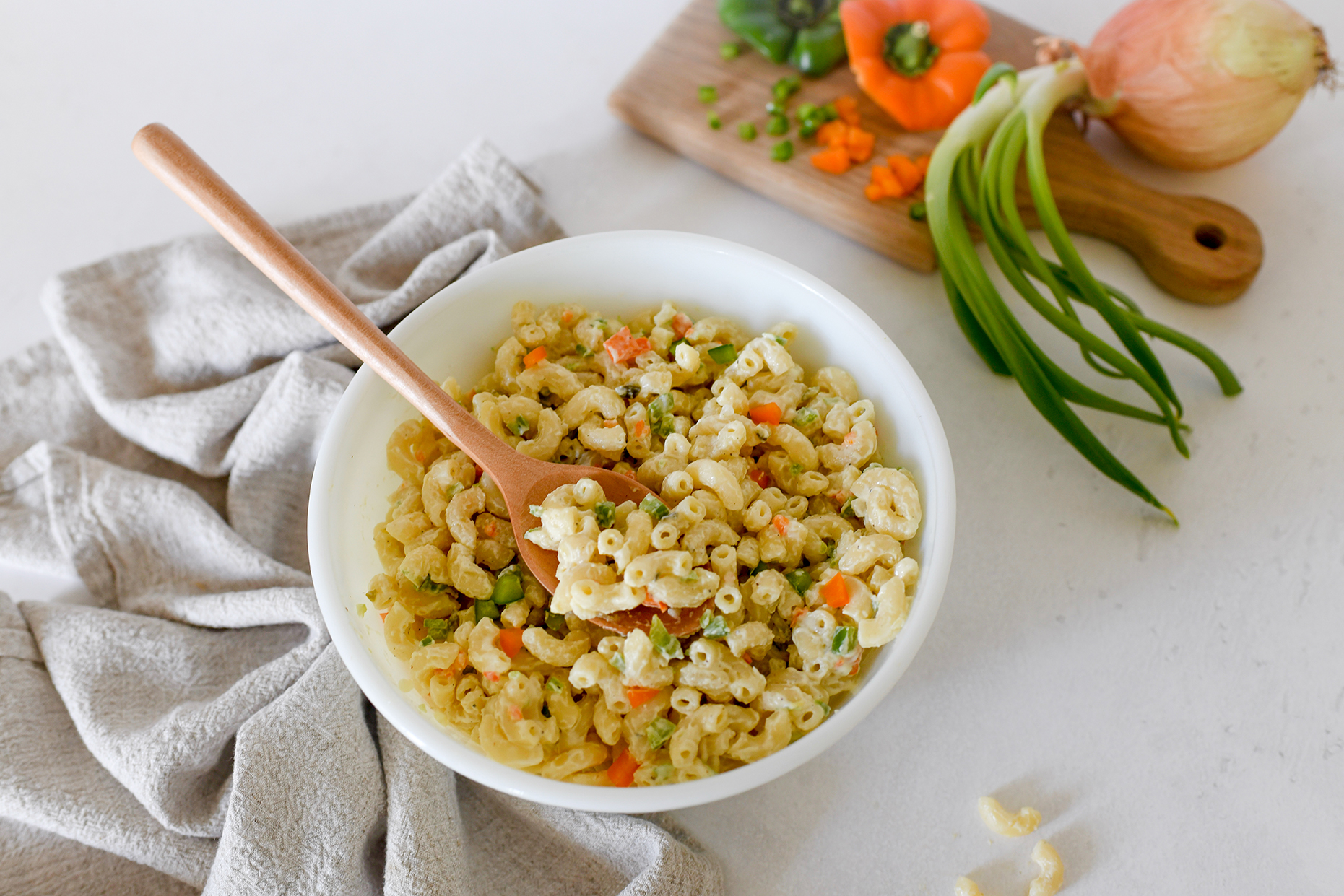 Quick Macaroni Salad
Ingredients:
8 to 10 oz. dry macaroni pasta (elbow or corkscrew)
¾ cup mayonnaise
¼ cup sour cream
3 Tbsp. finely chopped bread and butter pickles
¼ tsp. salt
½ tsp. pepper
½ green bell pepper, diced
½ yellow bell pepper, diced
¼ cup sweet yellow onion, finely diced
Cook pasta according to package instructions. Drain and rinse under cold water.
For dressing, in a small bowl, whisk together mayonnaise, sour cream, pickles, salt and pepper until well-combined.
In a large bowl, combine pasta, dressing and remaining ingredients. Mix well to combine. Cover and refrigerate for at least
1 hour before serving.
Makes 6 servings.
---
Honey Bourbon Peach Skillet Cobbler
Ingredients:
4 to 5 large peaches (about 4½ cups), peeled and sliced
3 Tbsp. Jim Beam honey bourbon
½ cup sugar, divided
1 Tbsp. cornstarch
1 tsp. ground cinnamon
1 tsp. ground nutmeg
1 cup all-purpose flour
1 tsp. baking powder
½ tsp. salt
8 Tbsp. cold unsalted butter, divided
½ cup heavy cream, plus more for brushing
Cinnamon sugar mixture, for sprinkling
Vanilla ice cream, for serving (optional)
Preheat oven to 375 degrees. Combine peaches, bourbon, ¼ cup sugar, cornstarch, cinnamon and nutmeg in a large bowl; toss to coat.
Sift together flour, remaining ¼ cup sugar, baking powder and salt into a bowl. Cut 6 Tbsp. cold butter into small cubes and add to flour mixture, cutting in with a pastry blender or 2 forks until mixture looks like coarse crumbs. Pour in ½ cup heavy cream and mix just until dough comes together. Dough should be sticky; do not overwork dough!
Melt remaining 2 Tbsp. butter in an 8-in. cast-iron skillet over medium-low heat. Add peach mixture and cook gently until heated through, about 5 minutes. Remove skillet from heat and drop dough by tablespoonfuls over warm peaches. Brush top with a bit of cream and sprinkle with cinnamon sugar mixture.
Transfer skillet to oven, and bake until cobbler is browned and peaches are bubbling, about 30 to 35 minutes. Serve warm with ice cream, if desired.
Makes 6 servings.
---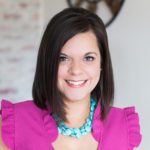 Aimee Broussard is a Southern food blogger and award-winning cookbook author. Seen on QVC, Rachael Ray and more, she is a self-proclaimed accidental entrepreneur with a penchant for porches and sweet hospitality. Find her online at aimeebroussard.com.