Aimee's Pretty Palate: Thanksgiving Twists
---
If you caught the cover story, a few of inRegister's culinary contributors were asked to provide a dish suitable for a Thanksgiving gathering. I was assigned "something green." Traditionally, when we think of Thanksgiving and green, we automatically think of tried and true recipes—green bean casserole or something with spinach like the beloved Spinach Madeleine from the Junior League of Baton Rouge. In my attempt to be different, however, I opted for a Fall Harvest Salad, although I often debate that salads during the holiday meal take up valuable real estate in the stomach much better reserved for, say, dessert.
While tempted to provide my Cast Iron Creole Green Beans, I recognized that it's not the most portable of dishes, and I prefer the beans served straight from the cast iron skillet. With its tomatoes, bacon and seasonings, it's a bit of a twist on the ol' tried-and-true green bean dishes commonly seen on your turkey table, but worthy of its time to shine.
Speaking of turkey, we all know you're going to end up with extra turkey, so turn your day-after-Thanksgiving festivities into an extended celebration of gratitude with some Three-Cheese Pesto Paninis. What could possibly be better than a turkey sandwich loaded with multiple cheese options? Don't be limited by my cheese selections; any combo will work just fine.
And finally, for me not to include a pumpkin-centric dessert during this season would be downright blasphemy since I mentioned my desire to forfeit salad for dessert. Therefore, I am sharing with you my recipe for Pumpkin Cheesecake Trifles.  It's a no-bake, fuss-free recipe combining all of my favorite things. Did someone say pumpkin spice? And cheesecake? In an individual-size Mason jar? Yes, please.
---
CAST IRON CREOLE GREEN BEANS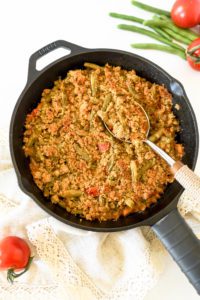 Ingredients
5 strips bacon, cut into pieces
1 green bell pepper, finely chopped
1 medium onion, finely chopped
1 (14½-oz.) can diced tomatoes
2 (14½-oz.) cans cut green beans, drained
1 tsp. Worcestershire sauce
¼ cup mayonnaise
½ tsp. salt
Dash black pepper
Dash cayenne pepper
1 (4-oz.) can sliced mushrooms
½ cup breadcrumbs
3 Tbsp. butter, melted
Preheat oven to 350 degrees.
Cook bacon, bell pepper and onion in a cast iron skillet for 5 to 8 minutes. Drain.
Add tomatoes and simmer for 5 minutes. Stir in beans, Worcestershire, mayonnaise and seasonings; blend thoroughly. Add mushrooms.
In a small bowl, combine breadcrumbs with melted butter. Sprinkle on top of bean mixture and bake, uncovered, for 20 minutes.
Turn oven to medium-heat broil and allow crumb crust to get golden brown. Keep a watchful eye, though, so topping doesn't burn. Serve warm from skillet.
Makes 6-8 servings.
---
THREE-CHEESE PESTO PANINIS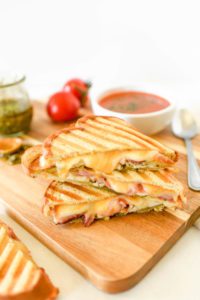 Ingredients
8 slices bacon, cut in half
Brioche bread, cut into 8 slices
2 Tbsp. butter, melted
4 tsp. basil pesto
4 slices mozzarella cheese
4 slices Asiago cheese
4 slices Colby/Monterey Jack blend cheese
1 cup cooked turkey, cut into pieces
Fresh basil (optional)
Heat a large nonstick skillet over medium heat. Add bacon, turning occasionally, until crisp. Transfer to a plate covered with a paper towel, and drain.
Assemble sandwiches: butter outside of each Brioche slice and place bottom half on a cutting board or work surface. Spread inner, cut sides with basil pesto. Top 4 bread slices with ½ slice each of mozzarella, Asiago and Colby/Monterey Jack cheese slices, 2 slices bacon, ¼ cup turkey, and a bit of fresh basil, if desired. Place remaining 4 bread slices, buttered side up, on top.
Preheat panini maker according to manufacturer's instructions. Depending on the size of your maker, place 1 or 2 Brioche sandwiches on hot surface and close lid to slightly flatten. Cook until paninis are toasted and cheese has melted, about 4 to 5 minutes. Repeat with remaining sandwiches. Transfer to a cutting board and allow to rest for a bit before cutting in half. Serve warm.
Makes 4 sandwiches.
---
MASON JAR PUMPKIN CHEESECAKE TRIFLES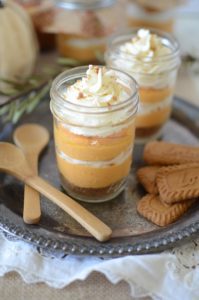 Ingredients
About 12 to 14 Biscoff cookies, crushed
1 Tbsp. butter, melted
1 cup heavy cream
½ cup plus 1 to 2 Tbsp. sugar, divided
1½ tsp. vanilla extract, divided
8 oz. cream cheese, softened
1 cup canned pumpkin
1 tsp. cinnamon
½ tsp. nutmeg
2 tsp. pumpkin pie spice creamer
1 to 2 Tbsp. sugar
½ tsp. vanilla extract
In a medium bowl, combine cookie crumbs and butter. Divide crumbs in the bottoms of 4 Mason jars, and gently press to form an even layer of crust.
In a large bowl with an electric mixer, prepare whipped topping by combining heavy cream with 1 to 2 Tbsp. sugar and ½ tsp. vanilla; beat until mixture forms stiff peaks. Set aside.
In another large bowl, beat cream cheese until smooth. Add pumpkin, 1 tsp. vanilla, ½ cup sugar, cinnamon and nutmeg, then add pumpkin pie spice creamer. Beat until well combined. Use a spatula to fold in half of whipped topping.
To assemble, spoon a layer of pumpkin cheesecake onto crust, followed by a layer of whipped topping. It's easiest to control if you put each mixture into a piping bag (or zip-top plastic bag). Repeat layers until you reach the top. Store in refrigerator until ready to serve. Garnish with additional whipped topping and cookie crumbs.
Makes 4 servings.
---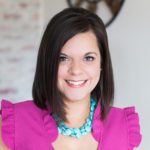 Aimee Broussard is a Southern food blogger and award-winning cookbook author. Seen on QVC, Rachael Ray and more, she is a self-proclaimed accidental entrepreneur with a penchant for porches and sweet hospitality. Find her online at aimeebroussard.com.