Aimee's Pretty Palate: Keepin' it cool
---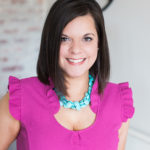 The season of summer is upon us, and unfortunately, so is the wicked Louisiana heat. Give yourself a respite from the blazing temperatures with this month's summer lovin' recipes that ditch the use of the oven.
To get your summer morning off on the right foot, consider my Very Berry Cheesecake Yogurt Parfaits. Prepared in individual-serving-size Mason jars, the parfaits begin with a homemade maple and almond granola, layered with a creamy "cheesecake" yogurt, and then topped with your favorite fruit. The recipe ensures there's enough for the entire family, so it's perfect for whipping up while on vacation, too.
The BLT with Avocado Bow Tie Pasta Salad is light and refreshing and the perfect quick-fix meal during the warm-weather months. True to its name, it has all the makings of a BLT sandwich … without the bread. The addition of avocado gives it a smooth and creamy texture and, in my opinion, reduces the amount of dressing you need. I've paired it with an avocado dressing found locally, but feel free to whip up a favorite homemade version. I have also had this salad without the avocado and tossed with ranch dressing, and it's equally delicious.
And finally, while the Summer Strawberry & Green Bean Salad sounds absolutely ridiculous, it is delicious, beautiful and insanely healthy to boot. Sweet and salty with a bit of crunch, it's perfect for summer.
Enjoy and stay cool, y'all!
---
Very Berry Cheesecake Yogurt Parfaits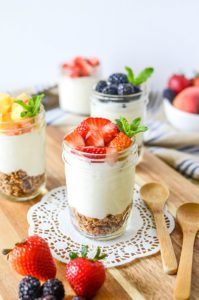 1⁄4 cup maple syrup
1⁄3 cup packed brown sugar
1⁄4 cup orange juice
1⁄2 tsp. ground cinnamon
2 cups old-fashioned rolled oats
1⁄2 cup chopped salted almonds
1⁄4 tsp. fine sea salt
1 cup dried cranberries
1 qt. plain or vanilla Greek yogurt
6 Tbsp. whipped cream cheese
4 oz. each fruit of choice, chopped
Preheat oven to 325 degrees. Spray a baking sheet with nonstick cooking spray and set aside. In a small saucepan, stir maple syrup, brown sugar and orange juice over medium-high heat until sugar dissolves completely. Remove from heat. In a medium-size bowl, combine cinnamon, oats, almonds, sea salt and cranberries. Pour maple mixture over oat mixture and stir until combined. Spread mixture onto prepared baking sheet and bake for 20 minutes. Remove from oven and toss the granola. Return to oven for an additional 10 to 15 minutes or until mixture begins to brown. Cool completely.
Mix yogurt and whipped cream cheese in a medium-size bowl until well combined. To assemble parfaits, add approximately 2 Tbsp. granola to each 8-ounce Mason jar, add a layer of yogurt, and top with fresh fruit. Makes 6 servings.
Note: Granola not used for parfaits can be stored in an airtight container for up to a week.
---
BLT with Avocado Bow Tie Pasta Salad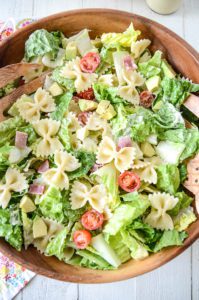 1⁄2 lb. bow tie pasta
6 strips bacon
6 cups romaine lettuce, torn
1 large avocado, diced
1 cup cherry tomatoes, sliced
1⁄2 cup desired dressing (I used Kraft Avocado)
Cook pasta as directed on package; drain and rinse. While waiting for pasta to cool, cook bacon and set aside on paper towels to drain and cool, then crumble. Mix together pasta, bacon, lettuce, avocado and tomatoes in a large bowl, and toss with dressing. Serve immediately. Makes 6 to 8 servings.
---
Summer Strawberry & Green Bean Salad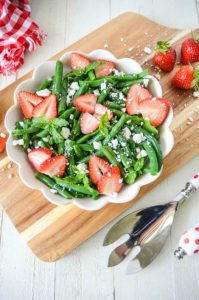 1 Tbsp. raspberry vinegar
1 tsp. agave syrup
1 tsp. Dijon mustard
Pinch salt
1⁄4 cup olive oil
2 1⁄2 cups green beans
1 1⁄2 cups strawberries, sliced
1⁄4 cup fresh mint
1 cup feta cheese crumbles
Pepper to taste
To make dressing, combine vinegar, syrup, mustard and salt in a bowl and stir until smooth. Slowly add oil, and whisk thoroughly. Set aside.
Put green beans in a saucepan of boiling water. Bring to a boil, then simmer for 5 minutes or until desired tenderness. Drain in a colander, rinse, then drain again before putting into a salad bowl. Add strawberries and mint. Drizzle enough dressing to lightly coat, then toss gently. Sprinkle feta over salad, and season with pepper. Serve immediately. Makes 4 servings.