Aimee's Pretty Palate: Cook the Book
---
Every six weeks, a group of fellow book-reading enthusiasts and myself gather at my friend Danyale's home to discuss the latest chosen page turner. Our group has been curated almost as carefully as the books we read, the diverse backgrounds making conversation lively and the company we keep something worth making book club Tuesday the highlight of our week.
It isn't often that I'm culinarily inspired by the books we read. That is, until we read Lessons in Chemistry by Bonnie Garmus. If you haven't read it (you must), the novel revolves around Elizabeth Zott, a brilliant research chemist who has the misfortune of being a career-oriented woman in a male-dominated 1960s America. With a failed career in chemistry (she is fired for becoming pregnant while unmarried), Zott unexpectedly goes on to become a television host of a cooking show after approaching the father of the child who has been swapping lunches with her daughter Madeline's in exchange for friendship.
As you can imagine, there is no shortage of food references in the book, many of them consisting of stews, casseroles and other dishes  made in large metal pans. Because the school lunches were what led to the inception of the widely successful Supper at Six cooking show that not only empowered women at home to set their dinner tables with panache while using chemistry as the guide, but also challenged the status quo for females, I was inspired to recreate one of the meals.
My Lasagna Stuffed Shells provide a bit of a twist on traditional lasagna. It is a hearty and comforting suppertime crowd pleaser. It's great with spinach too, if you're looking to bump up the nutritional value and sneak in some veggies.
Made in a cast iron skillet for maximum crisp, a side of Garlic Butter Zucchini and Squash makes the most of seasonal produce and is whipped up lightning fast. It's my jazzed-up version of Madeline's buttery zucchini.
Finishing off our coveted lunchbox ensemble are the best chocolate chip cookies you'll ever make. I know that's quite a claim, but this Double Chocolate Chip Cookie recipe is slightly adapted from the recipe served at the DoubleTree by Hilton hotel. Pun intended: I've "doubled" the chocolate, because if there's anything worth doubling in life, it's chocolate.
---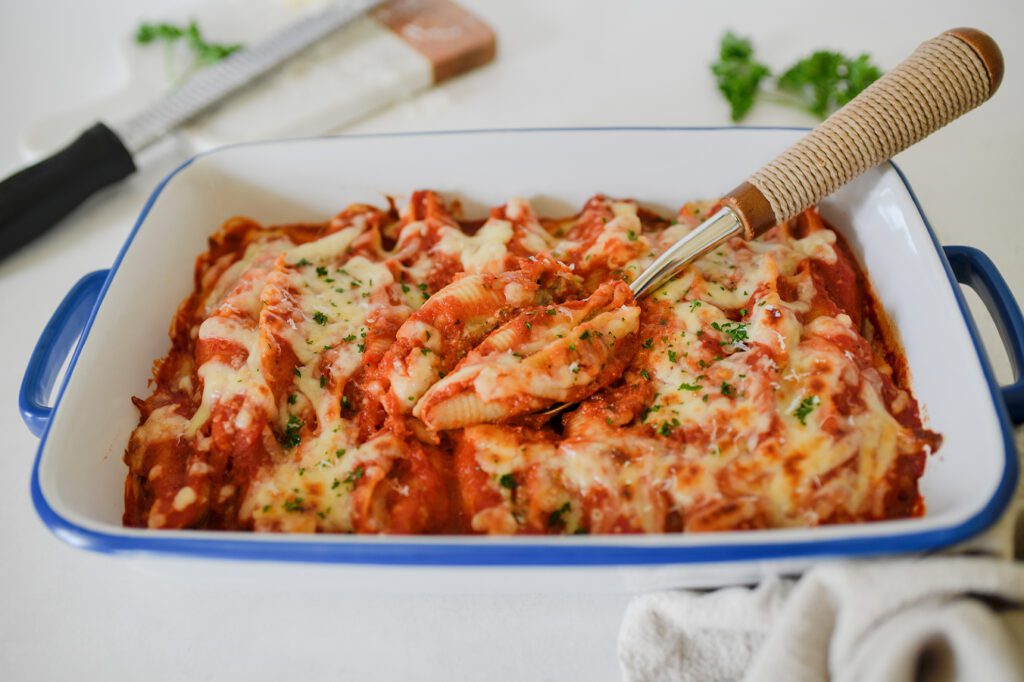 Lasagna Stuffed Shells
Ingredients:
2 Tbsp. olive oil
1 lb ground beef
½ onion, finely chopped (about ½ cup)
2 garlic cloves, minced
1 Tbsp. Italian seasoning
1 tsp. salt
½ tsp. pepper
25 oz. jar marinara, divided
16 oz. whole milk ricotta cheese
2 large eggs
2 Tbsp. chopped fresh parsley
12 oz. box jumbo pasta shells (you'll need 20 shells plus a couple extra)
Instructions:
Bring a large pot of salted water to boil and cook pasta shells al dente according to package instructions. Drain. Refill pot with cold water and place shells into water.
In a large skillet over medium heat, heat olive oil and sauté onion and garlic until softened. Add ground beef and cook until browned and fully cooked. Add seasoning, salt and pepper. Remove from heat and allow meat mixture to cool slightly.
In a large bowl, stir together ricotta with 1 cup mozzarella cheese, eggs and parsley. Add meat mixture to cheese mixture.
Pour
¾

cup marinara sauce into 9×13 baking dish, spreading to cover bottom.
Drain pasta shells and fill each one with about 2 Tbsp. of the filling. Arrange pasta shells into prepared baking dish. Pour remaining marinara evenly over tops of the stuffed shells.
Sprinkle the top with remaining 1
½

cup mozzarella cheese. Cover dish loosely with aluminum foil and bake for 30 minutes. Uncover and bake another 10 minutes until sauce is hot and bubbly and cheese is melted and starting to brown.
Garnish with additional parsley, if desired.
Makes 6-8 servings.
---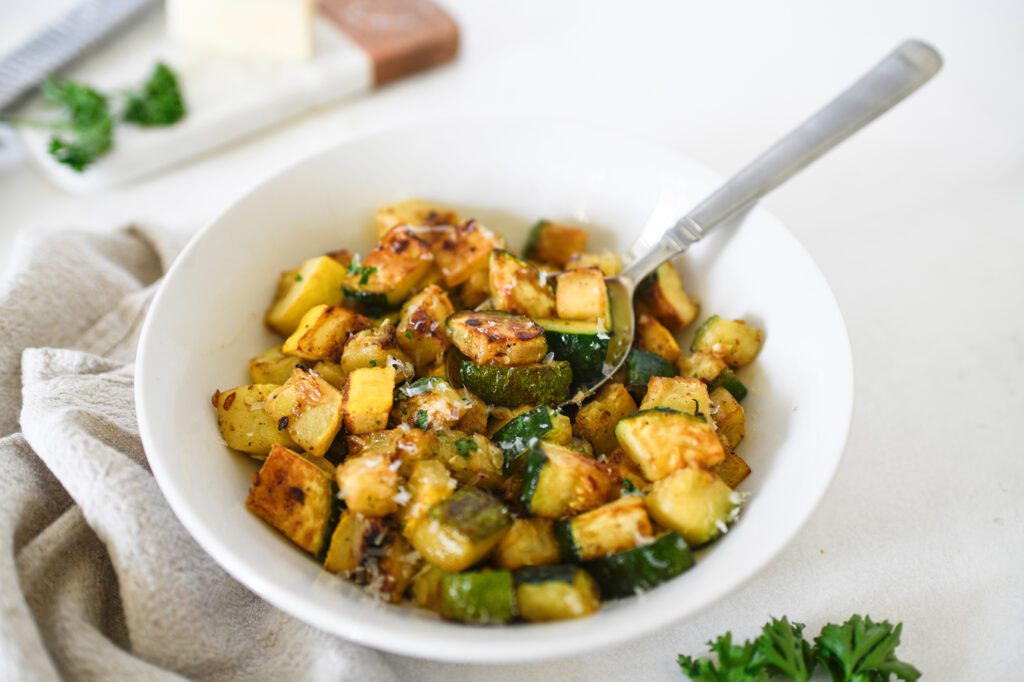 Garlic Butter Zucchini & Squash
Ingredients:
1 zucchini, quartered
1 yellow squash, quartered
1 Tbsp. olive oil
1 Tbsp. butter
½ tsp. minced garlic
Salt and pepper, to taste
Fresh parsley, finely chopped, garnish
Parmesan cheese, freshly grated, garnish
Instructions:
In a large cast iron skillet, heat olive oil. Add zucchini and squash and cook for about 3-5 minutes before turning, so that edges have a chance to crisp. Cook until zucchini and squash are tender and all sides are slightly browned.
Add butter, garlic, salt and pepper. Continue to cook until butter is melted and garlic becomes fragrant, about another 2 minutes. Gently toss.
Remove from heat and garnish with parsley and parmesan cheese.
Makes 6 servings.
---
Double Chocolate Chip Cookies
Ingredients:
1 cup unsalted butter, at room temperature
¾ cup light brown sugar
¾ cup sugar
2 eggs
1 tsp. vanilla extract
2 ¼ cup all-purpose flour
½ cup old-fashioned rolled oats
1 tsp. baking soda
½ tsp. salt
2 cups semi-sweet chocolate chips
4 oz. Ghirardelli milk chocolate baking bar, chopped
Instructions:
Preheat oven to 350 degrees and line 2 baking sheets with parchment paper or a silicone mat.
In the bowl of a stand mixer, cream butter and sugars together until smooth, about 2 minutes. Beat in eggs and vanilla, scraping down sides of the bowl as needed. Reduce speed to low and add flour, oats, baking soda and salt. Fold in chocolate chips and half of chopped baking bar.
Use a small cookie scoop to drop cookies onto prepared pans, about 2 inches apart. Slightly flatten tops. Place a couple of pieces of remaining chopped chocolate on top of each cookie. Bake for 12-14 minutes, or until edges begin turning golden brown.
Allow cookies to cool on baking sheet for about 15 minutes, then transfer to a wire rack to finish cooling.
Makes 24 cookies.
---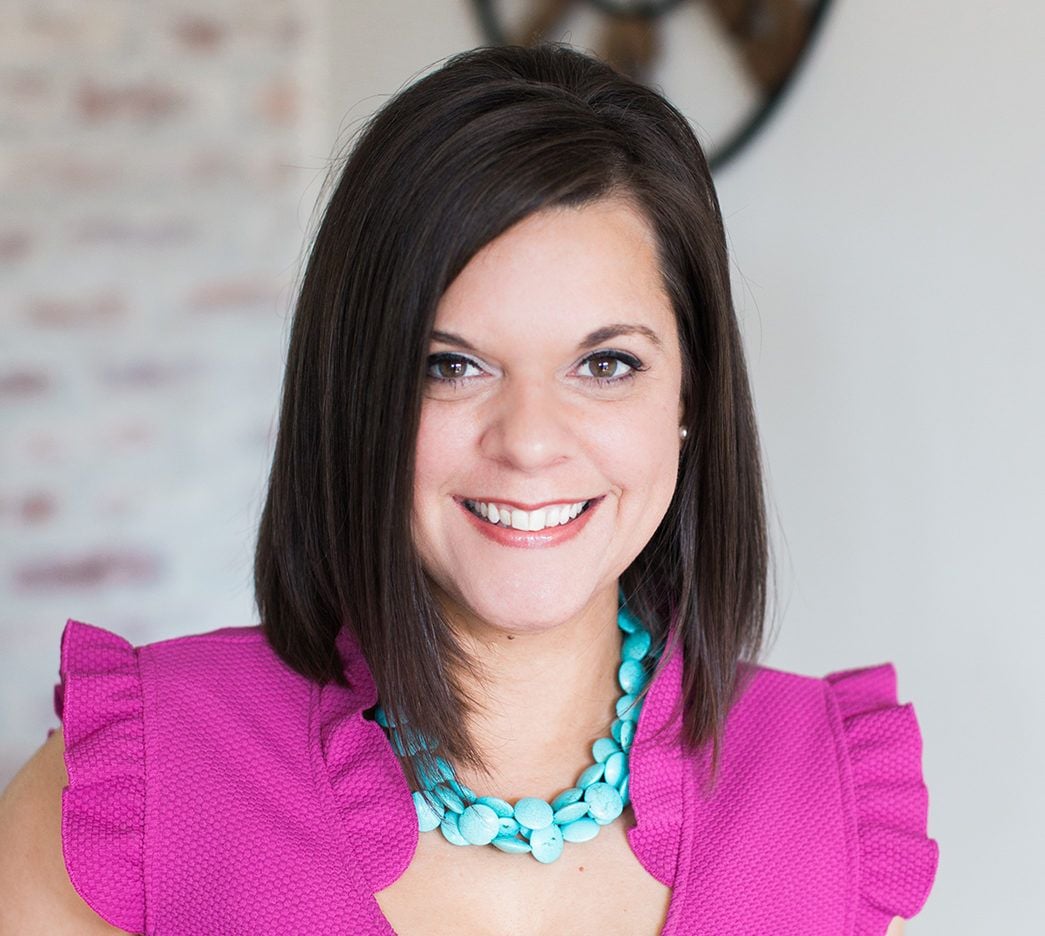 Aimee Broussard is a Southern food blogger and award-winning cookbook author. Seen on QVC, Rachael Ray and more, she is a self-proclaimed accidental entrepreneur with a penchant for porches and sweet hospitality. Find her online at aimeebroussard.com.