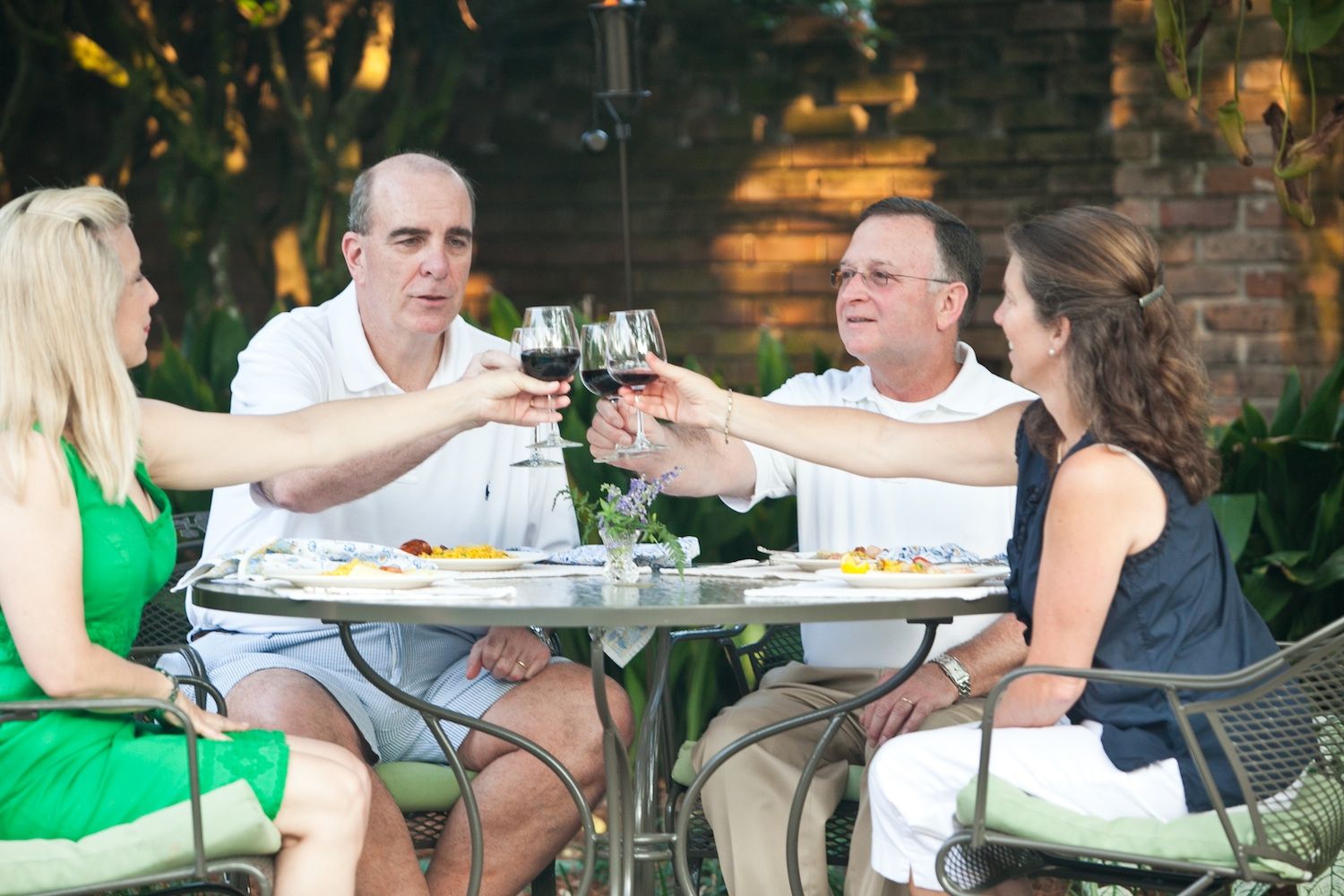 By Stephanie Riegel
When Mary Eymard called her neighbors Susanna McCarthy and Tricia Davidson and asked if they'd be interested in throwing a poolside progressive dinner for their three families and a few other friends, they weren't quite sure it would be worth what potentially seemed like a lot of trouble.
But then Susanna—who has that innate ability to throw together a platter of gourmet food or a spread of fresh-cut flowers and make it appear as though Martha Stewart's advance team has been there for hours—came up with an idea for a Spanish-themed tapas menu that sounded like too much fun to refuse. The food would be cool and refreshing. The décor would be summer casual. The dinnerware would be bright and colorful. And the sangria would be flowing.
The more they all talked about it—a dinner party in which each successive course is prepared and eaten at the ?residence of a different host—the more excited they became by the possibilities.
"We get together all the time, and we all love to cook," says Susanna. "We don't typically do it in such an organized way, but we thought this might be something fun for all our families."
It was. The three families—including kids and teens—and some assorted guests gathered for the get-together on a recent Friday evening under clear skies. Their movable feast began with aperitifs and appetizers at the McCarthys', progressed three houses down to a main course at the Eymards', and culminated with desserts at the Davidsons', who live in between the other two families. The Iberian-inspired dishes were as impressive on the palate as they were eye-catching, and the venues—each house sits on a double-deep lot with lush landscaping, a manicured lawn and inviting swimming pool—gave the dinner the feel of a resort vacation more than that of a backyard family meal.
But then, the element of family is what made the Steele Boulevard soiree so special. As the Eymards and the Davidsons, both parents of teens, can attest, finding parties that adults and kids of all ages can enjoy together is a challenge. But a neighborhood gathering with a festive theme, interesting edibles and a big group of friends is appealing to everyone.
"The way we've always entertained is that everyone just comes over with the kids," says Tricia Davidson, who has lived in the house she and husband Donovan built since 2001. "This party kind of took it to the next level, and the kids loved it."
Tricia has a lot of experience with family entertaining. Her children, Christine, 19, and John, 16, are now almost grown. But the family has lived in the neighborhood since 1986, and built the Steele Boulevard home a year after buying and tearing down the house that previously stood on the lot. Originally, she and Donovan thought about renovating, but the more they got into it, the more they realized starting fresh was the way to go.
What they created was a dream home—an elegant but inviting Carolina planter–style residence with a wide front porch. Their gourmet kitchen features a nook for the stand-alone oven that's flanked by spice racks and cookbook shelves; and their backyard includes not only a garden, lawn, pool and cabana, but a tennis court as well.
"We love this neighborhood," says Tricia. "The people are wonderful, the neighbors are always out visiting, and the trees and lots are beautiful."
Those qualities are what attracted the McCarthys and Eymards to the street as well. Susanna and Terry McCarthy bought their home the week before Hurricane Katrina in 2005. Following the storm and its crazy aftermath, they lived there for two years before moving out in 2007 for a 16-month renovation that included gutting and rebuilding the original structure with an updated twist on a regional classic.
"The original architect who did the house worked under A. Hays Town," says Susanna, "so the house has elements of that style. But we just lightened it and brightened it and modernized it."
Mary and Hilton Eymard bought their home right after Hurricane Katrina, having relocated to Mary's native Baton Rouge from New Orleans. They've updated features of the 1965 home and added a master suite that opens to the pool, which, like their neighbors', is surrounded by a combination of tropical flora and indigenous foliage.
"We started looking for houses right after the storm and were dead set on this neighborhood," says Mary, who grew up in College Town and whose parents still live near City Park and the LSU lakes. "We love this neighborhood. It's an older, friendly, kids-can-run-free kind of area."
Which is how the three families became neighbors, as well as friends. Over the years they've shared recipes, fresh-caught seafood and bottles of wine by their pools and fireplaces. They all enjoy cooking and entertaining and visiting when they bump into one another while walking their dogs. So why not a progressive dinner?
"Well, honestly, it seemed a little intimidating at first," says Tricia.
Indeed, a meal that entails multiple venues might seem to be a lot to coordinate. But the beauty of a progressive dinner is that its structure is actually quite simple and takes much of the pressure off one host (or host family), spreading it instead among several. It also divvies up the cost, as several hosts divide the expenses for food and wine among them.
Key to making it all work is coordination. For a progressive dinner to be a success, the hosts agree on a menu in advance. Whether they share recipes or collaborate on specific dishes is up to them individually, but they all have to decide ahead of time what the theme for the evening will be and what type of dishes they'll prepare.
In the case of the Steele Boulevard dinner, the evening began at the McCarthys, where Susanna served a refreshing White Sangria, made with sparkling wine and fresh citrus, and a White Gazpacho that she garnished with a sprig of fresh herbs and macadamia nuts. She also created homemade Spinach, Pine Nut and Raisin Empanadas.
"I really love to experiment with different types of ingredients," says Susanna, who frequents a variety of interesting food stores and found the dough for the empanadas at a Latin supermarket. "I'm also a firm believer in making sure kids are introduced to different types of food. It's the only way they'll learn to be good eaters."
After the appetizer course, everyone walked down to the Eymards' for a Deconstructed Paella Salad. The colorful creation featured a bed of saffron rice surrounded by spicy boiled shrimp, marinated hearts of palm, tomatoes and peas. The advantage of such a dish at an outdoor dinner party is that the food can be prepared in advance and can be served at room temperature, without fear of spoiling.
"Nothing had mayonnaise in it. It was all olive oil and lemon juice," says Susanna. "Spain is a warm climate, so they eat the way we do."
For dessert, the party progressed to the Davidsons', where Tricia kept up the Spanish theme. She prepared a drop-dead gorgeous Best Flan Ever garnished with blood oranges, as well as a plate of Spanish Almond Cookies. Though she was initially unsure the kids would be willing to venture outside their comfort zone to try desserts more exotic than brownies, her fears were unfounded. They devoured what was left while the parents enjoyed small samples under the cabana.
So would they do it again?
"Absolutely," says Mary. "This is the way we like to entertain in south Louisiana—with our families, neighbors and friends. It's what makes our way of life so special. It's why we live here."
---
Empanadas Stuffed with Spinach, Pine Nuts and Goat Cheese
1 14-oz. pkg. empanada disks (found in freezer section of Latin grocery)
2 Tbsp. olive oil
2 lbs. fresh leafy spinach
1 white onion, chopped
Ľ cup pine nuts, toasted
Ľ cup raisins, soaked in warm water for 15 minutes
Salt and pepper to taste
Egg mixed with ˝ tsp. water to make egg wash
Preheat oven to 375 degrees. Remove empanada disks from freezer. In large sauté pan, cook onion in olive oil until soft. Add pinch of salt and pepper. Add handfuls of spinach until all wilted. Remove from heat and add toasted pine nuts and drained raisins. Season as necessary. Set aside until cool enough to handle.
Place empanada disk on flat service and place a tablespoon of spinach mixture in center. Brush disk edges with egg wash and fold over to create half moon. Crimp edges with fork tines. Place on non-stick pan or parchment paper and brush top with egg wash. Bake for 20 minutes or until golden brown. Makes 15 to 20 pies.
Adapted from Simply Recipes
White Gazpacho
2 cups of stale bread, crust removed, broken into pieces
2 cups chicken stock or vegetable stock
1˝ tsp. salt
1 cup slivered almonds, blanched
2 cups green seedless grapes, sliced in half
2 cucumbers, peeled, seeded and chopped
1-3 chopped garlic cloves
2-3 Tbsp. sherry vinegar or cider vinegar
Ľ cup olive oil
Chives for garnish
Heat the stock until it's steamy. Turn off the heat and add the pieces of bread to the stock. Let cool. Pulse the almonds, salt and garlic in a food processor until pulverized. Add the soaked bread and any stock that was not absorbed by the bread into the food processor, then add the grapes and cucumbers. Pulse until the mixture is a rough purée. Add 2 tablespoons of the vinegar and pulse a few seconds to combine. Taste, and add the third tablespoon if needed. With the food processor running, drizzle in the olive oil. Turn off, and taste the gazpacho. Add more salt if needed. Makes 6 to 8 servings.
Deconstructed Paella Salad
4 cups yellow rice (Spanish or saffron)
8 cups water
2 lbs. chorizo sausage
1 lb. small scallops
1˝ lbs. fresh shrimp (peeled and deveined)
2 Tbsp. olive oil
1 pkg. frozen green peas
1 large can artichoke hearts, quartered
1 large can hearts of palm, drained and sliced
1 jar roasted red or piquillo peppers, chopped
1 cup spanish olives with pimento sliced
4 lemons, quartered
1 cup olive oil
Ľ cup fresh lemon juice
Ľ cup sherry or red wine vinegar
Chopped chives
1 tsp. smoked paprika (optional)
Salt and pepper to taste
Preheat oven to 400 degrees. Prepare the rice according to directions. Add frozen peas when rice is fully cooked. Remove from heat and fluff. Grill or sauté sausage for 10 minutes or until fully cooked. Slice when cool enough to handle.
Spread peeled shrimp and scallops on a foil-lined baking sheet. Drizzle with 2 tablespoons olive oil and a generous pinch of salt and pepper. Bake in oven for 12-15 minutes or until shrimp are pink throughout and scallops firm.
To assemble salad, mound rice with peas in center of a large platter. Then add all other components around the rice, placing all ingredients on the platter. Once it's assembled, cover salad with dressing and garnish with olives, chopped chives and lemon quarters. Makes 8 to 10 servings.
Adapted from Food.com
Flan with Blood Oranges
1 cup sugar
6 large eggs
1 14-oz. can condensed milk
1 12-oz. can evaporated milk
1 tsp. vanilla extract
1 oz. cream cheese
Blood oranges
Preheat oven to 350 degrees. Select two oven-safe containers, one that can easily fit inside the other. The large one will be used for a water bath, and the smaller one will hold the flan. Fill the larger container a little less than halfway with water and place in the cold oven to heat up while you prepare the caramel and the custard.
In a large sauté pan, using a wooden spoon, caramelize the sugar until it turns a light golden brown. While still hot, transfer the melted sugar to the smaller container, swirling it around until the entire bottom is covered. Set aside. In a blender, add the remaining ingredients and blend until smooth. Open up the oven where you have placed the water bath and place the small pan inside the large water bath pan. Gently pour the custard in blender into the small pan. Bake for 30-45 minutes until the top is golden brown and a toothpick inserted in center comes out clean. Remove from oven and allow to cool on rack. Invert flan onto a large serving dish and garnish with blood oranges. Makes 24 servings.
Organize in advance. Don't do potluck. You might have too many of the same dishes and not enough of something else. Instead, coordinate ahead of time and decide on a theme or specific type of menu, then assign a dish to each host.
Plan for three or four houses. You'll want at least three to keep the party moving and to provide a different venue for starter, main and dessert courses. But limit the number to four to avoid the need to rush through any one course.
Allow enough time. The entire party will likely take three hours or so. Plan for 45 minutes at each house, with 10-15 minutes to walk between houses.
Give other guests an opportunity to participate. Don't make the hosts do all the work. Other invited guests will likely offer to bring something. Let them; just assign to them something specific that will complement the theme of the menu and, therefore, be better appreciated and enjoyed.