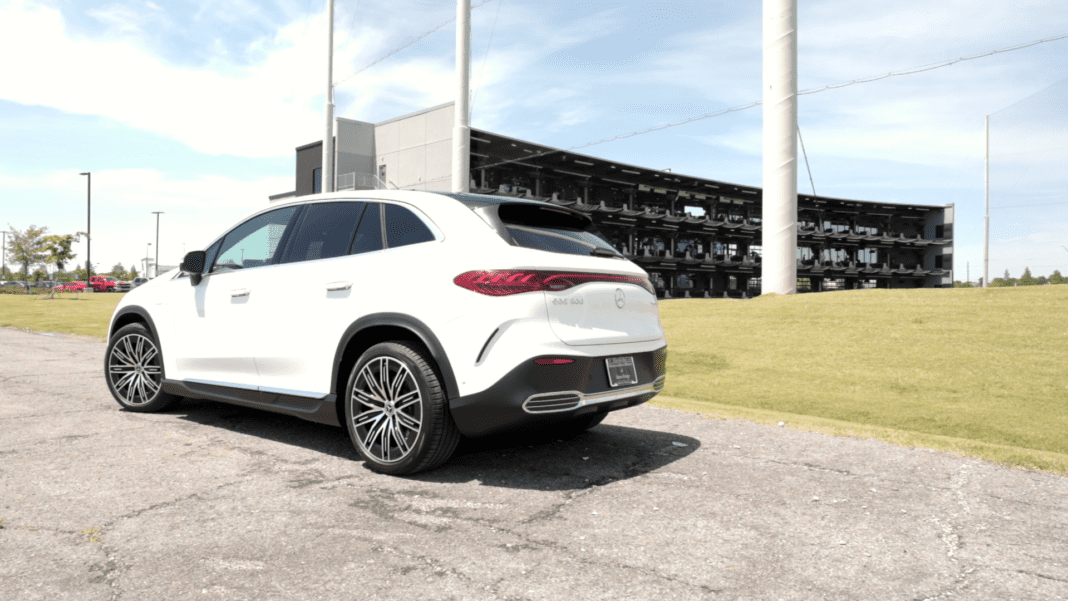 Mercedes-Benz introducing Baton Rouge customers to its line of electric vehicles
Sponsored by Mercedes-Benz of Baton Rouge
Mercedes-Benz customers expect the best when it comes to comfort, performance and safety, so it's important that Mercedes' new models of electric vehicles, which have been rolling out since last year, deliver on those high expectations – and more. The luxury carmaker currently offers electric vehicles in five models, with almost a dozen different vehicles to choose from. It's a clear sign that Mercedes is embracing electric for the future of driving.
At Mercedes-Benz of Baton Rouge, General Sales Manager Hess Crockett says the focus is simply to introduce these vehicles to customers who walk in the door and try to break down some common misconceptions in the process. "I've always felt like Mercedes offers the best mix of luxury, performance and safety, and electric vehicles are nothing short of that," Crockett says. "Mercedes has not skipped any steps. It's the same product, if not better."
Mercedes' line of electric vehicles features an all-electric powertrain, which converts electrical energy stored in the battery into mechanical energy that powers the motor. Mercedes offers its customers a level 2 charger for purchase that can be installed at home through a list of approved installers. Level 2 chargers take approximately eight hours to fully charge the vehicle's battery (A more powerful level 3 charger can fully charge a vehicle in about 30 minutes).
Most charging of electric vehicles – about 80 percent – occurs at home or work, while only 15 percent happens at retail locations. Only 5 percent of all electric charging happens on the road. Hess likens it to plugging in your smart phone at night before bed. "It's something you do subconsciously. You get home, you plug it up and you don't think about it for the rest of the night," he says. "When you wake up, it's fully charged."
Mercedes advertises the average range for its electric vehicles to be between 350 and 360 miles per charge, but many tests show they can often go more than 400 miles. An interactive map built into the vehicle's computer system alerts drivers to nearby charging stations.
Hess acknowledges that range anxiety – the worry that the battery will run out of power before the destination or a suitable charging point is reached – is real, but it's also unlikely that you would need to charge your vehicle on the road unless you were making a long trip. In that case, you would map out your charging in advance.
Right now, the cars are slightly ahead of the infrastructure, but it's going to transform quickly. Mercedes announced in January that it was launching a new electric vehicle charger network in North America with more than 400 hubs and 2,500 high-power chargers in operation by 2027.
Meanwhile, electric vehicles do cost more up front, but they come with a much lower cost of ownership. The cost of electricity — measured by kilowatt hour, or kWh — typically remains steady, with average rates at roughly 15 cents per kWh. That's about $540 a year — about a quarter of the cost of fueling a conventional vehicle.
Along with never having to pay for fuel, there's also less risk that something mechanically will break down, Hess says. Electrical vehicles have 90 percent fewer moving parts than vehicles with traditional internal combustion engines.
Battery upkeep is easy and typically requires fewer scheduled maintenance visits. Owning an all-electric Mercedes-Benz means you get complementary comprehensive coverage with your first scheduled maintenance at 2 years or 20,000 miles.
Potential customers should also consult their tax advisor for any state or local incentives for purchasing electric vehicles.
For more information about the Mercedes-Benz line of electric vehicles, as well as other Mercedes-Benz vehicles, visit Mercedes-Benz of Baton Rouge online at mbobr.com, or stop by the showroom.