Framed vs. Frameless: The Perfect Fit for Every Bathroom
Sponsored by M&M Glass Company
Here in Baton Rouge, a local glass company is crafting masterpieces not for galleries but for the sanctuaries we call our bathrooms. Whether it's the first room you step into each morning or your retreat after a long day, the bathroom's design profoundly impacts your daily mood and rhythm.
One of the most striking design elements in modern bathrooms? The shower door. It not only serves a functional purpose but also acts as a statement piece, setting the tone for the entire room. With framed and frameless options on the market, how do you choose the perfect fit for your sanctuary? Here are some considerations from M&M Glass Company, which has been providing master craftsmanship and the best quality products to Baton Rouge and its surrounding areas for more than 30 years.
Framed Shower Doors: Classic & Beautiful
Framed shower doors bring a sense of structure to a bathroom. They can offer a traditional, solid feel with various designs and finishes.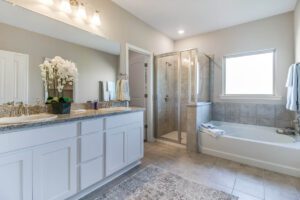 Each pane of glass is enclosed in a frame, typically made from aluminum or another durable metal. These frames not only provide sturdiness but also offer an opportunity to play with color and design. Whether you want a matte black frame for a chic, industrial look or a brushed nickel one for a more traditional feel, there's a world of options to explore. Framed showers also offer a variety of glass types to match your bathroom's style.
But beyond aesthetics, framed shower doors are often lauded for their durability. The metal framework provides added support, making these doors an excellent choice for family homes where they might experience more wear and tear. Furthermore, they tend to be more budget-friendly, making them a fantastic choice for those who desire both style and affordability. Framing your shower door also creates a stronger, watertight seal.
Frameless Shower Doors: The Epitome of Modern Elegance
Stepping into a bathroom with a frameless shower door is akin to experiencing a touch of spa-like luxury. With no visible frames, these doors offer an uninterrupted view, creating an illusion of increased space and openness. They are the go-to for homeowners looking to achieve a sleek, minimalist aesthetic.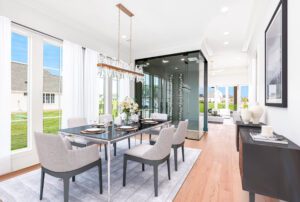 Constructed from tempered glass, which is thicker than regular glass, frameless doors don't need the support of metal frames. This design provides an unobstructed view of intricate tilework or other features in your shower space. Additionally, without frames, these doors have fewer nooks and crannies, making cleaning a breeze and keeping your shower looking pristine for longer.
However, frameless doors can be on the higher end of the budget spectrum due to the thicker glass and specialized hardware required for installation. But for those who prioritize design and the luxe factor, it's an investment that instantly elevates the entire bathroom and can lead to a higher resale value.
So, Which One's for You?
M&M Glass Company works closely with each customer to design custom shower doors that match individual tastes and bathroom layouts. Some clients have also been known to think outside the box and incorporate shower doors into unexpected places around the home, including offices, wine rooms and libraries.
M&M Glass Company is ready to guide you in making the perfect choice for your home. With a wealth of experience, they blend design trends with local expertise, ensuring you get a shower door that not only looks impeccable but stands the test of time. Visit M&M Glass Company online or give them a call at 225.272.9143.