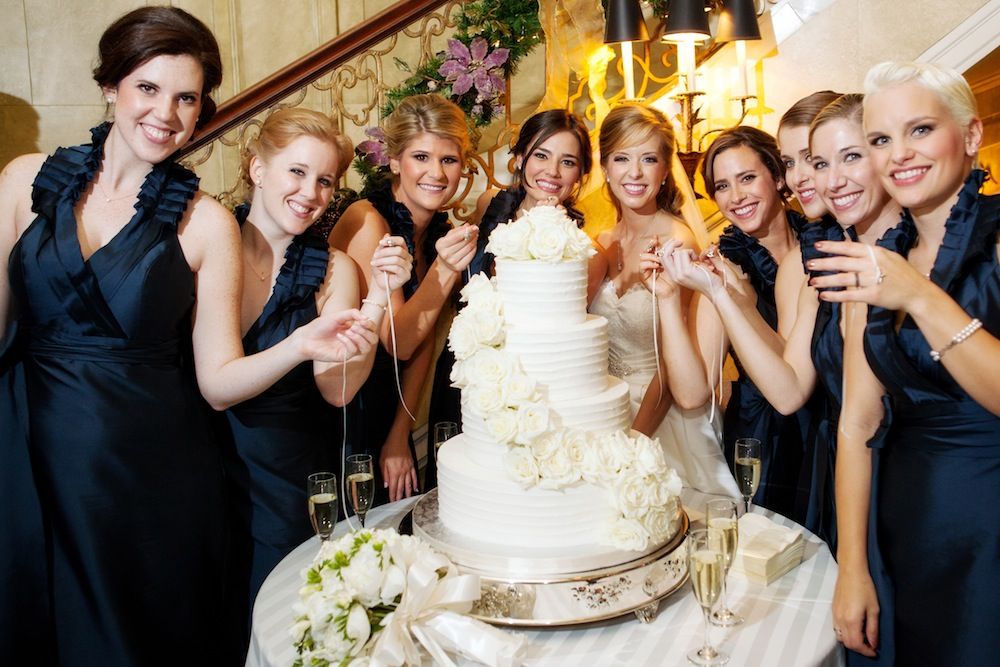 At south Louisiana weddings, traditions add to the beauty and the fun. Here, inRegister identifies six rituals that take the cake.
Second line
It's pure celebration. In south Louisiana, people form a second line that follows the main section of a brass band parade. At weddings, newlyweds carrying parasols adapt this tradition by following a musical ensemble, while guests fall in line, handkerchiefs aloft. The parade from the site of the wedding to the reception is a cultural treat, especially memorable, perhaps, to out-of-town guests.
---
Cake pull
This popular south Louisiana tradition can be traced back to Victorian ribbon pulling. A bride in that era would place tiny charms symbolizing various fortunes in her wedding cake. Today, members of a bridal party take turns pulling on ribbons or bracelets attached to sterling silver charms placed inside a wedding or bridal luncheon cake. Each charm has a special meaning. Some of our favorites: A ring signifies the bearer is next to be married. A carriage means a new baby can be expected soon.
---
Burying the bourbon
Copy: Superstitions survive in the South, despite the march of modernization. One superstition might interest those planning to exchange vows outdoors. Tradition dictates that to keep dreary weather at bay, a couple should bury an unopened bottle of bourbon at the ceremony site one month before the big event. After the ceremony, bride and groom can dig out the bottle to enjoy a celebratory drink—rain or shine.
---
Monograms
Before initials are stamped on everything from the invitations to the cake, brides-to-be should take note: Southern tradition holds that only the bride's initials should appear on items prior to the wedding. For all things post-ceremony, using the bride's married initials or the initials of the couple's joint monogram (his first initial, her first initial and the surname initial centered) is considered appropriate.
---
Money dance
This festive tradition isn't unique to south Louisiana, but many have adopted it here. For one song, guests at the reception take turns dancing with the bride or groom and pin money to their clothing or put it discreetly in a moneybag the bride carries. The cash is intended for use on the couple's honeymoon or household.
---
House party
Some southern brides have house party members in addition to bridesmaids. A house party consists of special female friends who do not stand to the side of the bride during the ceremony but are still considered part of the wedding party. Their attire complements the colors worn by the bridal party. Many house party members are given corsages, rather than bouquets, to acknowledge their special relationship to the bride or groom.