Throwback Thursday: How six brides wore the same dress over 35 years
This Thursday we're throwing it back to one of our favorite wedding stories, which appeared in the January 1994 issue. An article written by Wanda Horn demonstrates that some wedding dress styles can stand the test of time—and some sisters are actually capable of sharing.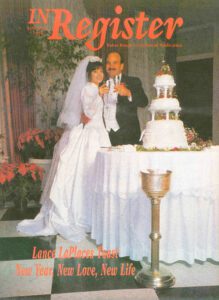 "Thirty five years ago Dixie Smith Guitreau saw the most beautiful wedding gown she'd ever seen," Horn writes. "Today she thinks it is more beautiful than ever." The story continues in what could've been the blueprint for the Sisterhood of the Traveling Pants, with six different brides from the same family wearing that dress on their big day—and five of them being sisters.
Guitreau bought the dress after getting the approval from her mother, Mabel Smith, and her younger sisters. She was married on April 26, 1958. Between 1960 and 1978, four of her sisters wore the same dress at their weddings. The sixth and final wearer was Guitreau's daughter Dana, who was wed on July 20, 1985.
"After each wearing, Mabel Smith removes some 75 mirror backed rhinestones and has the gown heirloomed, storing it away at her home until the next wedding, when she sews the rhinestones back on," Horn writes.
Read the full article below for details about each wedding and photos of the each bride.
---
---
Subscribe to our inRegister newsletter here for more throwback Thursday content.