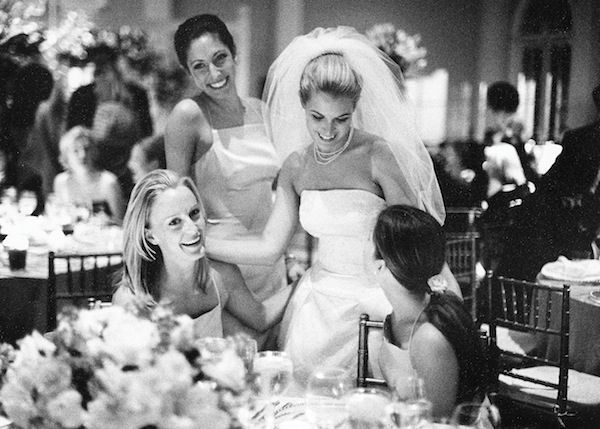 When Jeannie Frey Rhodes launched her business in 1999, wedding photography was focused primarily on the posed moments—when family members or bridesmaids gathered around and smiled stiffly in unison as the shutter went "click."
Rhodes was more interested in capturing a different kind of image.
"I like to get what happens before and after that click," she says. "It's the little things that happen in between those portraits that are the most special."
Evoking the timeless beauty of black-and-white photography from a bygone era, Rhodes' signature documentary style has since earned a loyal following among the Capital City's contemporary brides. Her clients know she won't miss a single tender whisper, tearful smile or peal of laughter—not when she shoots as many as 4,000 images on a single wedding day.
The inspiration for Rhodes' innovation came straight from south Louisiana's past. Like many little girls, she grew up looking at her parents' wedding album and fantasizing about the blissful moments it contained. But this was no ordinary wedding album. The book, which Rhodes now keeps in her Southdowns Villagestudio, contains the unmistakable black-and-white work of one of the area's most celebrated photographers, Fonville Winans.
"He had that beautiful photojournalistic style," she reflects. "Even using large-format cameras, he was able to capture those little moments, like the bridesmaids laughing in the bathroom or the going-away picture of my parents with the rice in the air. Everything was just so real."
At the same time the young Rhodes was poring over the old pictures, her father, Fred Frey Jr., was beginning to explore the art of photography himself. He had his own darkroom and eventually took to the skies to snap aerial photographs of Baton Rouge as it grew and expanded. (His work was published in the 2009 book Above Baton Rouge: A Pilot's View Then and Now.) Then, when Rhodes was 14, her brother, Fred Frey III, started his own photography business.
Rhodes picked up her own Pentax K1000 as a freshman in college. "I loved it right away," she says. "That's kind of how I started learning to do it—just taking snapshots for fun." After earning a master's degree in landscape architecture, she found herself back behind the camera for a project that used repeat photography to study changes in the urban forest. From there, she took on jobs as a "second shooter," supplementing the work of other wedding photographers. But it didn't take long before she decided to take the lead. "I said OK, I'm gonna go for it,'" she says. "That's when I hung my shingle out there."
From the start, Rhodes had a clear vision of what would set her photography apart. The words "black-and-white documentary photography" were part of her logo, a bold invitation to brides who were looking for something different.
"My style is just really natural," she explains. "I try to use as much natural light as I can, and I tell brides to forget I'm there. The most important thing for me is to make them feel comfortable and to blend into the background so I can be there for the little moments."
In the 15 years she has been in business, Rhodes has shot an estimated 400 weddings. She and her armada of Nikon cameras witness about 15 big days a year, mostly in Baton Rouge, but she also travels with couples to destinations from New York to Florida. "You can't go wrong with a beach wedding," she says. "The light is so beautiful."
Working as closely together as Rhodes does with her brides—who often contact her as early as nine months to a year and a half in advance—she often feels like a surrogate family member by the time the big day comes. So it shouldn't come as a surprise that she has taken on roles beyond the one behind the camera.
"I've seen it all," she says, with a smile, recalling an orange-juice-and-crackers rescue of a bride near fainting and another occasion when she helped revive a bride who had actually swooned on the altar. And then there was the time she made disappear an unfortunate pet stain on a bridal train using a little baking soda only minutes before the ceremony.
"I just have to stay calm because there's so much that can go wrong at a wedding," she says. "God helps me in these moments."
While her work can include many unexpected tasks, it's her distinctive photographic images that keep brides recommending Rhodes' services to their engaged friends. Lauren Barksdale Hill says there was never a doubt that she would ask Rhodes to shoot her own nuptials, just as she did for Hill's sisters. "All you have to do is look at her work, and it's obvious how talented she is," Hill says. "She makes it easy to just be you, and I think that's how she really captures the real moments."
Rhodes' focus on happy faces explains why she shuns the recent trend in bridal photography of taking magazine adstyle artsy shots that barely feature the happy couple at all. "I want my photos to be about the subjects and not about me," she says.
Couples who hire Rhodes can expect an early arrival—she usually begins shooting while they're getting ready and spends about eight hours documenting their every move before bidding them adieu. "I'm the last one the bride talks to before she goes down the aisle," she says. "I dance on the dance floor to get those shots. And I never leave before they leave."
The most rewarding part of the process for this photographer comes after the long-awaited day is past. "I love when couples see their pictures and the response I get," she says. "Most of the pictures that they really love they didn't even know I was taking."
Former client Hill—who formed such a tight bond with the photographer that she has since had her witness other important events, including the delivery of her baby girl—had just such a positive reaction when she first saw her wedding proofs. "They were beyond anything we could have ever hoped for," she says. "Her pictures tell the story."
Beautiful photos are an essential part of preserving your wedding-day memories for a lifetime, but there's more to selecting the right professional to capture your most magical day. Think of it like finding the perfect mate, and you've got the right idea—compatibility is key. "It really doesn't matter how much technical ability you have if you don't have the personality to pull it off," says Jeannie Frey Rhodes.
Rhodes and the experts with Professional Photographers of America share some unexpected qualities that just might make a photographer right for you:
1. Calm. A good photographer must be ready for any mishap, from a family squabble to a fainting bride.
2. Confident. When Rhodes was starting out, she says she was shy. "It's really intimidating to look through the camera at somebody," she says. But as she gained experience, she also gained the poise needed to interact more closely with the couple, thus getting the good shots she might have otherwise missed.
3. Collaborative. A photographer should open to suggestions and able to get along easily with a variety of different personalities.
4. Trustworthy. "It needs to be someone that you feel comfortable with," says Rhodes. "They're going to be stuck with you like glue, so you need to be able to trust them completely."
5. Funny. Rhodes says grooms are usually uncomfortable with having their pictures taken at first, but after a little joking around, they are at ease.