Happily ever after: The Schwartzbergs share a love of adventure
When asked how he and his wife met, Harvey Schwartzberg says they were introduced as students at LSU, after Betty Jacobs transferred from the University of North Carolina at Greensboro. When asked why she changed colleges in the first place, Betty pulls a sly expression as Harvey's eyes jot to hers.
"I had a boyfriend in New Orleans," says Betty. "And it wasn't Harvey."
After 65 years of marriage, though, Harvey doesn't seem to mind. Fate, after all, favored him in the end.
"I had a very close friend who had just graduated and was off doing an internship," says Harvey. "He called me and said a friend of his had a sister who was transferring to LSU, and she didn't know anybody, and would I be kind enough to give her a call and show her around? So I called her, and the rest is history."
Harvey graduated from LSU in 1949, a year before Betty, and even though he would be packing up soon to the University of Chicago for a master's in electrical engineering, Betty's parents discouraged her from marrying before her own graduation. She didn't need to wait long.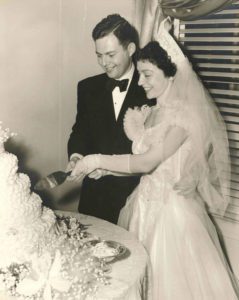 "We got engaged in December 1950," Betty says. "By March of '51, we were married."
They tied the knot in Betty's parents' New Orleans home, in a Jewish ceremony to honor their shared backgrounds. But no roots would be planted in the Pelican State just yet.
"We were married March 28, and my orders from the U.S. Air Force were dated March 30," Harvey says.
The Air Force commission had come with Harvey's graduation, since he had risen to the rank of corps commander in LSU's ROTC, something he enjoyed being a part of beyond the university's once-compulsory two years. He would serve active duty in Dayton, Ohio, as an engineer, far from Louisiana and his hometown of Shreveport.
But not far from Betty.
"She served as the 'little colonel' when I was corps commander," says Harvey, referring to the elected position wherein Betty marched every Friday with the band and the cadets across campus and onto the parade grounds. Betty also secured a job with the Air Force and worked on the same Ohio base.
They remember their time there with glee, recalling stories about exploding jugs of apple cider, cherry pies mistakenly baked with every pit intact, and nights spent on a friend's floor after being bought out of motels by a thousand traveling trap hunters.
Other adventures would follow, like the birth of three sons, Betty's master's degree in education and her endless résumé of civic involvement, plus Harvey's success developing booster rockets for Project Gemini and propellant technology used for the first lunar landing. Increased professional and community responsibilities haven't dampened this couple's youthful spirit, though. For their 65th anniversary party earlier this year, Betty donned the same lace-trimmed dress she wore to their wedding.
"Doing things together with the community has given us more opportunities to grow than we ever would have before," Betty says. "I think we get along fine because we're just best friends. And we have been for 65 years."