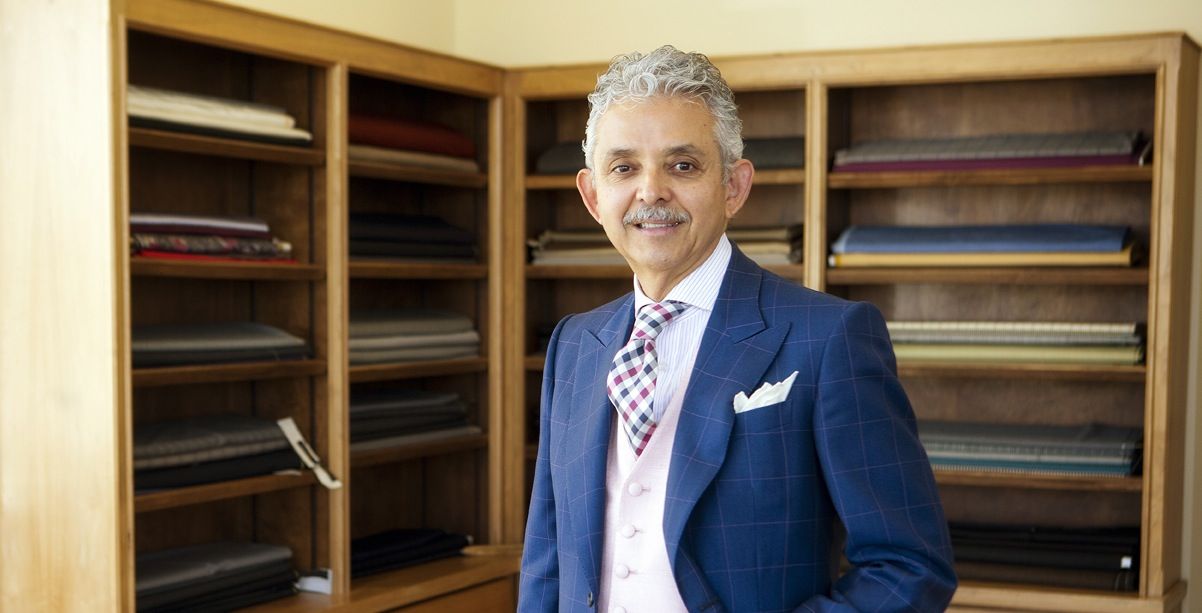 Photos by Collin Richie
The elegant custom creations of Manuel Martinez invite international acclaim
Set neatly on the furniture in the showroom of master tailor Manuel Martinez's Corporate Boulevard shop is a scrapbook. The book is filled with magazine and newspaper clippings of Baton Rouge's movers and shakers wearing Martinez Custom Clothier suits. Martinez won't publicize his client list—he maintains a kind of client confidentiality that way—but most of the men featured in the scrapbook are easily recognizable to anyone who follows local news. The book also includes a photo of Martinez on the runway in Paris modeling one of his own creations.
"We have history here," Martinez says.
He and his shop, Martinez Custom Clothier, are no strangers to corridors of power; in fact his store is one of the gateways to that next level. A firm believer in the old adage that clothes makes the man, Martinez mourns that young people have become slaves to the crude fashions they see on television and the Internet.
"I don't understand people who go to restaurants wearing a baseball cap," he says. "The well-dressed man gets compliments, the best table and the best service."
In a cultural landscape that worships the ordinary and casual, Martinez recognizes that fewer and fewer young men of today know how to dress for the halls of influence where they soon hope to reside. "I tell young people that they have more opportunity than I did when I was growing up."
True, there are more opportunities, but that only means that chances slip away faster than ever.
"You don't have to be wealthy to look nice," Martinez says. "You can go to any store and buy off the rack and match colors if you know what you are doing, so it's very important to educate young people in the art of dressing. I tell them, 'Let me dress you and you'll see the attention you get. People will want to meet you. That opens the door. I can get you inside. Now once you open your mouth, you're on your own.'"
No stranger to media, Martinez has, along with his garments, graced the pages of national magazines including Cigar Aficionado and Robb Report. The latter, widely considered the last word on all things luxuriant, has listed Martinez in its top 10 of the world's finest tailors.
Martinez's journey to this status began in Tampico, Mexico, when his father, Rutilo, brought him to a tailor to have a suit made for his First Communion. "I was curious and watched the tailor every day to see what he was doing as he put together my navy blue suit," he says. "That became my passion."
Martinez says his father was a "visionary," but his visions went unfulfilled because of the limited prospects in Mexico at that time. "My family was lower middle class in Tampico. My father dropped out of school at the age of seven to help support his mother, but he wanted a better way of life for me. He wanted me to learn English and thought the United States was the place to come. He taught me that I was going to be treated on what I know, my manners and how I behaved. He taught me that dress was very important."
It was 1967 when his father brought the 14-year-old Mexican boy to live in Lake Charles to prepare for a career in veterinary medicine, but Martinez's Louisiana family enjoyed entertaining with dinner parties where the men wore suits and the ladies cocktail dresses.
"Sometimes they would have full formal attire," Martinez says. "I said, 'I like this life.' I finished college pre-vet but I didn't want to do that, so my father said, 'You're on your own, kid.'"
Martinez apprenticed with a tailor in Houston and went on to New York "to learn from the men who were the sartorial epitome of tailors."
The image-conscious Martinez dresses with sophistication. On the day of this interview, he is wearing a blue, double-breasted 100-percent cashmere suit. The blue "is not quite a French blue. It's a bit lighter than that," he notes.
Because he's disciplined, he eats right; he can wear any one of his tailored suits from the closet because his suit pattern has not changed in 25 years. "I tell people I am very fortunate because I enjoy getting up and getting dressed early in the morning. From the moment I leave the house I get compliments on my appearance."
The latest opened door for Martinez is essentially a fashion world coup. He has been selected to be one of the few shops to offer the Hardy Minnis, Savile Row, London "Bedlam" collection, which is comprised of 80 fabric styles of men's classic suiting patterns. That may not mean much to the casual reader, but to the arbiters of style it's the highest level possible; to wit, the letterhead of Hardy Minnis bears the royal stamp of H.M. Queen Elizabeth II.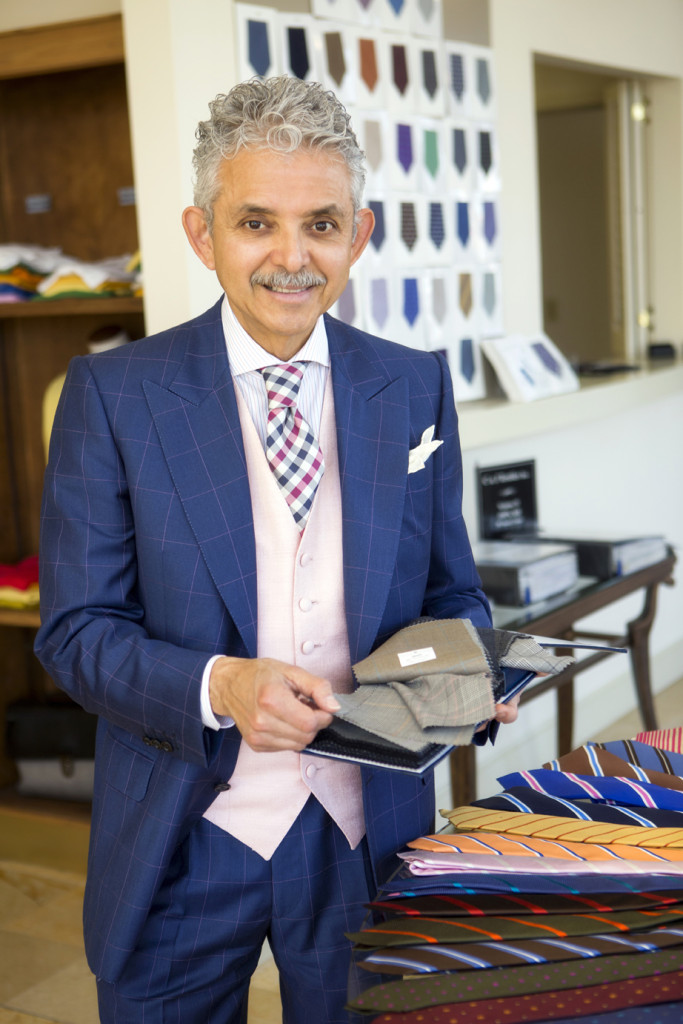 "We've represented the United States in three competitions in Paris, Italy and Berlin, and, because of our reputation, the royals will allow us to use their fabric from Huddersfield, England," Martinez says.
Christopher Leal, Martinez's apprentice, says Huddersfield is the "home of the world's finest fabrics." The fabrics were set to begin arriving in Martinez's store before the end of March.
"The British have high standards and they select who they want to represent their product," Martinez says.
The door is now opened wide for the Louisiana man to dress royally. Will he walk through it?
Learn more about Martinez Custom Clothier here.