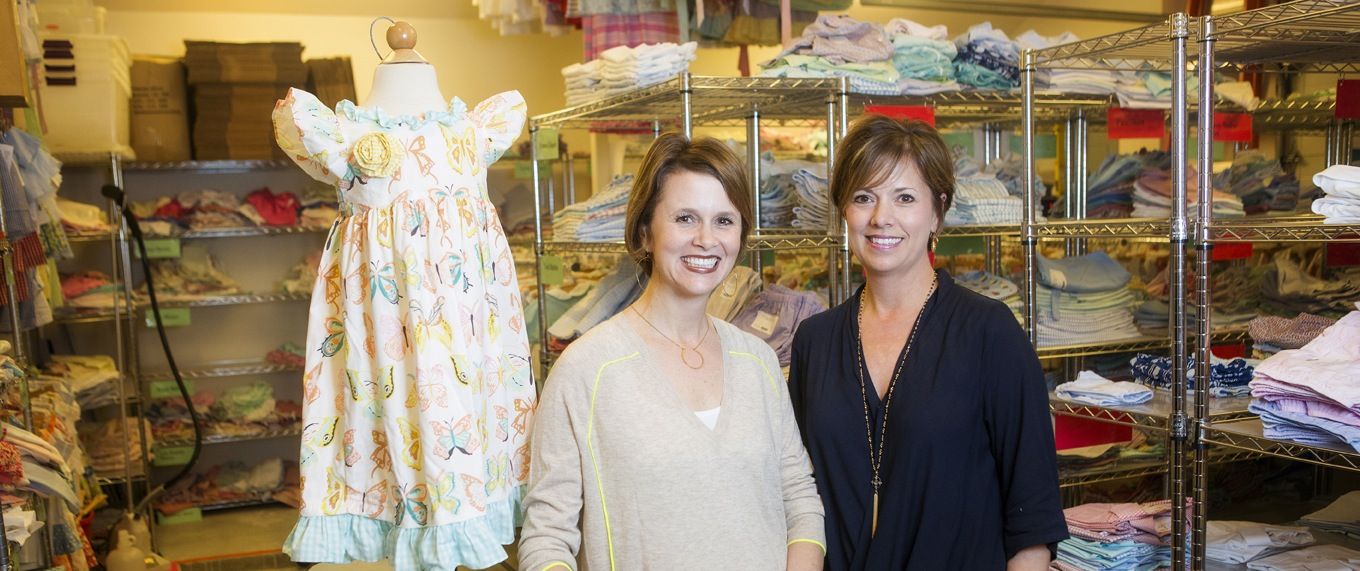 Photo by Collin Richie
A grassroots children's clothing business grows into a Southern success story
It's a short commute to work for sisters Mollie Hill and Glynes Hyde. The duo operates two children's clothing lines out of Hill's Bocage neighborhood garage, and Hyde lives right down the street. After shepherding their six kids off to school, Hill and Hyde grab a cup of coffee, then hit a wide workroom stacked to the brim with thousands of pieces of brightly hued children's clothing—inventory of a company that boasted a gross revenue of over $1 million last year. This garage has never had a car parked in it.
"We were building the house as our business was growing," says Hill. "When we moved in, Glynes and I just laid down rugs and set up shop."
The shop they set up includes the children's clothing line Red Beans, which the sisters established more than six years ago. They both were used to hard work—Hill had been an interior designer and Hyde a nurse—and they wanted to do something from home so that they could juggle children and family.
"We sat around the dining room table and came up with the concept of creating a children's clothing line," says Hyde. "We thought that we would be busy about twice a year when we had a new season of clothes. We had no idea that it would become this busy."
After nine months of development, the sisters launched the first Red Beans trunk shows for the spring and summer seasons in January of 2009. Intimate boutique in feel—and not unlike Tupperware parties of generations past—trunk shows are held in people's homes with guests invited to stop by and peruse the clothing at their leisure. The duo started with 35 hostesses throughout the South—mainly friends and acquaintances who lived in different cities and knew lots of mothers with young children. Each Red Beans show featured 125 garments for children, ranging in sizes from infant to 12.
"It's such an easy concept," says Hyde. "The hostesses open up their homes for a few days and invite friends over to have wine and look at the samples. It's an easy sell."
The first shows sold about $2,000 worth of clothing each. Today, a typical Red Beans trunk show can sell up to $20,000 in festive dresses, jon jons, shorts and tops. Each season's collection offers about 80 options of patterns in 80 to 90 fabrics, so parents and grandparents can custom-create the exact outfits they desire. And 20 new appliqués each season help keep the looks fresh.
"When the orders start coming in, we love to see what the customers have put together as far as patterns and fabrics," says Hill. "They've helped us see our patterns in a whole new light."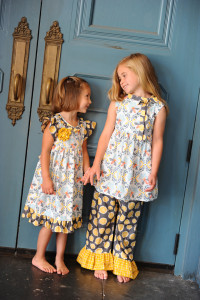 Due to the success of Red Beans, Hill and Hyde were approached a few years ago by Raleigh, North Carolina, designer Kathryn Thomas to take over operations of her high-end children's clothing line, Alice Kathleen & Company. The line features beautiful fabrics from Europe in traditional prints and cuts. Hill and Hyde already had the infrastructure in place, thanks to Red Beans, so they doubled in size by taking over Alice Kathleen & Company in July 2013. They keep the two companies completely separate and now have about 60 hostesses per brand for trunk shows.
"She saw us as a company that could take the brand to a higher level," says Hill. This proved to be true. In just four seasons, gross sales for Alice Kathleen & Company
have soared from $158,000 to $400,000. "This brand has very loyal clientele. We are focused on marketing it in a way that helps it continue to grow."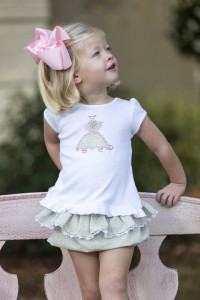 Hill and Hyde keep their garment manufacturing stateside by using production facilities in Houston and New Orleans. Including themselves, nine people are employed locally to do everything from processing and shipping orders to ironing and folding. More than 10,000 pieces of clothing rotate through Hill's garage each season to be shipped out for trunk shows. While orders are being processed, the next season's designs are in the works and ideas are percolating for the season after that. It's a never-ending process.
"Our dad does all the accounting, our mom helps when she can, and our niece works for us between classes at LSU," says Hyde. "You couldn't ask for a better job."
For these two, it's a job that they want to stick with for the long haul. They have dreams of turning the company into something their children can take over one day. Growth into retail outlets is an option, but Hill and Hyde don't want to sacrifice the boutique aspect—and control—of the trunk shows. For now, they feel blessed to be able to work together, and to work casually out of a garage without ever leaving their neighborhood.
"We are best friends," says Hill. "We lived apart for a number of years, and it's been so much fun to come back together and do something together. It's your sister. Who else could you work with all day and still want to spend time with after all the work is done?"