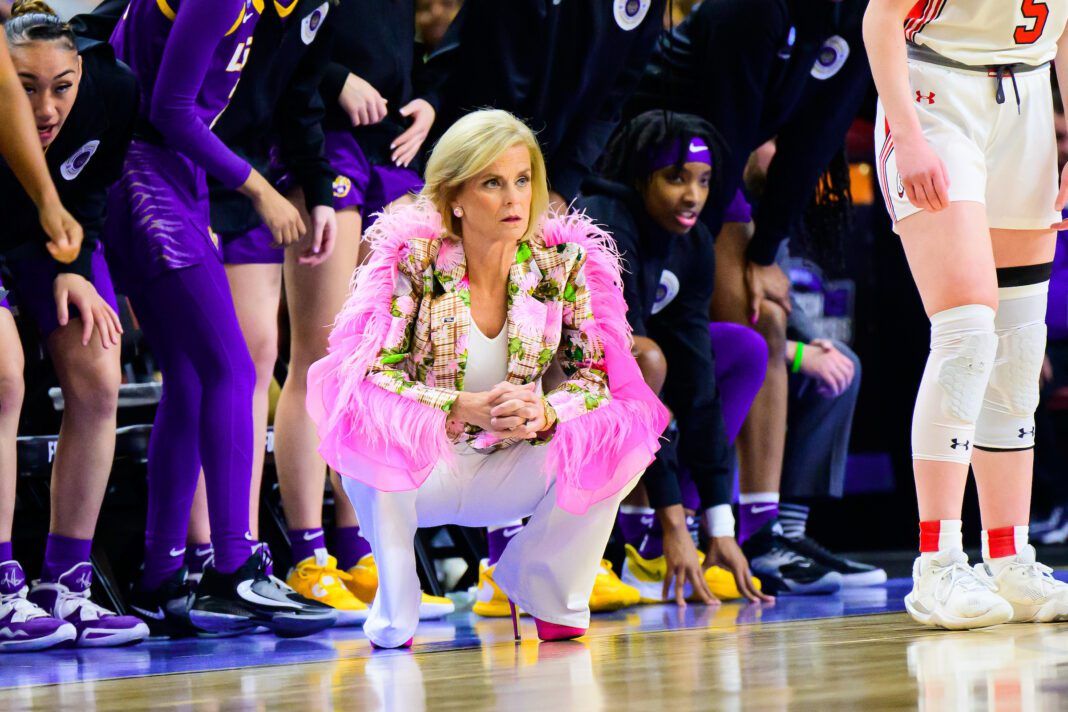 Kim Mulkey's head-turning fashion choices are all part of her winning mindset
When LSU women's basketball head coach Kim Mulkey took the court in Greenville, South Carolina, for the team's Sweet Sixteen appearance against the University of Utah last Friday, the country took notice. The combination of hot pink stilettos, tailored white pants and a neon, feather-embellished jacket turned sports commentators into something akin to Joan Rivers and her "fashion police."
Love it or hate it, people were talking about it. A quick Google search of Mulkey reveals just as much chatter about her risk-taking fashion as it does about her winning team that will make their Final Four appearance tomorrow night, March 31, against Virginia Tech.
"LSU women's basketball coach Kim Mulkey ruffled feathers with Sweet Sixteen outfit," reads one.
"Kim Mulkey arrived for LSU-Utah wearing quite the flashy outfit," reads another.
But for faithful LSU fans, this ensemble was anything but shocking. Head-turning looks complete with sequins, patterns and plenty of color have become a trademark for Mulkey and her assistant coach Jennifer Roberts throughout their time with the Tigers. Providing a juxtaposition to Mulkey's seriousness on the court, the sideline fashion serves to showcase femininity in the sport, demonstrating the strength that underlies a pair of stilettos and some glitter.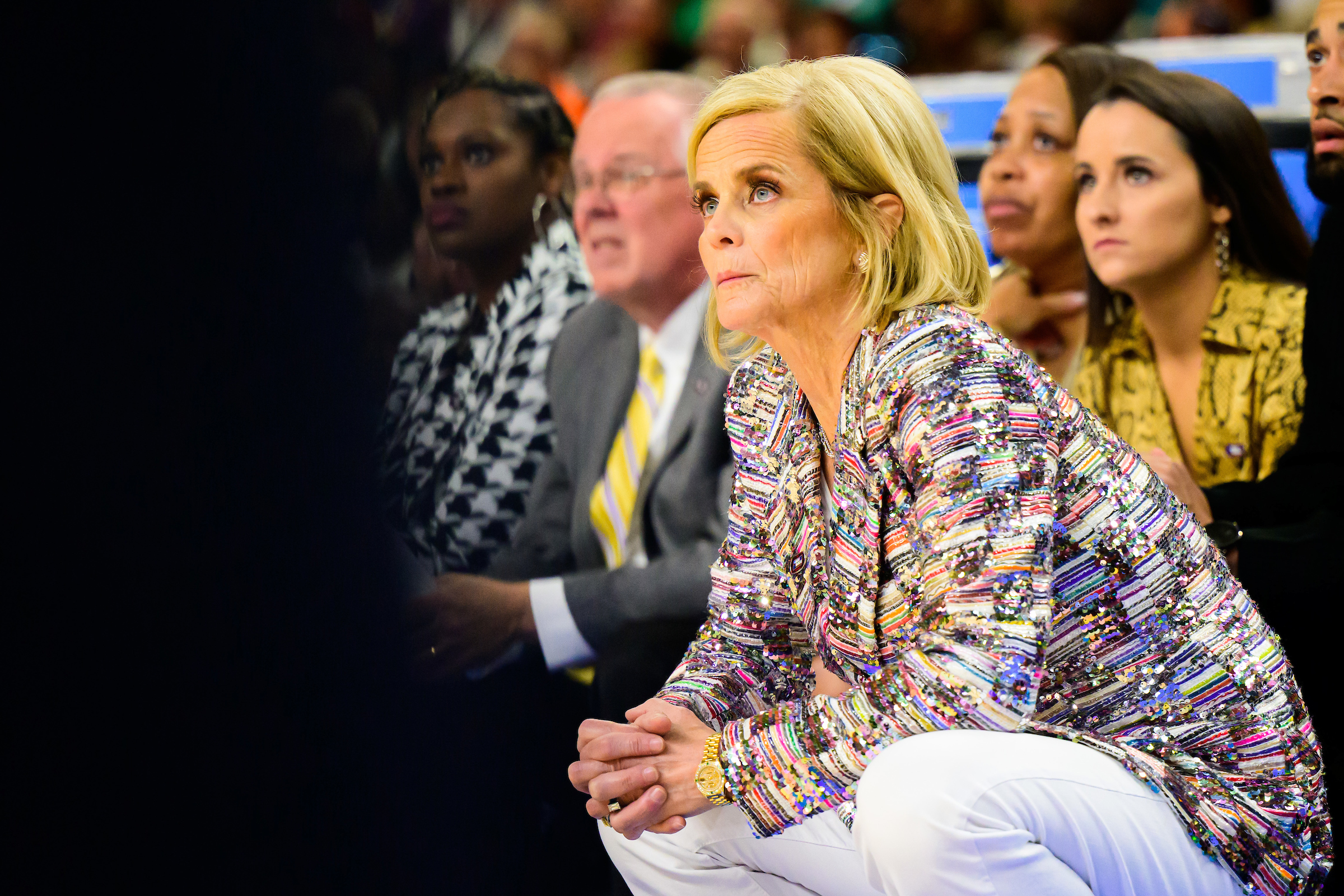 "I think it's so respectable to show up dressed up," explains the local designer behind Mulkey's Sweet Sixteen jacket (pictured at the beginning of this story), Martha Gottwald of Neubyrne. "If you ask me, this should be the norm. It's so intimidating."
Gottwald herself is no stranger to garnering attention thanks to her out-of-the-box looks. She even landed on the first season of Heidi Klum and Tim Gunn's Making the Cut back in 2020. And while she says she never envisioned her pieces on the basketball court, in hindsight, it makes complete sense.
"I always want to cause a reaction," she explains, "and so does Kim."
It takes a great deal of courage to walk out in a risky outfit knowing you'll be broadcast on national television. And therein lies its power, according to Gottwald. For Mulkey, her outfit choices are strategic, meant to unnerve her opponents by offering an outward representation of the confidence she feels on the court.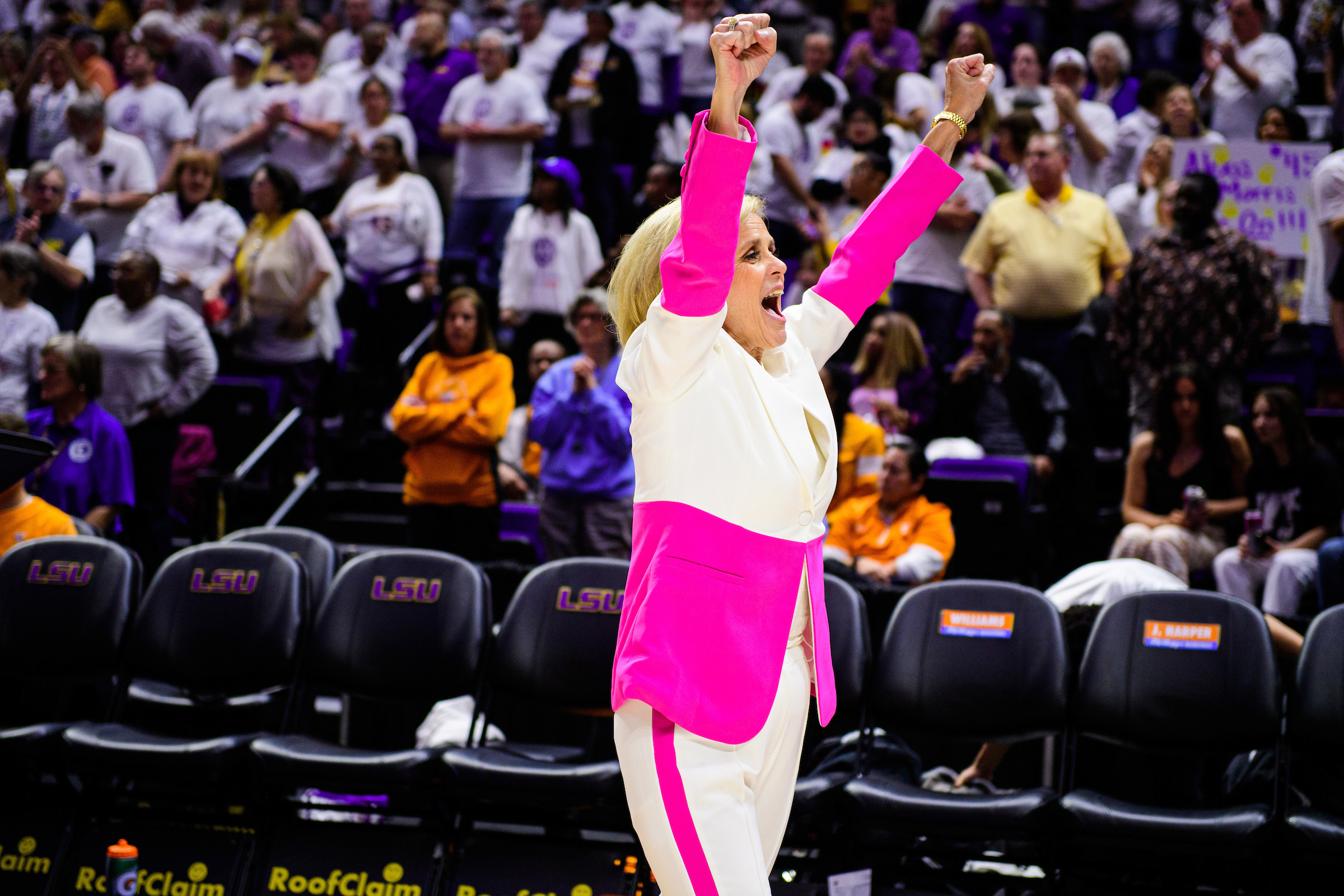 "In my experience, you have this energy–this confidence–when you're wearing something like that," Gottwald says. "It changes the whole vibe of what you're doing, and it has an impact on the people around you, too."
Now that the nation is taking notice, it's likely that all eyes will be on Mulkey and the Tigers tomorrow night. And while, of course, we're looking forward to watching the game, the question on all of our minds is, "What will Kim step out in next?"
The LSU women's basketball team faces off against Virginia Tech tomorrow night, March 31, at 6 p.m. You can catch the game on ESPN.