A color story: Martha Gibbs Gottwald's bright designs mirror her spirited approach to life

---
Models march down runways clad in the season's coveted couture while photographers line the streets waiting to catch a glimpse—and maybe even a snap—of the action. The infamous front row is studded with people of importance dressed as though they could have just stepped off the runway themselves. This is Fashion Week in Paris, and for many, it is just another day at work. But for Martha Gibbs Gottwald, it is an "a-ha" moment.
"I definitely had one of those 'this is where I'm headed, this is the only thing I ever want to do' moments," recalls Gottwald. "The vibrancy, the energy, the intoxicating feeling of it all … I had never felt that before."
This epiphany took place while Gottwald was studying abroad in Paris during her junior year as a student at Sewanee: The University of the South. A Baton Rouge native and a graduate of St. Joseph's Academy, Gottwald always knew she was going to be a fashion designer. "I actually dared to major in art at Sewanee," she says. "But after my rigorous freshman course, I was given a C- and was told that my art looked like something I would wear. Quite true."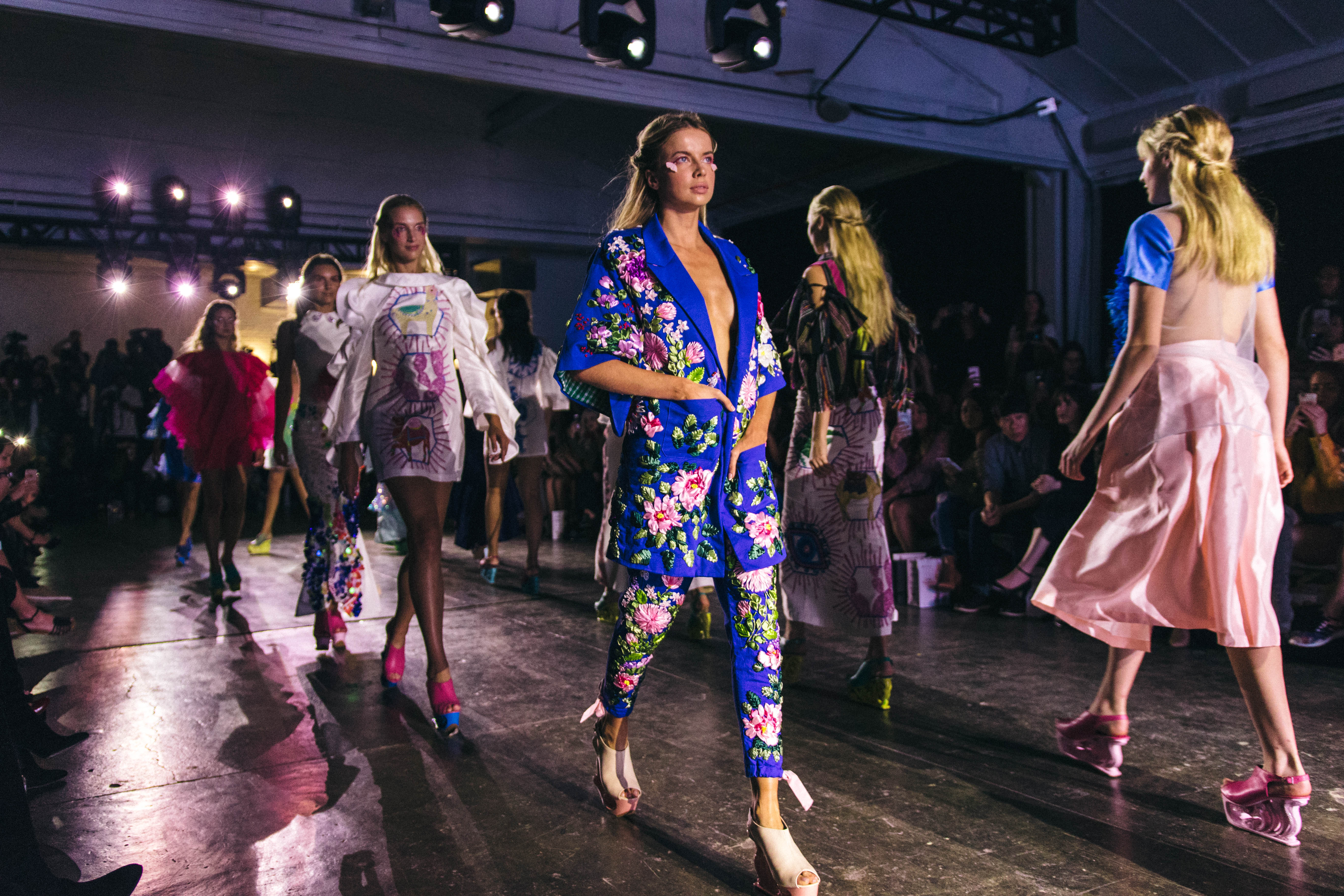 Gottwald's NYFW presentation was part of Nolcha Shows, a special event for independent designers. Orlett W. Photography.
Gottwald's creations were compared by fashion bloggers to the playful looks of Betsy Johnson and Nasty Gal. Orlett W. Photography.
Fashion design was always the destination. And while the destination was concrete, the path to get there was full of sudden twists, plenty of forks and unexpected speed bumps.
"My 'why' evolved into something much greater than just the love of clothes, embellishments and color," says Gottwald. She's referring to the near-fatal car accident she suffered the week before her college graduation. Gottwald spent the next year in rehabilitation, regaining her strength and trying to redefine her life. "I got into the Peace Corps and had a week to decide. I was accepted to Loyola Law School but postponed my acceptance. I decided that life is too short, I needed to do something more," says Gottwald.
If joining the Peace Corps or attending law school was a left, Gottwald took a right. She followed her heart to Richmond, Virginia, to be with her now-husband, Daniel. There she gave birth not only to a daughter, Eleanor, but also to her fashion line, Neubyrne.
After quitting a "grueling" job with a recruiting firm, Gottwald decided that there was no time but the present. She merged her love for fashion with her passion for giving back. Gottwald knew that she wanted to work with Fashion4Freedom, a fair-trade and ethical supply chain that employs women artisans and is based in rural Vietnam. "It contributes to their livelihood and allows them to stay in their villages for work instead of uprooting their families to work in a factory in a big city," explains Gottwald. "I met all of the women who made every piece of the collection."
Neubyrne's first collection, which made its debut at New York Fashion Week in September 2017, featured eye-catching garments decked in tulle and saturated with jewels. The color palette for the final 32 looks consisted of mainly pinks and blues with pops of other colors.
"When I was designing these looks, I wanted them to just be crazy and different, and we worked really hard to keep with the initial sketches for the creation of the looks," says Gottwald. "It was cool to see the sketches next to the finished products."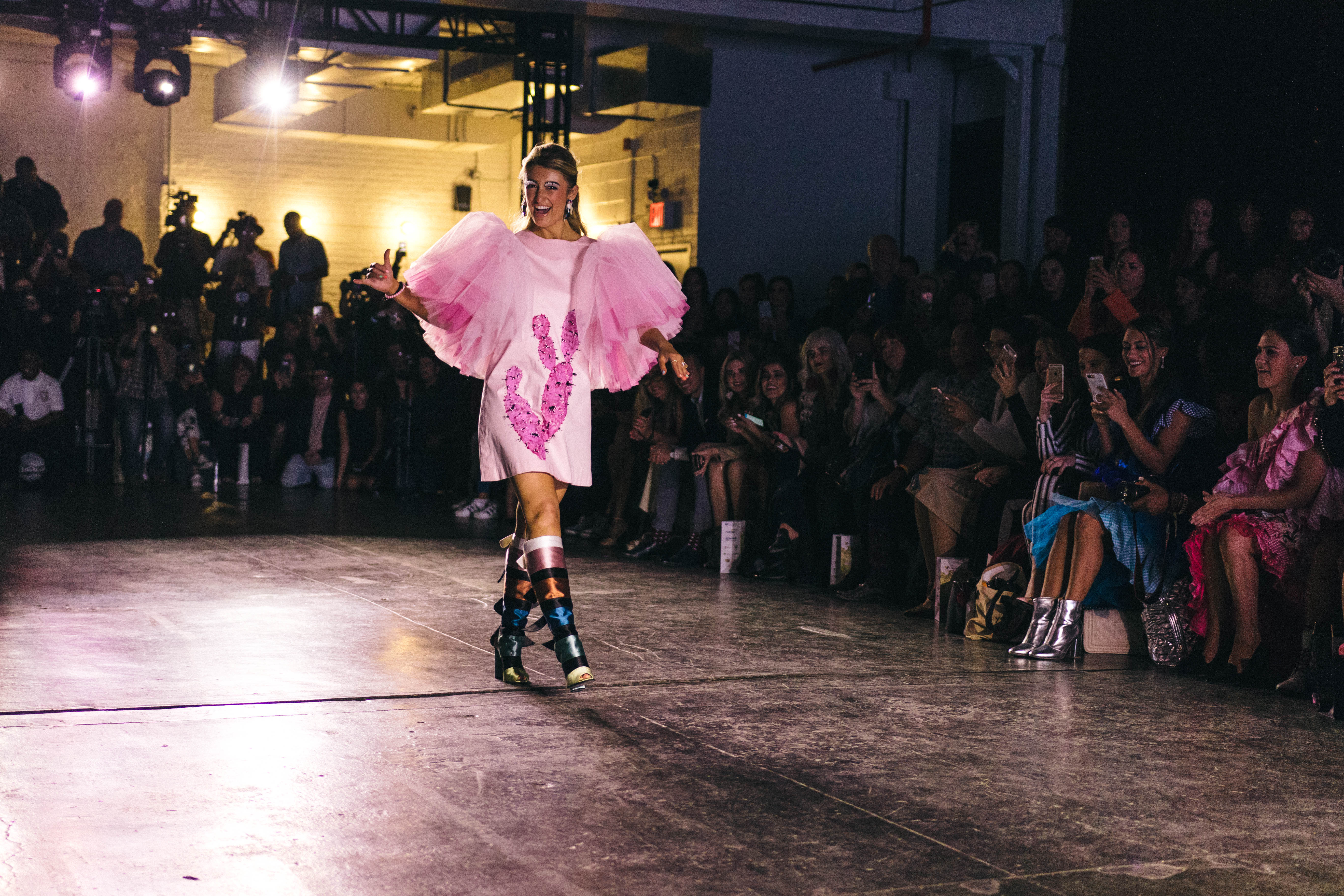 For Gottwald, all of her wildest dreams were coming true, but she couldn't end it there. "I had Terry Melville [former vice president of Macy's New York] calling Linda Fargo [director of women's fashion at Bergdorf Goodman] the morning after my show to come see my collection," says Gottwald. "I met Iris Apfel, the icon of all icons, and she complimented my skirt that I designed. All of that hype and interest made me take a step back … I needed to grow this fledging little business my way."
It wasn't time to be in Bergdorf's yet. Gottwald still had things to do before then, and she found her "why" was evolving yet again. Who else could she help? How could she move forward without "selling out" for her true passion of connecting with people?
"The World Pediatric Project in Richmond asked me to do the runway show for their big fundraising event in Richmond," says Gottwald. "I will be following Christian Siriano—big shoes to fill—but it's such an honor, and it feels so right that my next collection is for an event geared toward raising money to help those precious children receive medical help."
For her second collection, Gottwald is expanding her artisan network and heading down to Belize, where the World Pediatric Project conducts frequent mission trips. Artisans with children who are being cared for through the program will have the opportunity to sew and embellish some of the pieces.
As both collections reveal, Neubyrne's purpose is twofold: empowering artisans around the world and producing beautiful stories. "I wanted to give people an intersection of outrageous fashion that was more than just the product, but instead told a story about how that garment improved someone else's livelihood and wellbeing," says Gottwald. "Clothes are cool and all, but I am much more interested in creating beautiful pieces that tell a story."
With a new runway date—November 9—on the books and a new collection on the way, Gottwald is working day and night in her new studio in Richmond. The walls of the studio itself tell stories of their own, with Gottwald's sketches framed on a huge gallery wall, serving as a reminder of where she started. The fashion world is excited to see where she's headed—but the rest is still unwritten.