Getting graphic: T-shirts with a message raise awareness and funds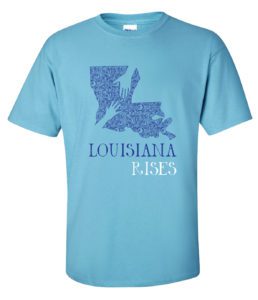 Over the last few years, graphic T-shirts have elbowed their way back to a mainstream fashion statement—and they can be spotted from runways to running errands. This retro-chic trend is relatively inexpensive, super stylish and plenty of fun. And these shirts are quick to design. This fact was paramount in the days following the recent flood, when a few local designers used their skills and expertise to quickly crank out disaster relief shirts with all proceeds going to help flood victims.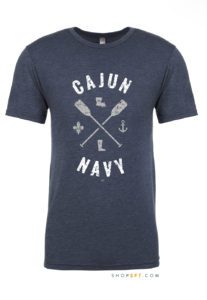 "I made two designs in one hour on Monday evening following the storm," says Beau Bergeron, a Baton Rouge native who is a partner at a design and development firm in Oakland, California. His Cajun Cool shirts made more than $30,000 for victims within the first week. "It's been so fun to sit at the computer and hit the refresh button and see the numbers on sales rising. I don't live there anymore, so this is my way to contribute."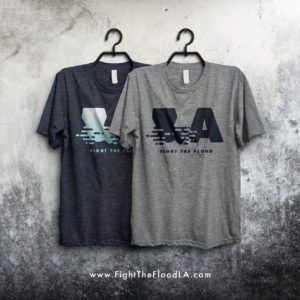 Other designers who live here, but who were not flooded, also quickly took their skills to the screens, then to the streets. Matt Dawson, a 10-year design veteran, created the Fight the Flood logo on Sunday night following the flood, posted it and recognized the traction it had on social media. He partnered with Matt Vincent and Drew Reilley to quickly create the shirts. Their shirts raised more than $25,000 for flood victims the first week.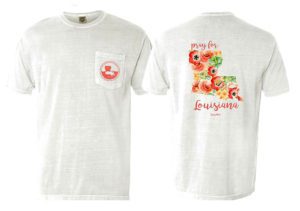 "I'm very proud of the response, but I'm not surprised," says Dawson. "Louisiana has always been a resilient community and, in the face of aversion, has always banded together."
Proceeds from the sales of the graphic tees within this story are going to local flood relief victims. Scroll down for more graphic tees with a local message.
---
More ways to show Louisiana pride
Hey, Penelope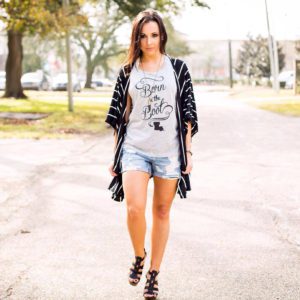 "I went to school for graphic design and started dabbling in T-shirt making, and then it blossomed into a small business," says Desiree Guidry, owner of Hey, Penelope. "It's a specialty thing. I think a lot of people like supporting local businesses and designers, instead of buying stuff that's mass produced at places like Target. It's like a little piece of home for people."
LA2LA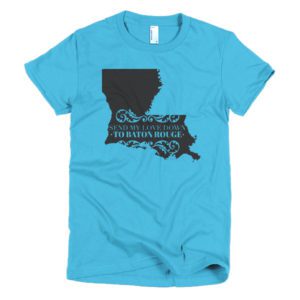 "I originally started the business as a sister company to my pre-existing company LA2LA Designs, a wholesale fashion company," says owner Michael Miller. "I had explored California, and I was exposed to the huge fashion presence there. I knew I wanted to bring this feel to the South. I think graphic tees have always had a presence in fashion. It's a way to say who you are, or what you're feeling without having to say a word."
Southern Football T-Shirts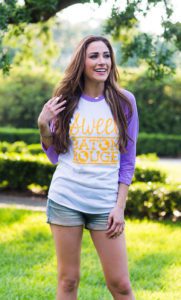 "The versatility of expressing your personality and style through apparel has always intrigued me," says Meredith Waguespack, owner of Southern Football T-Shirts. "From the beginning, I specialized in only gameday tees, but I've since expanded SFT to include our Sweet & Southern and Sweet Baton Rouge collections. Graphic tees are such a great addition to any wardrobe and can easily be dressed up or dressed down for everyday life."