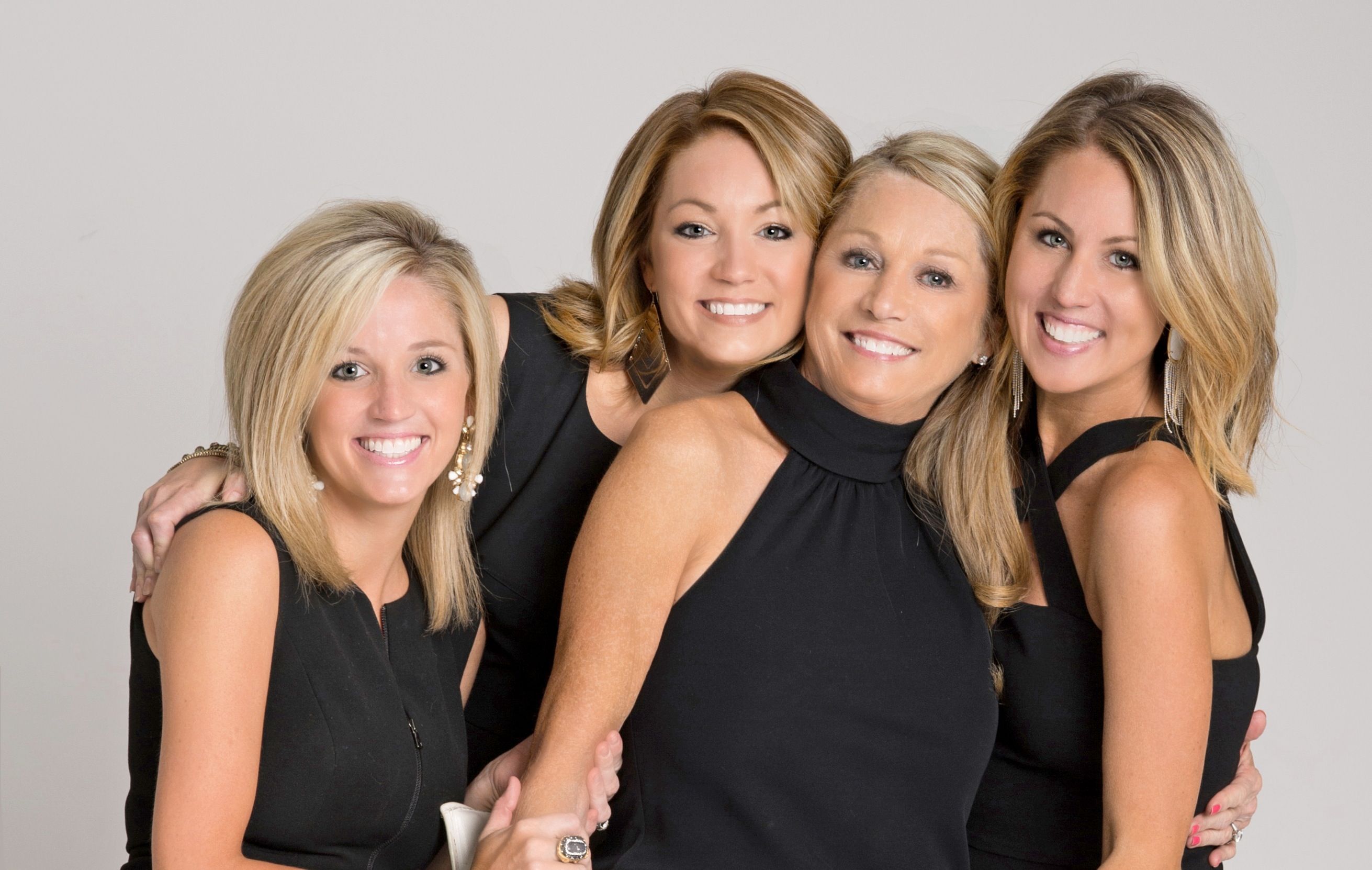 Kelsey Barksdale Dukes, Lauren Barksdale Hill, Cindy Barksdale and Shannon Barksdale Mahon. Photos by Jeannie Frey Rhodes.
Fantastic fashion sense is an inherited trait for four local families
Raiding mom's closet for savvy wardrobe pieces and accessories is de rigueur for many daughters these days—especially when one's mother, or even grandmother, has a good eye for design. Women with keen shopping power, and the confidence to wear clothing well, inspire the generations below. No slumming it here! The families below show that there is more that is being passed on between generations than just Great-Aunt Sue's casserole recipe. Stepping out in style has never looked so good.
See the September print issue, now on newsstands, for additional photos and bonus content with this story!
---
Mary Pearl Lorio, Katie Collins Fetzer and Melinda Lorio Collins
Mary Pearl Lorio made quite the style statement as she walked down the aisle at her 1950 wedding. Her dress was ice blue satin and tea length; her head was covered by a close-fitting Juliet cap.
"I always wanted to be different from the other girls," Mary Pearl recalls. Her nonconformist fashion sense may have been part of what led to her selection as Miss Baton Rouge in 1948, the same year she designed her own blue brocade off-the-shoulder dress for end-of-year school festivities in her senior year.
Mary Pearl's flair for expressing her personality was passed down to her daughter Melinda, an artist. In turn, Melinda urged her own daughters Katie and Sarah to find their own favorite looks. "I always influenced my daughters to find their own sense of creative and unique style that aligns with who they are," Melinda says.
Mary Pearl says her look has become more classic over the years, but she and Melinda still find common ground in the dressing rooms. "We often shop together with my sister Mary," says Melinda, "and we end up buying the same pair of slacks or shoes."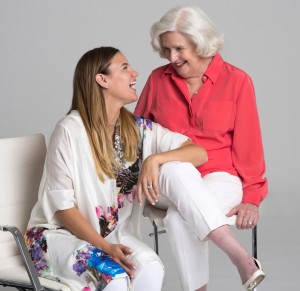 Melinda on Mary Pearl's style influence:
My mother is always dressed to the nines. She is good at coordinating her outfit with her jewelry, purse and shoes, and she always looks good.
Katie on Melinda's signature look:
She's a painter, so her style aligns with her artistic nature.
Katie's treasured hand-me-downs:
I used to take my mom's robes and her old belts and make them into outfits. I also have all of my grandmother's old hats, and I love them.
Mary Pearl's favorite designers:
I like Christian Dior, Oscar de la Renta and Chanel. I even wear Chanel No. 5 perfume. I like classic things.
---
Sam Fisicaro, René Firesheets and Liz Firesheets
René Firesheets and her daughters Sam and Liz share a true passion for fashion as much as they share jewelry and clothes. This trio makes sure that they don't overlap in wardrobe purchases so that they can have more of a variety to share with each other. And they love to share. But that doesn't mean their styles are mirror images of one another.
"I know what I like, and sometimes it's a little out there," says Sam. "And in those cases, I text a 'check me' pic to Mom."
Texts from the closet or changing room to the others are common for these ladies. They also appreciate well-made clothes that stand the test of time. René even has a few Carlisle suits from two decades ago that she still wears thanks to the classic lines of the ensembles.
"I don't want to try to look like my daughters, but we do share clothes," says René. "We just all put our own personal touch on what we are wearing."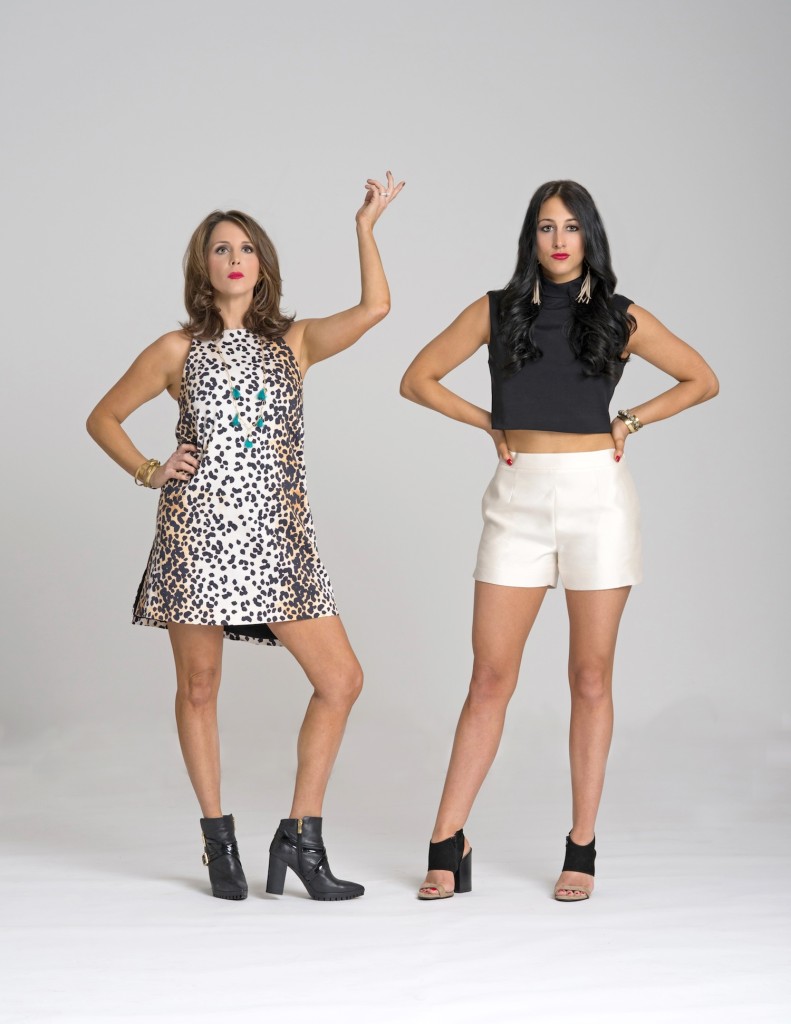 Sam on a fashion memory of her mother:
The coat. She and some friends bought matching full-length, fur-lined black coats in New York City 20 years ago…and drew no attention to themselves, I'm sure. As most Louisiana girls do not usually require such an item, "the coat" has been passed around to almost
every friend and family member for the one time they'll need it.
Liz's personal flair:
I usually go for dressy casual, and I tend to gravitate toward rompers. However, I would also say my style is sporty because of my job. I love fashionable activewear.
Sam on how René influenced her style:
When I was younger, my adoration for my mom led to me emulating her style more than that of my peers. And the pictures are hysterical—I was a 20-year-old dressed as a 40-year-old! Now that I'm 35, confident and comfortable in my skin, I have found that what has stuck regarding my mom's influence is to take risks that suit you—but for goodness sakes, text a pic before you show up to Christmas dinner with cleavage. In every area, Mom is my cheerleader and my check system.
Why Liz also checks in with her mom regarding attire:
My mother provides a great second opinion when picking outfits. She helps me put things together and accessorize. A lot of the time we wear similar things with our own little spin on it.
René on what she hopes her daughters have gleaned from her:
To present themselves well. I have always encouraged them to dress appropriately for the occasion and to make a positive first impression.
---
Mauretta Elbert, Britney Temple, and Monet and Eden Temple
Britney Temple commands attention when she enters a room. This former pro volleyball player and model has a confidence that reflects in her poise, her demeanor and her engaging personality. And she knows how to wear clothes well.
"I'm blessed and work hard enough to have a physique that will allow me to get away with holding on to quite a bit of my youthful options and wearing clothing that fits my body well," says Britney. "I just don't wear them as short as I use to."
Britney—married to Collis Temple III with three children—credits her mother, Mauretta Elbert, with instilling a sense of style in her from an early age. These days, she's inspiring her own young daughters to be as girly and as fun as they want to be when getting dressed. Rules are there to inspire, not define.
"I would run into Target without hesitation and purchase a dress and wear it with Gucci shoes and Balmain sunshades in a second," says Britney. "It's not who you wear, it's how you wear it."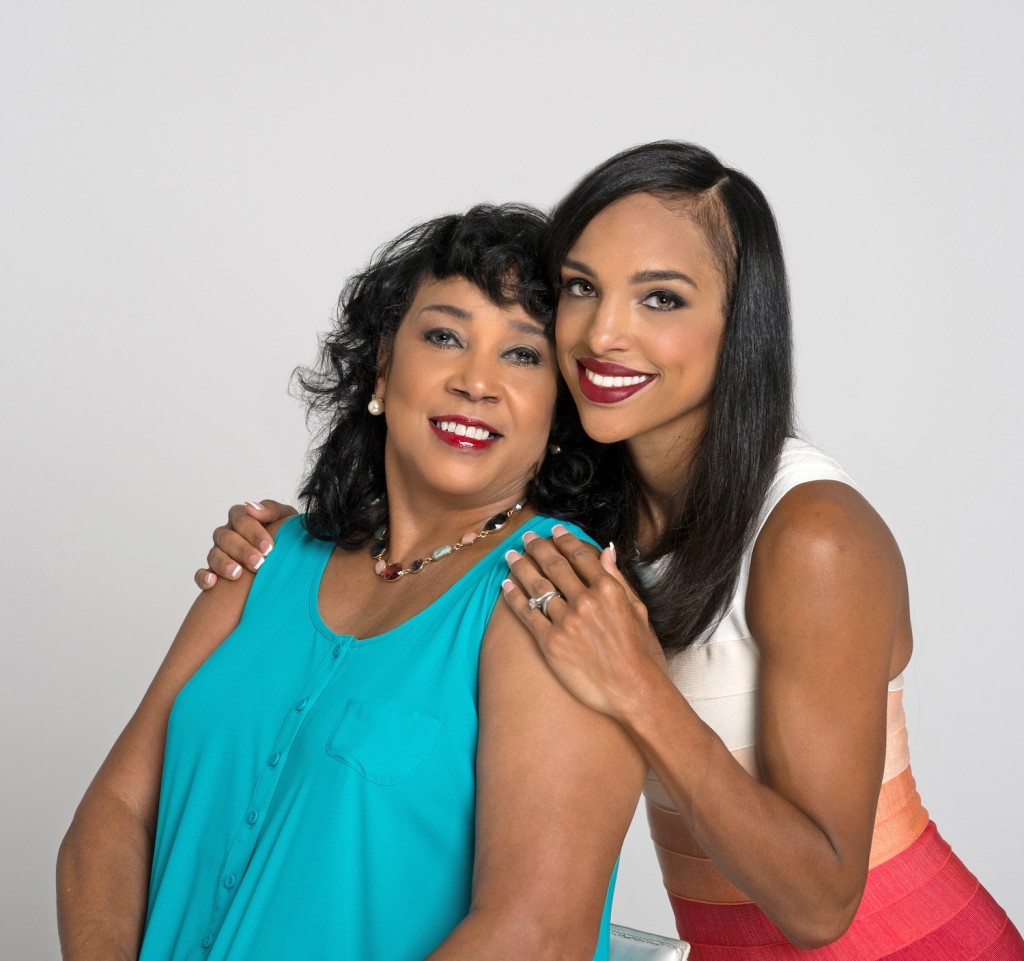 Britney on her daughters:
My 4-year-old daughter Monet will get upset if she has to wear anything other than dresses or skirts to school for her uniform, and my 2-year-old Eden must have a bow. They both love to play in my high heels, and as soon as they get home they undress and put on frilly dresses. This is a daily routine.
Britney's fashion memory of Mauretta:
My mother was an original dancing doll for Southern University, and there is one picture of her in her gold sequin leotard, go-go boots and Afro that I love.
Mauretta's clothing mentor:
One of my aunts lived in California and was the most fashion-forward dresser in the family as I was growing up. Whenever she came to Baton Rouge to visit, I was so excited to see her wardrobe, beautiful jewelry, hats and furs. This aunt helped to influence my taste in clothing and elegance.
Clothing items that Britney has held onto through the years:
I love vintage jackets. I have a black leather jacket that I purchased in college that reflects the Michael Jackson era with multiple zippers. I also have a few vintage sequin jackets and peacoats that were my great-aunt's that are close to 40 years old and in great condition.
Wardrobe staples that hold memories for Mauretta:
I still have a leather sweater from the 1970s that I loved. I have also kept a blue linen and pink suit that belonged to my mother and a mink hat that belonged to my grandmother.
---
Kelsey Barksdale Dukes, Cindy Barksdale, Shannon Barksdale Mahon and Lauren Barksdale Hill
Cindy Barksdale's passion for wearing black has definitely rubbed off on her three daughters, Shannon, Lauren and Kelsey. The three now-grown girls all talk fondly about a particular vintage strapless black dress that they loved to borrow from their mom's closet. But the matriarch's most memorable dress, say her daughters, was one in a much more vivid shade.
"It was in the late '80s and so over the top—ivory and gold lamé with a giant bow on the shoulder and one on the hip," recalls Lauren. Adds Shannon, "It was to die for!"
Through the decades, Cindy's fashion preferences have evolved with her everyday activities. "I grew up riding and showing horses…so naturally I wore blue jeans," she says. Later, her closet was filled with suits. Today, her daughters have influenced her to wear "more fun outfits," she says.
The three daughters, now mothers themselves, still borrow jewelry from each other and from Cindy, and they all have plans to pass down certain special pieces to their own daughters, including designer handbags and special slide bracelets. In the meantime, they're still dressing in the manner their mother taught them. "We all love a great staple wardrobe and anything black," says Shannon. "Fab accessories, handbags and shoes are a must."
Kelsey on how her wardrobe has changed since becoming a mother:
My style is much more casual and functional now that I have kids—I always have to be ready for dirt and spit-up.
Lauren on inherited characteristics:
My mom and Kelsey have similar shapes, and Shannon and I are the opposite. We're all very body-conscious and dress for our shapes, highlighting our assets and concealing our weaknesses.
Shannon on Cindy's best advice:
Keep it classic and timeless.
Cindy's go-to designers:
My favorite designers have changed through the years. More recent ones are Chanel, Vince Camuto, Worth, Theory and J Brand.
Lauren on being a mom to a little girl:
Palmer is 3 1/2 and has a mind of her own when it comes to dressing herself, so I can see there will be lots of fights in the future. She's like me, though, and loves jewelry.