METAL MINDED: LIBBY WILLINGHAM'S JEWELRY MELDS HISTORY AND WHIMSY
Libby Willingham's creative streak has taken her from murals to portraits to painted furniture in three decades as a professional artist.
But in the past year, a different artistic inspiration has taken hold. Her latest achievement is a line of jewelry and accessories inspired by her passion for art and history.
The collection includes ancient wedding rings reproduced with the help of 3-D printing, belt buckles hand-sculpted and cast in silver and bronze, and angular Scandinavian-inspired earrings.
"I have always made little pieces of jewelry," she says, but always one at a time and always for fun. Though she never considered herself a jewelry designer, her pieces can now be purchased online and in local boutiques including NK, Red Onion, Sabai and The Keeping Room.
As many creative endeavors do, Willingham's shift to wearable art started on Pinterest. She began with a board dedicated to ancient pieces, like a 14th-century Jewish wedding ring that instead of a stone featured a small house perched on top. Other variations traditional during that time were adorned with miniature palaces, castles and temples.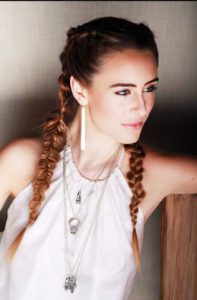 Willingham loved the house-themed ring and found that, to her knowledge, it had not been reproduced. "I'd had this board for years," she says. "I was fascinated by the rings and I wanted to reproduce them." She drew several variations, discovered 3-D printing and found someone local who could print it in plastic for her. She sent the mold to a place in New Mexico that cast it, and that was the beginning of the jewelry line. 
Willingham also replicated a Roman design dating back to the 4th century A.D. The Greek letters translate to "May you live with me sweet soul," and Willingham often wears it in place of her wedding ring.
Her most popular earring designs are inspired by Scandinavian style—distinctive, yet simple, geometric designs using rectangles and circles. This collection is entirely handmade and hand-cut by Willingham.
In the studio behind Willingham's house, she says she has everything she needs to make anything she wants. And one night, what she needed and wanted was a cow skull belt buckle to wear to a fundraiser where country music artist Clint Black was playing. "I made it out of clay and silver-leafed it and wore it that night," she recalls. "When I got there, people were looking at it and wondering where they could get that belt buckle."
When she decided to start making jewelry and accessories, she had the bovine belt buckle cast along with her rings. She also created designs featuring a tiger head and a banana leaf on bison leather belts.
Some of the necklaces in Willingham's collection replicate ancient coins and symbols, though her guitar charm necklace pays homage to a different kind of legend—a country artist from her hometown of Shreveport. Willingham's brother dated the daughter of Johnny Horton, famous in the 1950s for performing historical ballads like "The Battle of New Orleans," and also known for marrying the widow of Hank Williams. Horton's daughter wore a necklace with a guitar charm on it, which was actually one of a set of her dad's cufflinks she had made into pendants for herself and her sister. An exact replica of the Louisiana musician's signature piece is now part of Willingham's line.
It's apparent that for Willingham, inspiration is never far away. She doesn't limit herself to one era, style or culture, but she allows her creativity to take hold whenever she sees an object that speaks to her. No matter how you string it, Willingham is a gem.