Here's your 2022 fashion forecast, courtesy of a local model and designer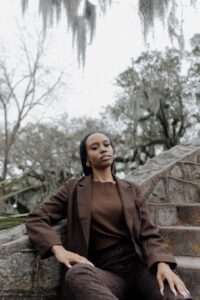 With a whirlwind trend cycle dictated by creators on apps like Tik Tok and Instagram, staying up to date has proven a more difficult task than ever before. What is in style one day can be a fashion faux pas the next, or so it seems.
To learn some surefire ways to stay stylish in 2022, we asked local model, fashion designer and stylist Tiffany Hill to break down the upcoming season's hottest trends and must-have items.
---
1. Feeling blue
Denim! This American classic continues to be reinvented, reimagined and renovated time and time again. The pandemic pushed jeans to the wayside as we spent most of our days lounging in slouchy sweatpants, but we never really forgot about it.
"Denim never fades, and something cool about denim is that it is always here," says Hill. "It's always going to be popular. It's always going to be relevant."
It's all about finding the fit and silhouette that flatters you the most. "I think for 2022 we are going to see a lot more styles that go hand in hand with early 2000s styles," Hill says. "Think styles that just sit real low at your hip that shows a little bit of skin."
---
2. Mixing masculine and feminine
Take the suits and blazers from your husband's closet this season, because boxy menswear is totally in style. In 2022, the line between gendered clothing is becoming more and more blurred, and Hill is excited about it.
"You know, on women and men too, anybody can wear anything," she says. "I wholeheartedly believe that. It's really nice because, personally, some days I tend to dress a little bit more androgynous. I like to mix a lot of masculine elements into how I look and how I dress."
Boxy and oversized blazers and chunky loafers are Hill's go-tos when dipping her toes in the world of masculine dress.
"Wearing a skirt with an oversized blazer or wearing an oversized blazer with more of a fitted pair of bottoms is really nice," she says. "Chunky loafers and Oxfords were really big in 2021, and they're going to continue to be huge. They also tie into the style of being androgynous, which is so cool, because now you see so many women wearing slip-on loafers and Oxfords when, before, those items were predominantly worn by men."
---
3. Pantone's color of the year, "Very Peri"
Step aside, boring beige and hardly noteworthy neutrals; "Very Peri" is here. Every year, the Pantone Color Institute names its top color of the year. This color will become the "it" color that we are likely to see everywhere from fashion to interior design.
"Every single year, a Pantone color is selected," says Hill. "Normally it's selected from existing Pantone colors that they already have in their system, but this year is a little bit different. It's actually the first year that the color has been created especially for the year."
As to why Pantone's color of the year is set to play a big role in 2022, she says that all boils down to the tradition of Pantone's color embodying or predicting the vibes of the upcoming year, especially in terms of how to set our intentions and visions for moving forward. The "spritely, joyous attitude and dynamic presence that encourages courageous creativity and imaginative expression" plays into the transformative role 2022 will likely have in our lives, which is why designers in fashion and fashion accessories are bound to turn to the color.
"Of course, when we watch a runway show in 2022, we're actually seeing designs that have been forecasted a couple of seasons ahead of time," says Hill. In other words, hints of "Veri Peri" have already been making themselves known on last year's runways in anticipation of 2022.
---
4. 1970s revival
If celebrities like Harry Styles and Olivia Rodrigo are sporting '70s-inspired fashion, so should we! From disco sparkles to bell-bottom denim, the '70s are here for a comeback.
"Trends come, they go, they recycle. A lot of inspiration for fashion just rotates from different decades," Hill says. "We've seen that with celebrities and artists, and also in different silhouettes in clothing, like plaids, flared jeans and bellbottoms."
---
5. Environmentally conscious shopping
Say it with me: "Accessorize!" If you are trying to be more environmentally conscious in the new year, good for you! One easy first step is accessories.
"Not only am I a gold fanatic, but I also talk a lot about accessorizing," says Hill. "It does so much. People often think I have thousands and thousands of clothing items in my closet, but no. If you really pay attention, I wear the same pieces. I just wear them in different ways. And I accessorize so much because that really draws a look together and it changes the style."
Thrift or consignment shopping is another excellent way to get those vintage pieces or try out new trends without hurting the Earth (or your bank account). "Thrifting is a way you're able to try new pieces in a sustainable way, and it isn't as costly," says Hill.
---
For more information on Tiffany, visit her Instagram or website. Tag us in your style pics on Instagram @inregister.