10 questions with Baubles by Bella Bella

If you're local to Baton Rouge, you're likely familiar with the trendy and colorful clothing boutique Bella Bella—or at least with its catchy name. Since the original store opened 27 years ago, the boutique has expanded to two additional locations in Baton Rouge and one in Metairie. However, when the global pandemic hit last year, it hit local businesses hardest. Even for the multi-location boutique, temporary closures required creative solutions to keep business alive. Bella Bella's answer? Shifting the entire concept of one of their stores. Tops and dresses were traded for beaded purses and party games, and Baubles by Bella Bella was born. We sat down with Bella Bella co-owner Ashley Giardina Thibaut for more on the Jefferson location's new concept:
---
1. What inspired the start of Baubles by Bella Bella?
The idea for Baubles came in the wake of the pandemic. When we were forced to shut down last year, it became incredibly difficult to staff, stock and maintain four locations. We knew we wanted to sustain all three locations in Baton Rouge, but we also knew we had to reevaluate certain aspects of the business to do so.
What really brought us inspiration were the customers at our Bocage Village Shopping Center location. Always doing well with accessories and gifts at that store, we decided to create a new concept that would offer more of the items the customers wanted most. Elise (Bella Bella's co-owner) and I had a quick conversation on the change: "Let's do jewelry, accessories and gifts, and call it Bella Baubles. No, Baubles by Bella Bella!" End talk, it was done!
2. When did you launch the new store concept? 
We launched in late May with a grand reopening party called "Bubbles at Baubles." Despite the terrible weather that day, the sip-and-shop style event had a great turnout!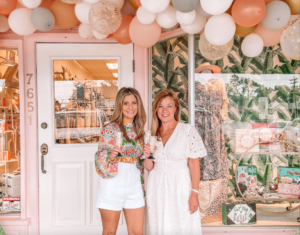 3. What sets Baubles apart? 
Baubles is a home décor, gift and lifestyle boutique. Inside the store, you will find different sections stocked with items of corresponding categories: bridal/bachelorette, travel, birthday/special event, home décor, Louisiana seasonal (think gameday and Mardi Gras), giftables, candles & scent, jewelry & handbags and holiday/seasonal.
You won't find the extensive clothing and shoe selection that we offer at our Bella Bella locations, although we do currently have a small selection of T-shirts, sandals and beach coverups, and will offer a taste of our gameday line in the fall. 
4. When a customer walks into your store, what can they expect to find? 
It's like walking into a literal candy land! There are so many fun and unique items to shop, with more new treats in every week. It has been a bit of a struggle to get all of the items we've ordered in due to COVID, but we are slowly but surely stocking the store with fabulous items you won't find anywhere else.
5. How would you describe the style at Baubles by Bella Bella?
Think Bella Bella—fun, trendy, unique. It's the same style you've come to expect from us, just a different concept!
6. What are your favorite products sold at the store and why?
Right now, my favorites are the Gucci-inspired trays and coasters made by a young Texas artist, the grandmillennial- style housewares, and our best-selling Haute Shore bags.
7. What is your favorite summer trend right now? 
My favorite summer trend at Baubles has been our square-toed sandals. If we're talking Bella Bella, I'm loving the puff sleeve and babydoll dress trends!
8. How has the response to the new concept been from customers thus far?
So far so good! Right now, we're still trying to educate customers about the change to the new concept, but people have loved what we've done so far!
9. Where do you seek inspiration for your products and styles?
Oh, everywhere. But honestly, we just buy what we like and know our customers will like. Elise and I have been doing this a combined 50 years or so (wink), so we're pretty in tune with what our customers respond to.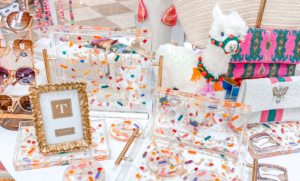 10. What can we expect to see in the future of Baubles by Bella Bella? 
Expect to see a lot more home goods—these items have been especially hard to get due to COVID—as well as gameday finds (most notably by Queen of Sparkles), holiday décor and amazing accessories.
---
Learn more about Bella Bella in this story from inRegister's archives or at bellabellashop.com.