10 questions with Bella Bella manager Ashley Giardina Thibaut
From casual T-shirts and festival-friendly pieces to glamorous gowns, Bella Bella has the threads for a variety of occasions. Situated at each corner of the Capital City, Bella Bella is a go-to spot for local fashionistas. Store manager and buyer Ashley Giardina Thibaut tells us more about the trendy boutique.
---
 1. How did you get involved with Bella Bella? My journey with Bella Bella started eight years ago. I was in search of a local boutique that was willing and able to give me full-time hours to count toward a summer internship I needed in order to receive a degree in fashion merchandising from LSU. I interviewed, got the job and have been here ever since.
2. How has the store grown or changed since then? Since I started working for Bella Bella in 2008, we've opened three more locations—two more in Baton Rouge (Bocage Village shopping center on Jefferson Highway and Calandro's shopping center on Perkins Road) and one in Old Metairie (501 Metairie Rd.). We have also started to offer online shopping through Shoptiques.com and through our Facebook and Instagram pages.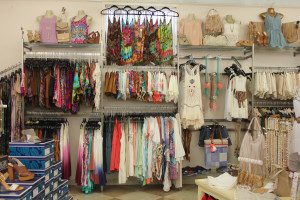 3. How would you describe the style at Bella Bella? Bella Bella is the place to go for trendsetters in search of unique pieces. We strive to always be on trend while still maintaining a soft, feminine look.
4. What sets your store apart from other shops? I think Bella Bella offers a unique shopping experience. We have an extensive selection of clothing, shoes and accessories and offer exclusive brands to the Baton Rouge and New Orleans areas. It's a one-stop shop with something for everyone. We also pride ourselves on offering superior customer service to everyone who walks through our doors.
5. What's something that customers should know about the store that they might not be aware of? Customers should know that we are not just a juniors' clothing store. We have something to offer everyone. I always say if you can't find it here you can't find it anywhere. Most people who come to Bella Bella will fall in love with at least one thing and walk out the door having had an excellent shopping experience.
6. What is your favorite product sold at the shop right now? I absolutely love the "Bri Bri" belt by B-Low the Belt. It is by far my favorite piece in the store, and it makes a big statement. I always get a ton of compliments when I wear it. There are not a lot of stores in Louisiana that carry the brand, so I like that I don't see it everywhere.
7. Can you share a style tip? I always say stick with separates. A dress is great, bu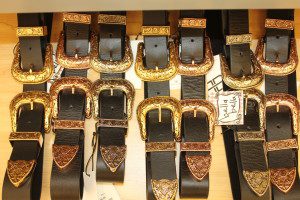 t depending on the look its number of wears may be limited. Investing in key separate pieces ensures a more extensive wardrobe that can be mixed, matched and worn several different ways. Also, prints are great but in moderation. Prints have a shorter shelf life because you can only wear them so many times without someone noticing. Solids are more versatile and can be worn over and over again—more bang for your buck!
8. What's your favorite spring trend? My favorite spring trend is the ghillie laced shoe. I particularly love our "Copa" ghillie lace sandal by Matisse. I own them in the grey snake, and I have worn them out already!
9. Whats the best style advice you've ever received? Less really is more. Indecent exposure isn't classy. No one wants to see anyone's "Britney." Only one body part should be exposed at a time. If you're showing a little classy cleavage, don't also show off your legs. Some things are better left to the imagination.
10. Can you give some insight on what we'll see at Bella Bella this summer? This summer Bella Bella will have a lot of feminine, flirty pieces in soft colors while also offering a selection of boho-chic festival styles. Our shoe selection for this and the coming seasons are the most unique and exciting shoes we've ever carried. Anyone who has not already checked out our spring selection is missing out.