10 Questions with Hey, Penelope owner Desiree Guidry
From sketch to sale, owner Desiree Guidry and her team pour their hearts into each step of producing and merchandising Hey, Penelope's graphic T-shirts, tanks and tops. Many of the other products in the shop come from local artists, designers and businesses. Below, Guidry tells us about her passion for graphic design, styling and more.
---
1. How did Hey, Penelope start? It started as a creative outlet after graduating college in graphic design and not feeling fulfilled creatively with my situation. First came prints, then other items (that I designed the graphics for). Everything had a great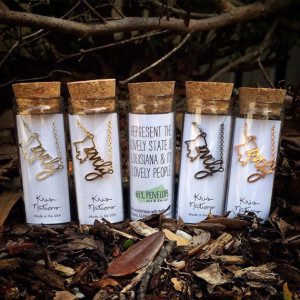 response and Hey, Penelope eventually became what it is today.
2. How has it grown or changed since then? It's grown by developing from online to brick and mortar within a few short years and changed up a bit from just Hey, Penelope Graphic Tees+Tanks+Tops to full-blown retail—a one-stop shop for most women, focusing around other items by small businesses and local artists and designers
3. How would you describe the store's style in a few words? Casual chic—all of the items in here are easy to dress up or down and will fit right in with your existing wardrobe.
4. What are your best-selling items? Hey, Penelope's original graphic tees, tanks and tops remain the best sellers, and I'm still completely
blown away and grateful that they continue to be.
5. Can you share a hint about what customers will see at the store in the future? Expansion—with time, I'm hoping to add multiple locations in Baton Rouge and the surrounding areas.
6. What is something you want customers to know about your store that they might not already know? All graphic tees, tanks, tops and other miscellaneous items are designed in-house and printed locally, so you're supporting your community in more ways than one. There are also multiple items available for purchase by other local artists and designers.
7. Can you share a style tip? As cliché as it is, if you love it, wear it. The confidence you display in your most loved outfits will outshine anything else.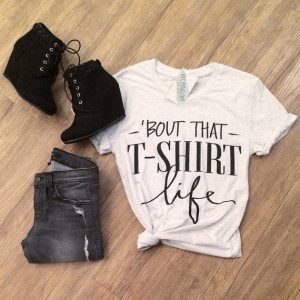 8. What's your favorite trend for spring? Kimonos and other lightweight items layered over tops. There's something so effortlessly chic about them. Bonus: They basically feel like a lightweight robe, and who doesn't love that?
9. What inspires you most? Back to my design roots: letterforms, a well-designed logo and genius advertising.
10. If you were on a stranded island with one item, what product from Hey, Penelope would you bring? A T-shirt, because I'm totally 'bout that T-shirt life.
Get a closer look at Hey, Penelope owner Desiree Guidry's inspiration by checking out the Mood Board she created for inRegister last fall.