10 local style instagrammers you should be following
Instagram is many things. It's how you stay up to date with pictures of your second cousin's new baby. It's plenty of mouthwatering photos of dishes from that new restaurant that you've been meaning to try. It's a place to share your memories (and plethora of travel photos) through your iPhone lens. And it's a world of fashion inspiration at your fingertips. To keep up with the local looks, inRegister compiled a list of 10 style Instagram accounts that you should already be following. If you aren't, thank us later.
For more Instagram inspiration from around Baton Rouge, follow @inregister.
---
Brighton Keller @brightonkeller
Followers: 296,000
Born and raised in Baton Rouge, Brighton Keller knows a thing or two about Southern style. She's got the aesthetically pleasing, perfectly photographed content that makes people hit the follow button. However, what sets Keller apart from other bloggers in the industry is the thought-provoking, motivational, "you can do it" attitude that she weaves into her posts (and Instagram stories). Her blog, Brighton the Day, does just that–it brightens the day. She's like your new fashionable sister.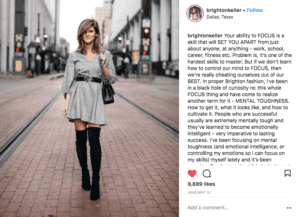 ---
Jennifer Palpallatoc @HauteOffTheRack
Followers: 216,000
Louisiana-based fashion, travel and lifestyle blogger Jenn Palpallatoc started Haute Off The Rack in an effort to help women feel confident in their clothes. In doing so, she's attracted nearly a quarter of a million followers through her daily posts. Haute Off The Rack is more than just "outfits of the day." Followers get a glimpse into Palpallatoc's home, travels and even her wedding planning, making HOTR an oasis of lifestyle tips and inspiration.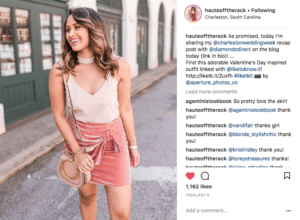 ---
Savannah Brown @followingsunshine_
Followers: 1,600
Savannah "Sunshine" Brown is new to the fashion blogger game but has already proven to be a solid contender. A recent LSU graduate, Brown has already attracted a growing number of followers with her unique style and impressive closet. Her love of prints, bold colors and statement pieces is apparent throughout her blog, Following Sunshine. If you're looking to follow someone with that "cool girl" vibe, then look no further.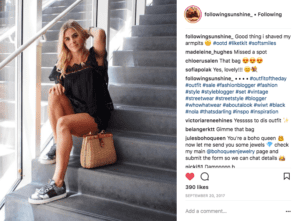 ---
Karli Willis @Karli_Willis
Followers: 12,400
Decked in lace, ruffles, big hair and the occasional Southern Marsh, Baton Rouge native Karli Willis is Instagram's Southern belle. Her style is feminine and sweet, bringing a light and airy approach to the fashion world. With over 12,000 followers, Willis offers her fans a look inside her daily life of being a fashion blogger and a mom to her puppy, Hazel, who often makes adorable appearances.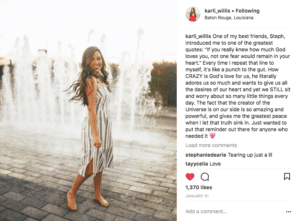 ---
Lala Vied @lalavied
Followers: 4,600
Scrolling through Lala Vied's Instagram feed will result in serious wardrobe envy. Thankfully, Vied partners with LIKEtoKNOW.it, which means that simply "liking" one of her posts sends an email to your inbox with links to shop her outfit. Life-changing for our closets, dangerous for our bank accounts.
---
Brittany Comeaux @brittany_comeaux
Followers: 9,300
Fashion inspiration? Wife, mom and Baton Rouge resident Brittany Comeaux is an inspiration all her own. Comeaux juggles two kids and running a blog all while keeping up with the latest fashion trends. She's mastered the "effortless chic" style and she's sharing how you can achieve it too.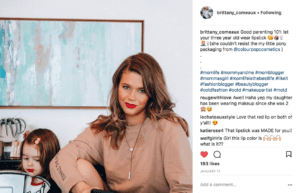 ---
Taylor Jacobs @gracefullytaylored
Followers: 15,200
Texas-born, Louisiana-based fashion blogger Taylor Jacobs is all about showing you who she really is. Jacobs aims to shed light on the fact that no one is perfect, and instead, she encourages her followers to love the imperfect version of themselves. Gracefully Taylored is a refreshing mix of effortlessly paired outfits and guidance for those real, everyday struggles (like finding motivation to exercise or what to gift someone) that we all face.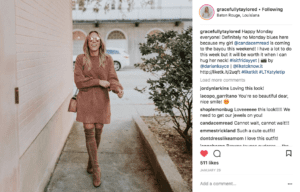 ---
Angelle Marix @dashing_darlin
Followers: 47,600
Angelle Marix is not your typical mom of four. Marix's unique, edgy style is arguably the reason for her impressive Instagram following. Those who head on over to her blog are presented with how-to guides on various topics like travel, style and even relationships. Marix puts a relatable twist on the "glamorous" life of a blogger. Following Dashing Darlin' is less like following a fashion guru, and more like keeping up with a friend.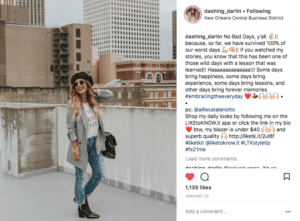 ---
Leslie Presnall @southernflairblog
Followers: 5,800
Leslie Presnall's Instagram bio states that she's helping you live your best life right here in Baton Rouge. She's got the low-down on the best places to eat, shop and hang around the capital city. And she's doing it in style, just as she did when she recently took over inRegister's own Instagram feed for a fun Mardi Gras-going weekend. Presnall's aesthetic is an ode to the boot with plenty of pieces that celebrate all the things that we love down here–Mardi Gras, tailgates and LSU football.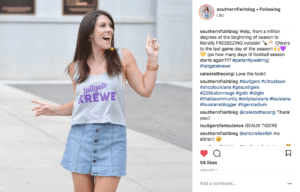 ---
Krystal Faircloth @apinchoflovely
Followers: 232,000
Last but certainly not least is Krystal Faircloth. A Pinch of Lovely, Faircloth says, is "attainable fashion while celebrating a creative lifestyle." Her closet is dreamy, so much so that inRegister recently did a story on it. Her feed is whimsical, offering her followers insight into her swoon-worthy outfits and lifestyle.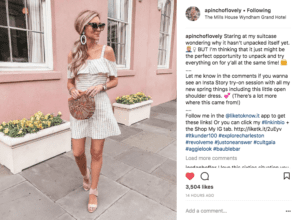 ---