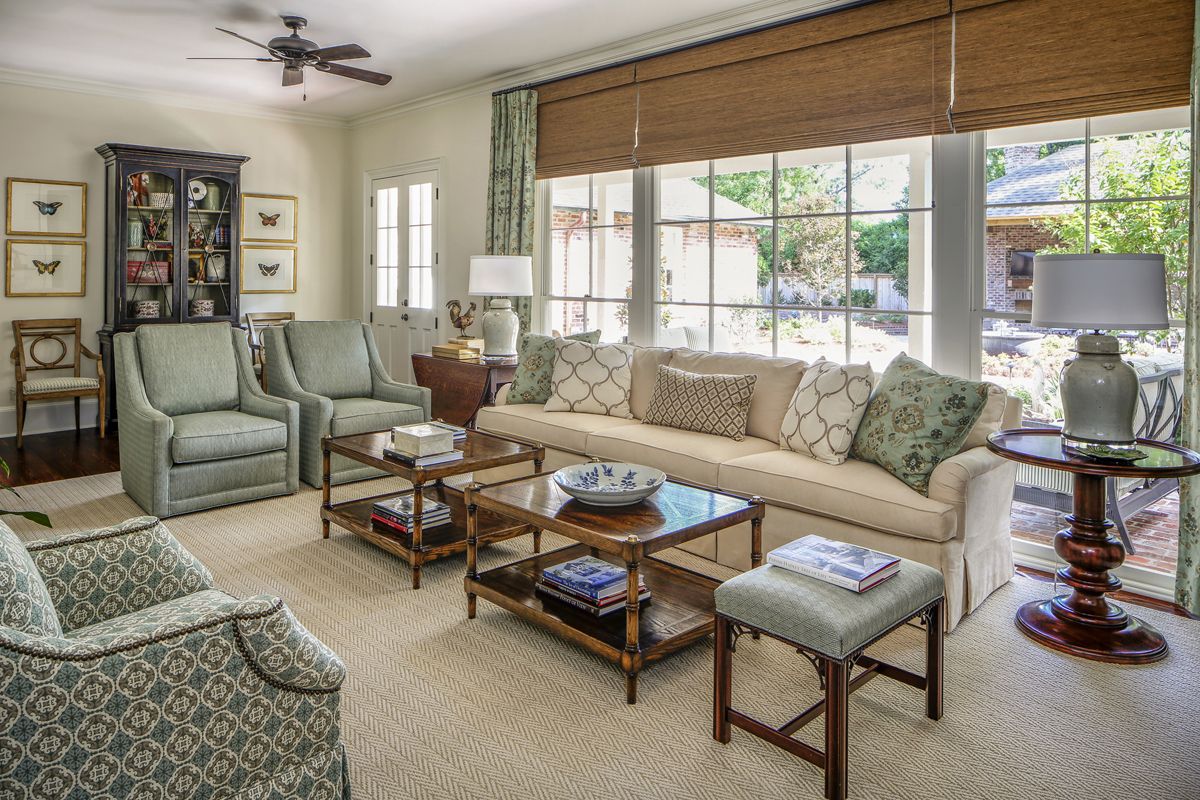 Nesting instinct: The Balhoff home is designed for multi-generational gatherings
Roosters are like old friends at Sharon and George Balhoff's house. Sharon has collected feathered figurines for decades, inspired by her mother's memories of growing up on a family farm at which the strutting birds were a common sight.
So when Sharon and George began making plans to renovate their newly purchased home, she had one unusual request.
"When we were planning the kitchen, I actually designed a cabinet around a rooster," says Dan Bergeron of McMillin Interiors, who worked with the Balhoffs on the renovation and design project. "One of Sharon's favorites was a large wooden rooster over two feet tall that she wanted to make sure had a place to be displayed."
With a new habitat in the form of a hutch cabinet with adjustable shelves, that special rooster and a flock of friends made their way here from their former home in Westminster after the Balhoffs found this house last fall. "We have four kids and two grandchildren, and we wanted a little more space to enjoy them," Sharon explains. "For the longest time, I had driven down old Bluebonnet Road and though it was such a lovely country-like area."
The pastoral setting was perfect, George and Sharon agreed, but they wanted to be able to pour their own personalities into the house itself, which had been built in the early 1980s. They turned to their longtime friend Bill McMillin—or "Uncle Bill" to the Balhoff kids—and his colleague Bergeron.
"There were a lot of style things we knew needed to be changed," Sharon says. "When Bill and Dan came to see it, they immediately shared our vision for it. I knew they were going to make it beautiful, but I also wanted it to be comfortable."
The rest of the renovation team was assembled quickly. Richard Ourso of Ourso Designs was asked to draw up plans to overhaul the kitchen and bathrooms. Contractor Jeremy Vasquez of Element Construction would oversee the building process. And Greenscape Design owner Josh Williams was tasked with transforming the landscape.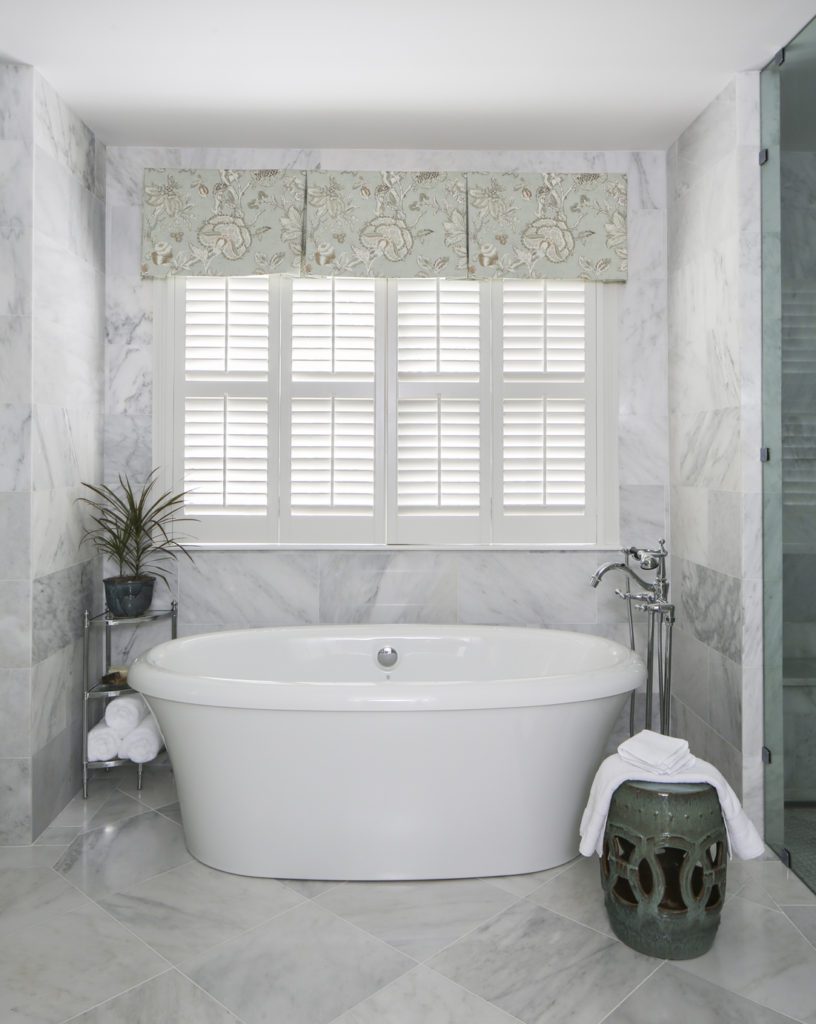 The renovation began right at the front doors and continued all the way through to the backyard. The original French doors and half-moon transom were replaced by an arched deep brown pair that anchor the new warm gray palette. Inside, doorways were moved and heightened; wall locations were rethought. Floors were darkened and the fireplace got a facelift.
The kitchen was home to one of the most visible transformations. Here, Sharon wanted a transitional farmhouse feel that would work with her beloved roosters but still feel fresh and clean. White cabinets replaced warm cypress, and white beadboard was combined with the ceiling's existing old beams. This is where Bergeron brought in that custom built-in hutch for the rooster, finishing it in a distressed blue-gray to give it the feel of an old farm furniture piece.
"You need to get the bones of the house right before you start decorating," Bergeron says.
Once those bones were in place, he shifted his focus to dressing the house in a way that would suit the couple's classic tastes while still being casual and comfortable for frequent family visitors, including very small children. But that didn't mean sacrificing style.
"My favorite part of working on the design of this home was taking ordinary rooms and transforming them into extraordinary rooms with the use of striking design elements like the mirrored 'window' and draperies in the dining room and the custom 10-foot sofa in the main living area," says Bergeron. "I enjoyed giving each room its own personality while still having the designs flow together throughout the house."
Bergeron incorporated a variety of beloved heirloom furnishings into the home's décor, from Sharon's mother's sewing table to a refinished old stereo and an aunt's grandfather clock. To keep things kid-friendly, the seats of the ladder-back chairs surrounding the breakfast table were upholstered in a Sunbrella weather-resistant fabric.
"We didn't want there to be things that our grandkids couldn't touch," Sharon says. "We wanted our home to be welcoming for them to come and enjoy."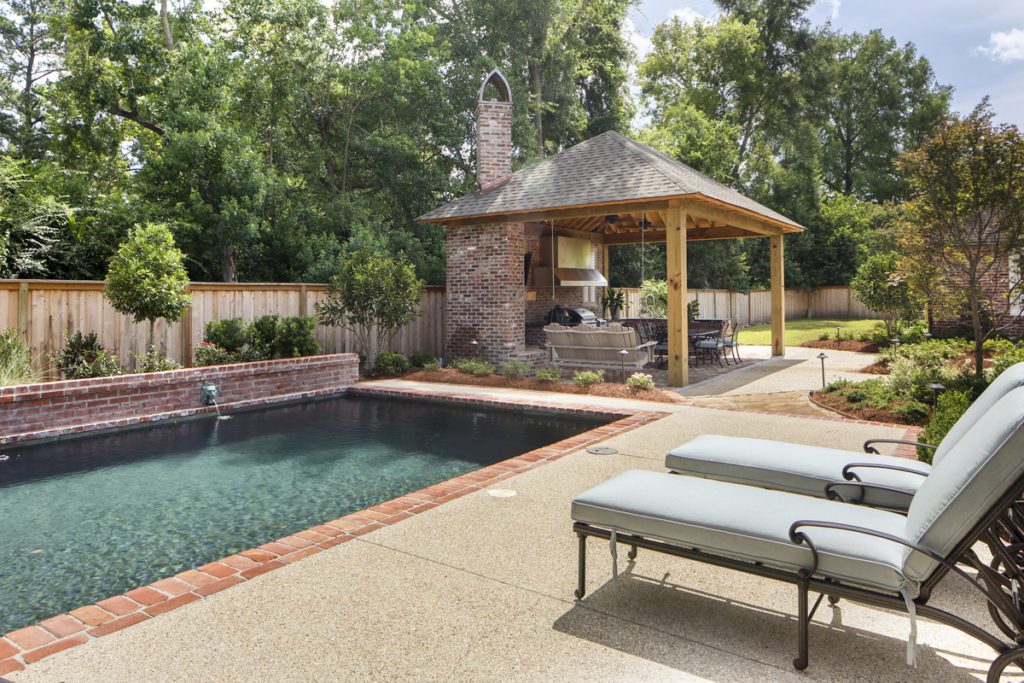 The makeover continued in the backyard, where an outdoor kitchen took the place of a small pergola beside the existing saltwater pool. A dripping Drake elm was removed from the center of the courtyard to make room for Sharon's favorite landscape elements. "I love hydrangeas—my mother did, too," says Sharon. Along with the bushy blooms, landscape designer Josh Williams incorporated magnolias, crape myrtles and Japanese maples for nearly year-round color. "He did a good job of defining the spaces," Sharon says. "The lines of the beds in the courtyard area are soft, but around the pool we have boxwoods and everything is linear."
After all of the design elements were installed and the Balhoffs had moved in, McMillin and Bergeron returned with a very special housewarming gift—a new marble and brass rooster to add to Sharon's collection. It was a fitting final touch for a house where pretty meets practical and family comes first.
"We didn't want a mansion," Sharon says. "There are a lot of new things, but it's so comfortable. It's beautiful, but it's cozy. It's home."
For a closer look at this home, click on the photos in the gallery below: