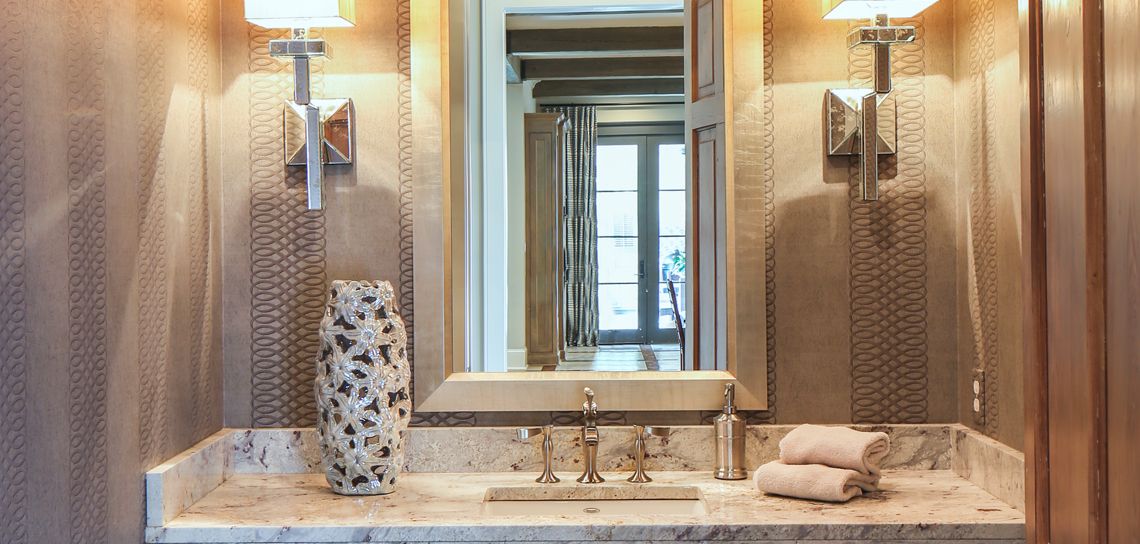 The powder room freshens up
Whether they wow with clean lines or drip with crystals, the hottest half baths make a major splash
---
Ah, the lowly half bath. Often an afterthought in decorating, this diminutive room gets short shrift from homeowners who focus only on making the most of their main spaces.
But devoting just a little more design effort to the powder room is hardly throwing money down the drain. In fact, this is a place where you can make a major impact with minimal effort and expense. The half bath's small size makes it a safe zone for taking chances. Go bold. Go lavish. Go glamorous. Go outrageous. After all, even the strongest patterns or most glittery finishes don't feel like too much in a tiny dose.
Instead of thinking of the powder room as a watered-down version of the style in the rest of the house, follow the lead of a few local designers and make it a space that really shines.
Peek inside four fabulous local powder rooms for tips on making the most of this small space:
---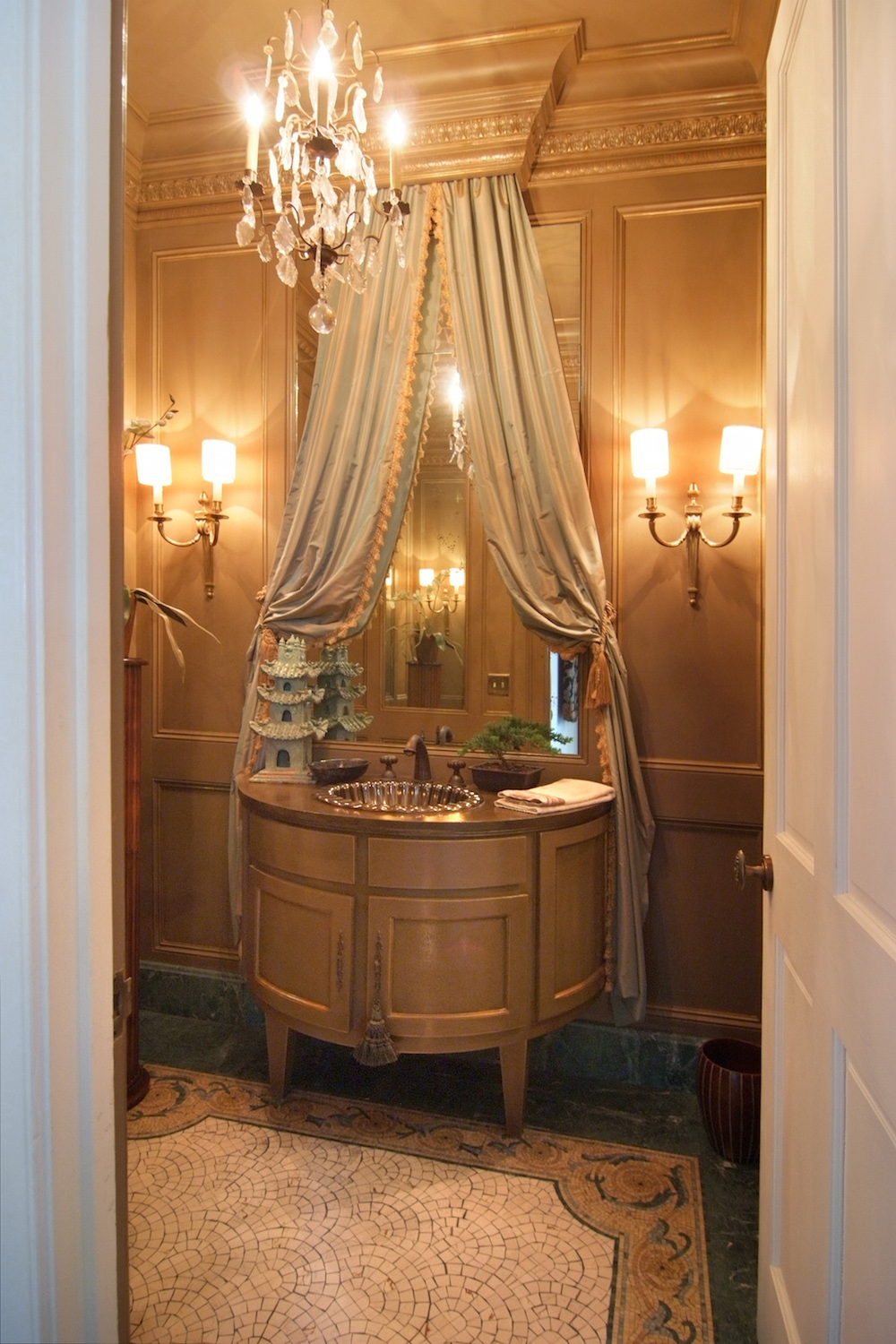 History goes high-end
For a family with a love of traditional Southern architecture, a powder room finds panache in timeless details like ornate crown mouldings and paneled walls. The addition of a gilded finish on these surfaces gives the look of a life-size jewel box.
Soften up
No windows? No problem. Here, the mirror is draped in swagged silk and topped
with a cornice to match the
moulding.
Fancy footwork
Floors bore no more when covered with a mosaic tile
pattern complete with intricate floral border.
See more of this home in a feature article from a previous issue of inRegister. (Room by George Hopkins, Terry Honoré and Julie Stander/Photo by Don Kadair)
---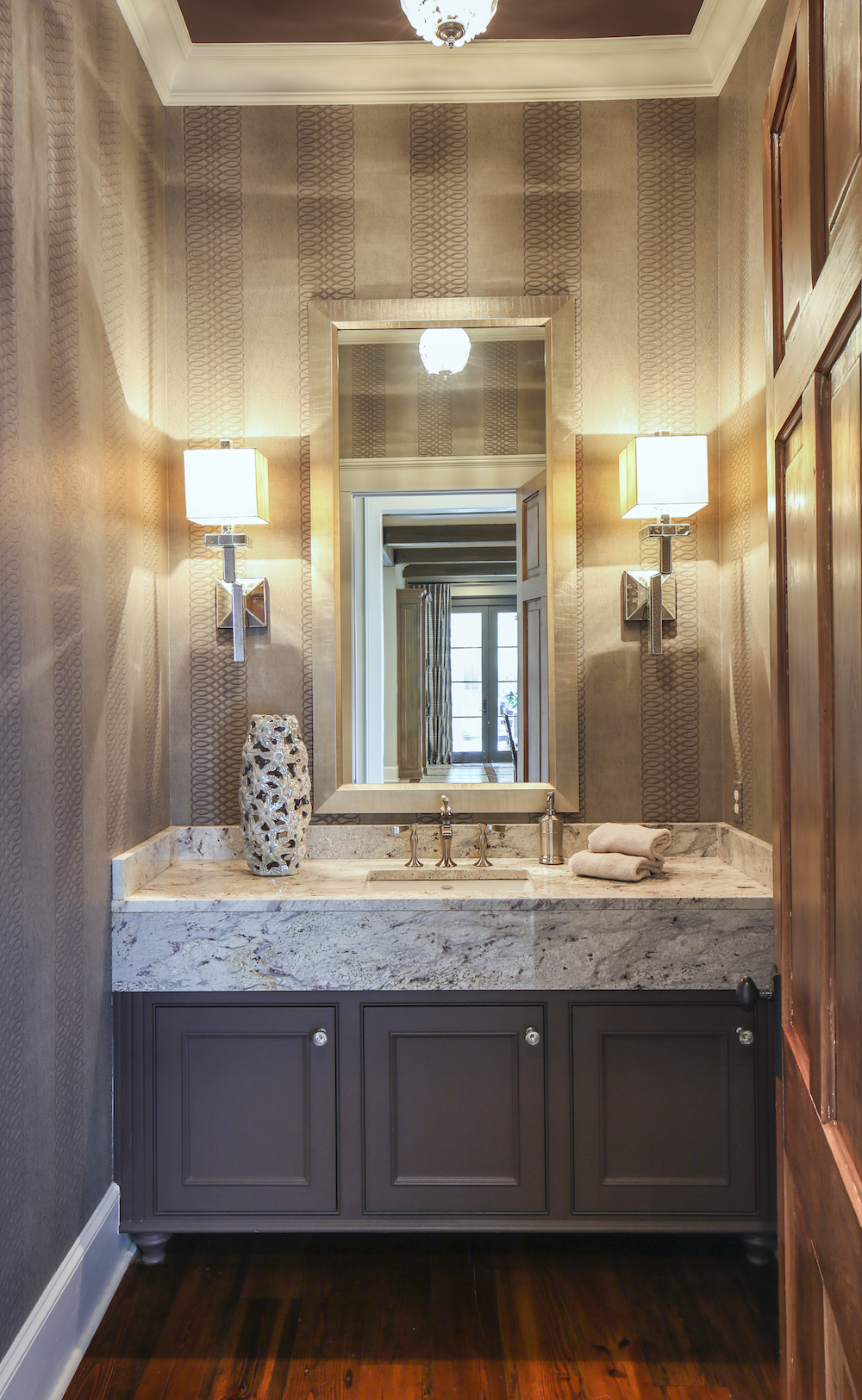 Paper works
Wallpaper with a small repeating pattern might feel overwhelming in a larger room, but in the half bath it feels just right. The neutral tones of this Candice Olson paper also help it to visually recede into the background.
The right angles
Everything is squared away in this powder room, from the wall-to-wall marble vanity to the elongated mirror to the crown moulding that frames a dark ceiling. Even the wall sconces are in keeping with the sleek straight-line look.
See more of this home in a feature from a previous issue of inRegister. (Room by Stacy Dille, Cynthia Stewart and Jerad Gardemal/Photo by Melissa Oivanki)
---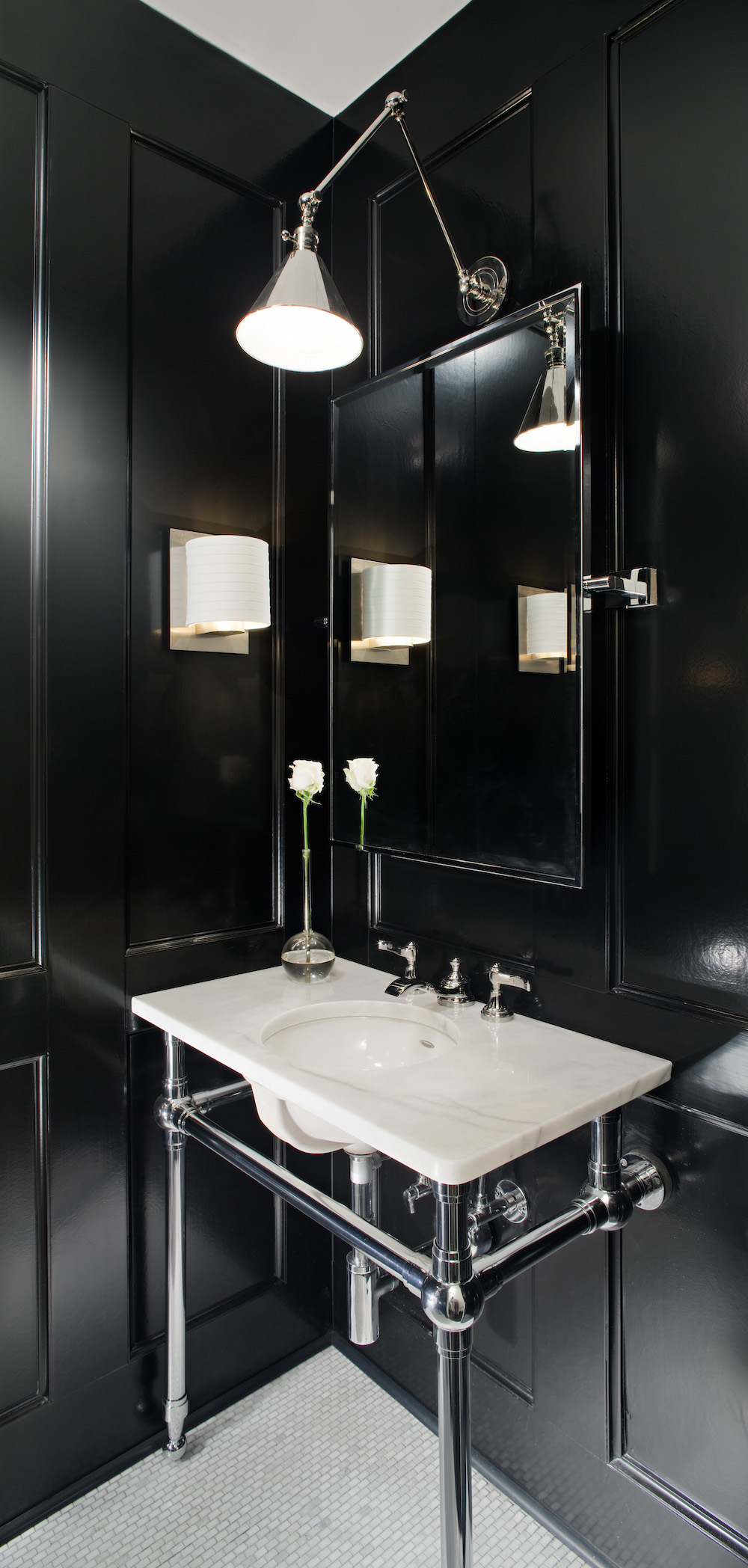 Black beauty
Set a sophisticated urban tone with black lacquered walls that get depth from classic millwork. The gleam of the finish makes the dark color reflect light rather than feel too confining.
Glow on
Small fixtures including a modified task lamp above the mirror and a sleek sconce provide plenty of light along with gleaming finishes.
Pipe dreams
Leaving the intricacies of the plumbing system exposed keeps this tiny room from feeling cramped. The base of the marble vanity was built to match the pipes.
See more of this home in the August 2015 issue of inRegister. (Room by Ty Larkins/Photo by Chipper Hatter)
---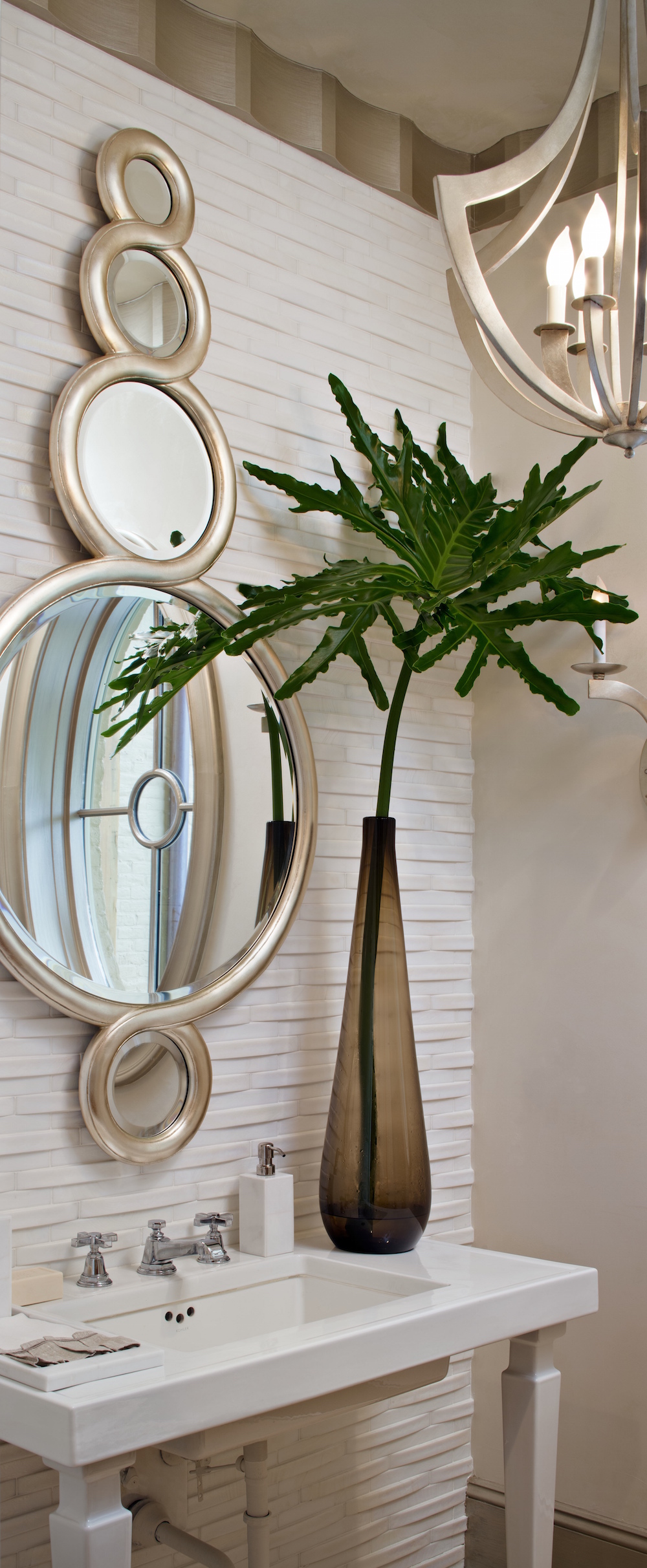 Mirror image
The looking glass gleams more than ever when it's composed of a series of stacked circles. The vanity is perfectly positioned to catch the light from a window opposite this wall.
Hotel haute
The polish of a four-star getaway comes home in this clean and simple room, which pairs its unique wall tiles with curvaceous crown moulding and a polished chandelier.
See more of this home in a feature from a previous issue of inRegister. (Room by Lou Ravasio, Frank Alpan and Karen Giffel/Photo by Chipper Hatter)