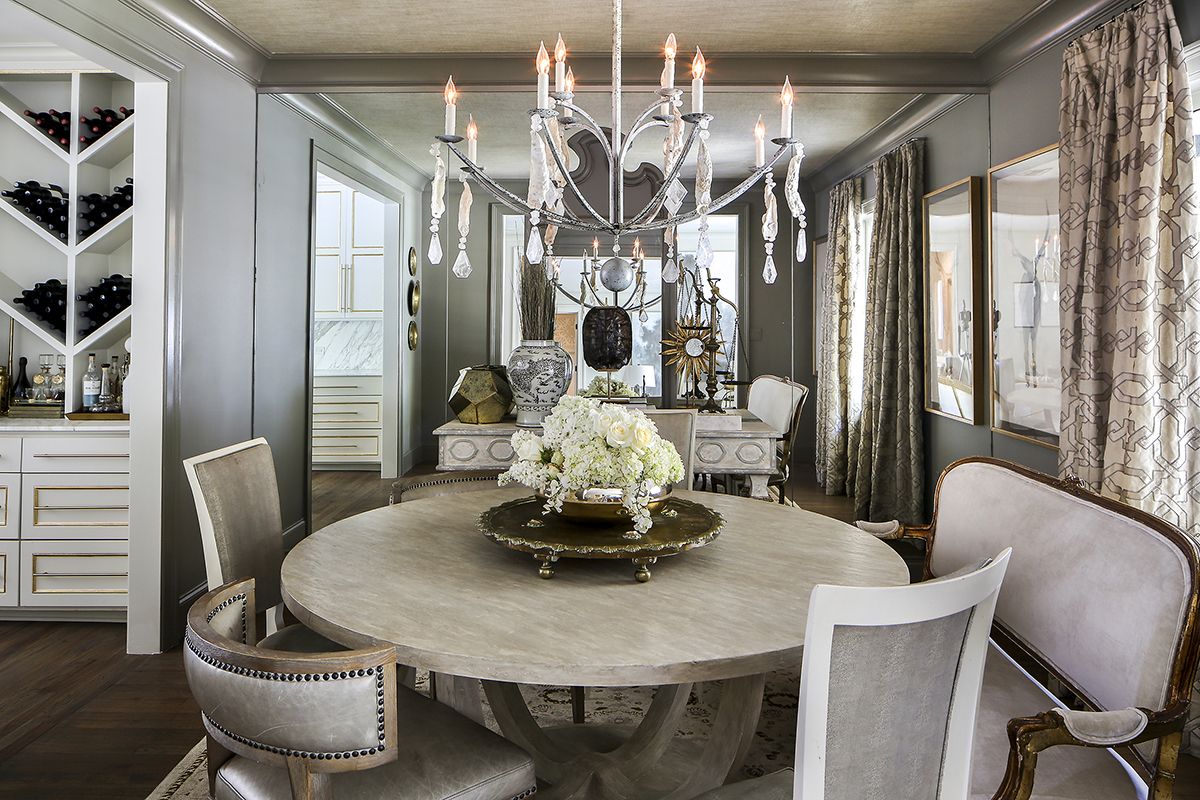 Perfect patina: A home layers dramatic details upon a backdrop of Hundred Oaks history
He has a passion for preserving old structures. She has a talent for turning a blank canvas into a work of art. Together, Carter and Lauren Barksdale Hill transformed a 1940s cottage into a timeless home for their family.
The Hills were happy in their previous home, just a few blocks away in this Hundred Oaks Park neighborhood, when the events leading to this move and massive renovation project began. "We received an offer on our house even though it wasn't listed," says Carter. "We had to be out quick."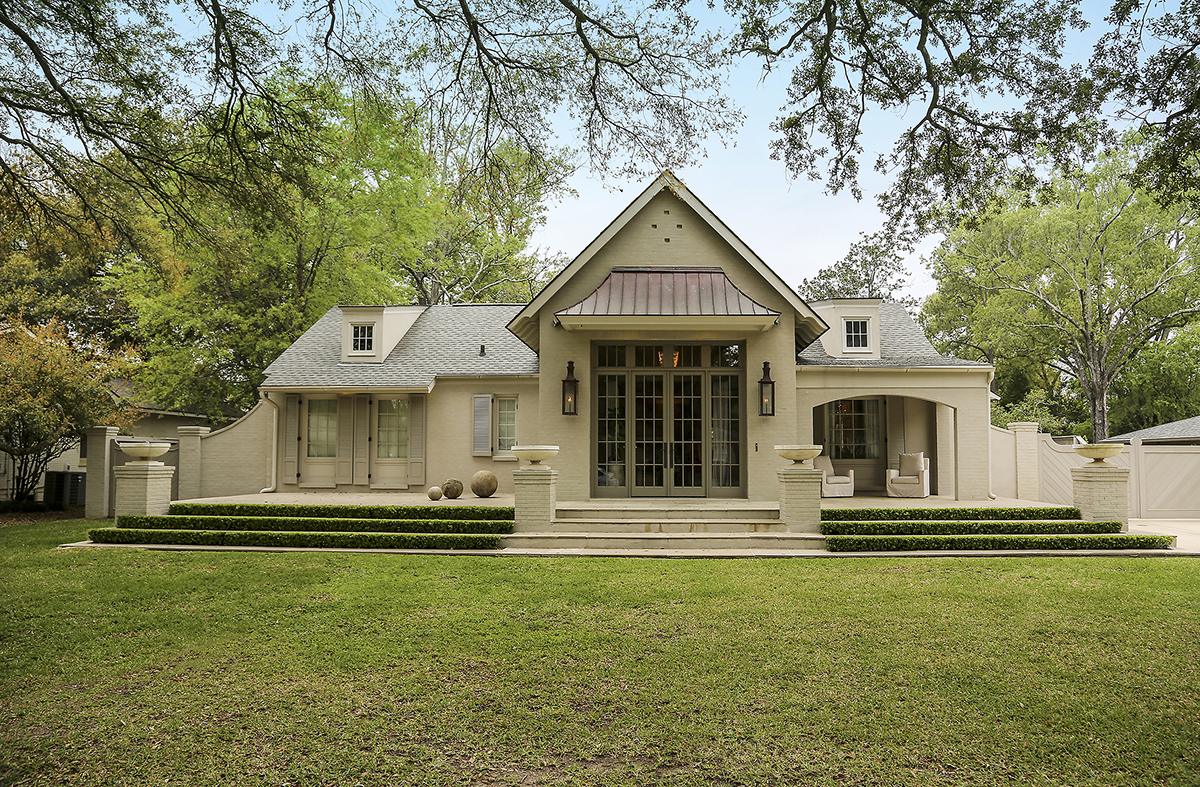 Truth be told, the couple was already comfortable with the concept of house hopping, having renovated and sold a few previous residences. But this was different—during the same time frame, the couple found out they were expecting their second child, so they would need to move fast to find and fix up a house that would fit all four of them. When a friend told them about this nearby home that would soon be listed for sale, they didn't need much convincing. "We walked through it once and put an offer in immediately," Carter says.
Though the house hadn't been updated in decades, the Hills were undaunted. Carter, a contractor with three generations of construction experience in his family, called upon the training he received when obtaining a master's degree in preservation studies from Tulane University to capture the essence of the home's historic hallmarks. "At Tulane, I was exposed to all facets of buildings—from Jackson Square properties to converted Warehouse District condos to homes along St. Charles," he says. "It was the perfect springboard for me and truly inspired me to do what I do now."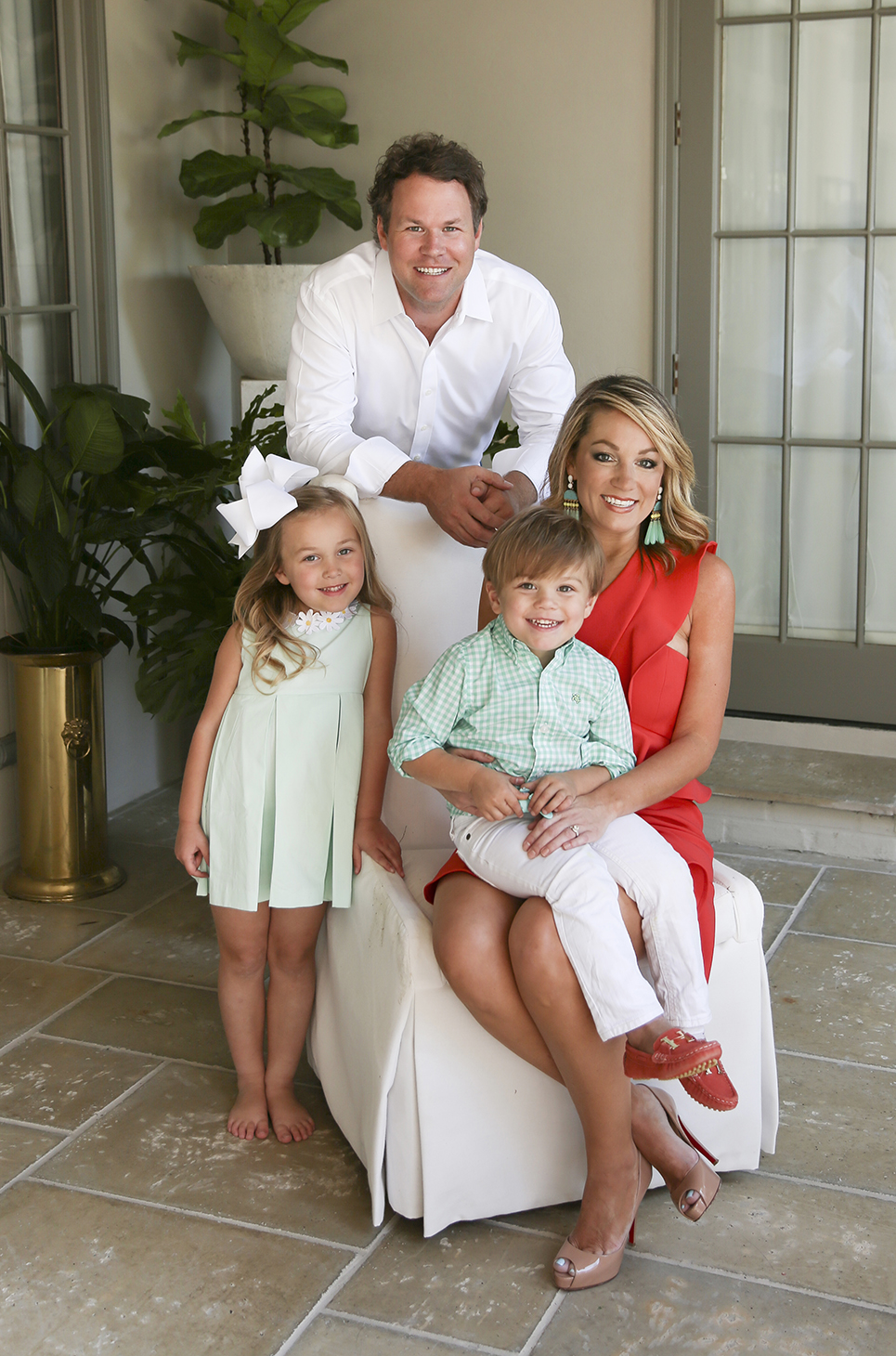 The couple asked their good friend Mike Sullivan of LRK Architects to help translate their ideas for the new old house in a hurry. "We needed everything right away," Carter says. "We told Mike what we wanted, and he was basically sketching on the back of a napkin as we were talking. His sketches were amazing."
Sullivan's vision was to give the home's front exterior more of a presence than its original cottage-style roots. He added new dimensions to the roofline, bumped out the front entryway, and added a wide terrace to bring the house into better balance and proportion with its large lot. A copper awning and sack-finished brick façade kept the style classic and elegant.
The floorplan also got a facelift, with an expanded kitchen, a new den and reconfigured master suite. "Our collective vision was to bring scale, openness and flow to create a home that is warm and welcoming," says Lauren.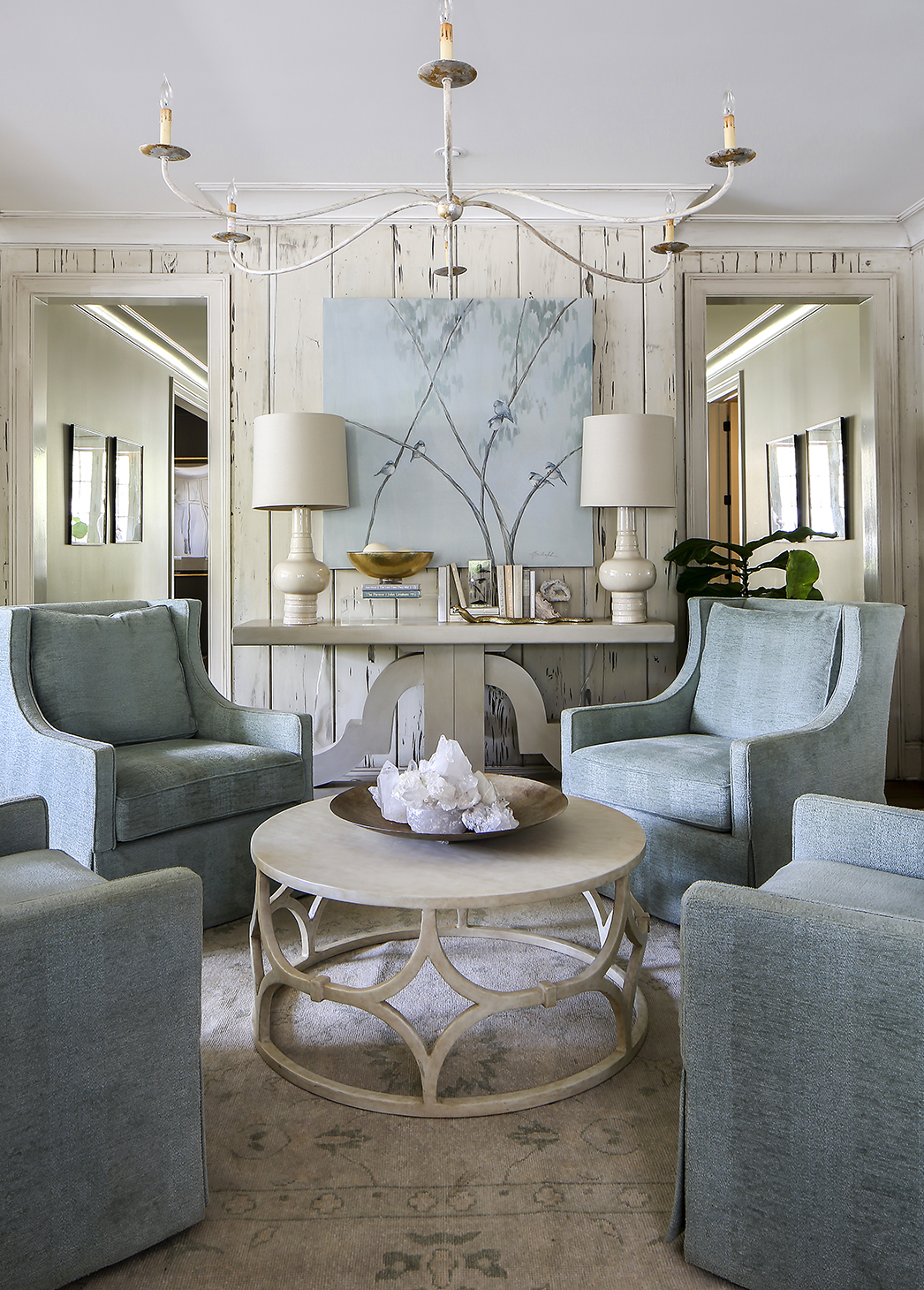 The couple didn't have to look far to find help in pulling together their new home's décor. They turned for style guidance to Lauren's sister Shannon Barksdale Mahon, a designer and partner at their store Mint. "Our goal was to create a light and bright palette with pops of dark color for interest and drama," Mahon says. "We chose a bright, neutral hue for the wall color that we carried throughout the main entry, formal living room, keeping room, kitchen and family room."
With the cool-toned backdrop in place, Mahon was free to play with a range of hues and textures on furnishings and accent pieces to create a look Lauren calls "collected, whimsical, neutral and dramatic." Elements like a mirrored wall in the dining room, gold-accented cabinetry in the kitchen, and upholstery in velvets and chenilles provide an interesting interplay with the home's original details, including pecky cypress paneled walls and pegged oak floors.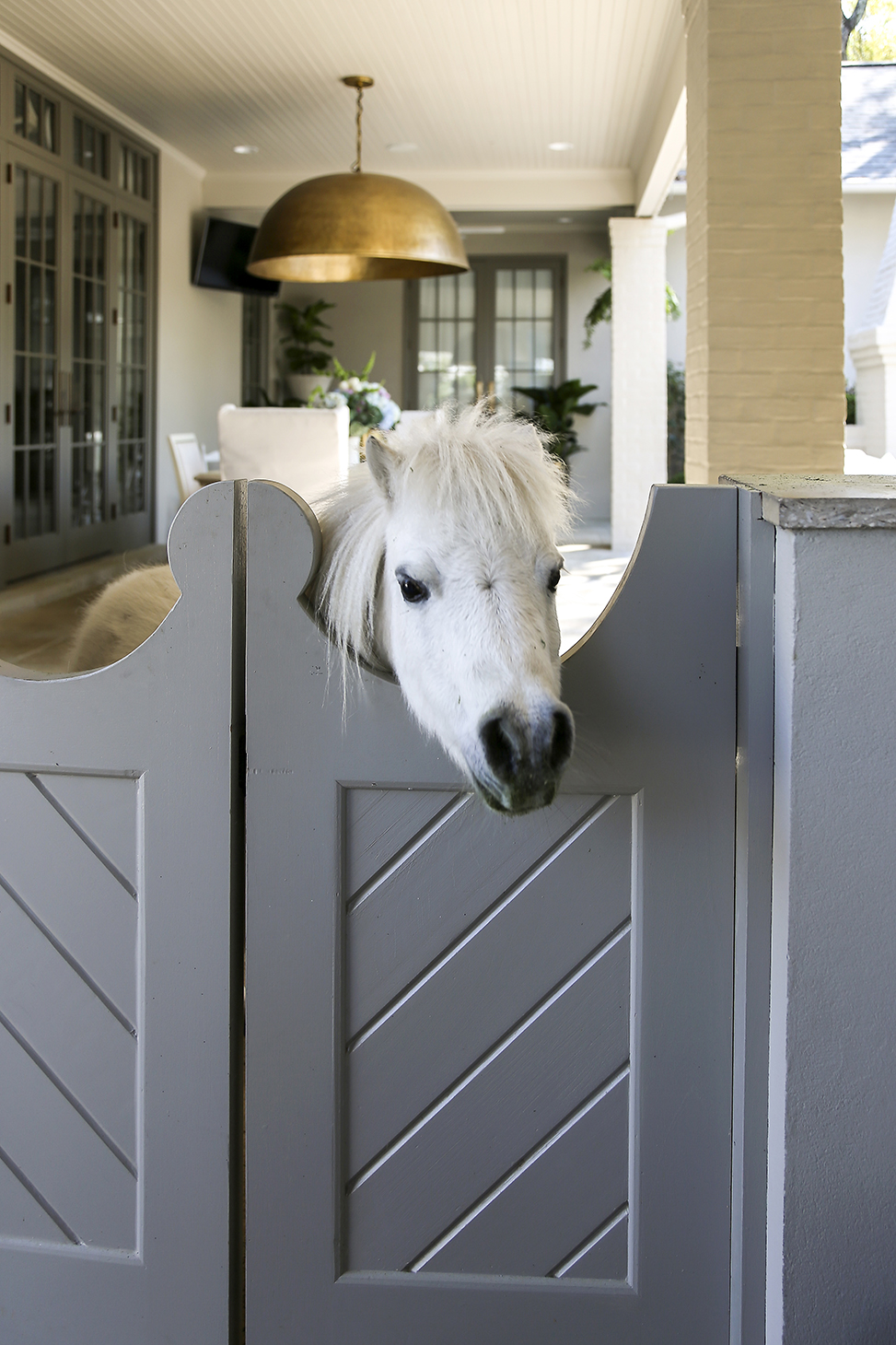 The finishing touches came in the form of art—much of it created by Lauren herself—and items she has collected over the years from flea markets, antiques shops and other unexpected sources. "I love anything made by someone's hands, and I love unique pieces and things from nature," she says. "I have several butterfly collections, and I collect carved pieces of marble and other stones as well as quartz and rare crystals. I pick pieces that are beautiful to me even if they don't seem to fit with the rest of the things in my house. Shannon has done a great job working in all of my odd finds."
Another unexpected element of the house is hidden behind folding doors in the den: a fanciful, color-filled playroom that features a built-in cedar-roof playhouse. Lauren painted the chevron pattern on the floor here herself, and 5-year-old daughter Palmer's artwork hangs on the wall. Space is reserved for a future creation by the couple's son Monroe, who was born just a few days after the renovation project was complete and the couple moved into the house. "I fought hard for this playroom," Lauren says with a laugh. "It's a perfect place for the kids to play and for us to still be able to see them."
Entertaining guests of all ages is a popular pastime at the Hill home, since there are plenty of cousins and friends living nearby. "We like to hang out at home, and we're very relaxed entertainers," Lauren says. "Our guests usually know they can come and have a good time."
Those guests are just as likely to be from the couple's large extended family as from the surrounding neighborhood, which Lauren and Carter say they love for its history, its mature oak trees, and its large assortment of young families. Like theirs, many of the homes in this area have undergone recent restoration projects as more and more people recognize the value of preserving this little piece of Baton Rouge's past.
"This house is so us," Lauren says. "Carter and I share a love of interiors and architecture, and this house has definitely been a team effort."
---
For a closer look at the rest of this home, click on the photos in the gallery below: