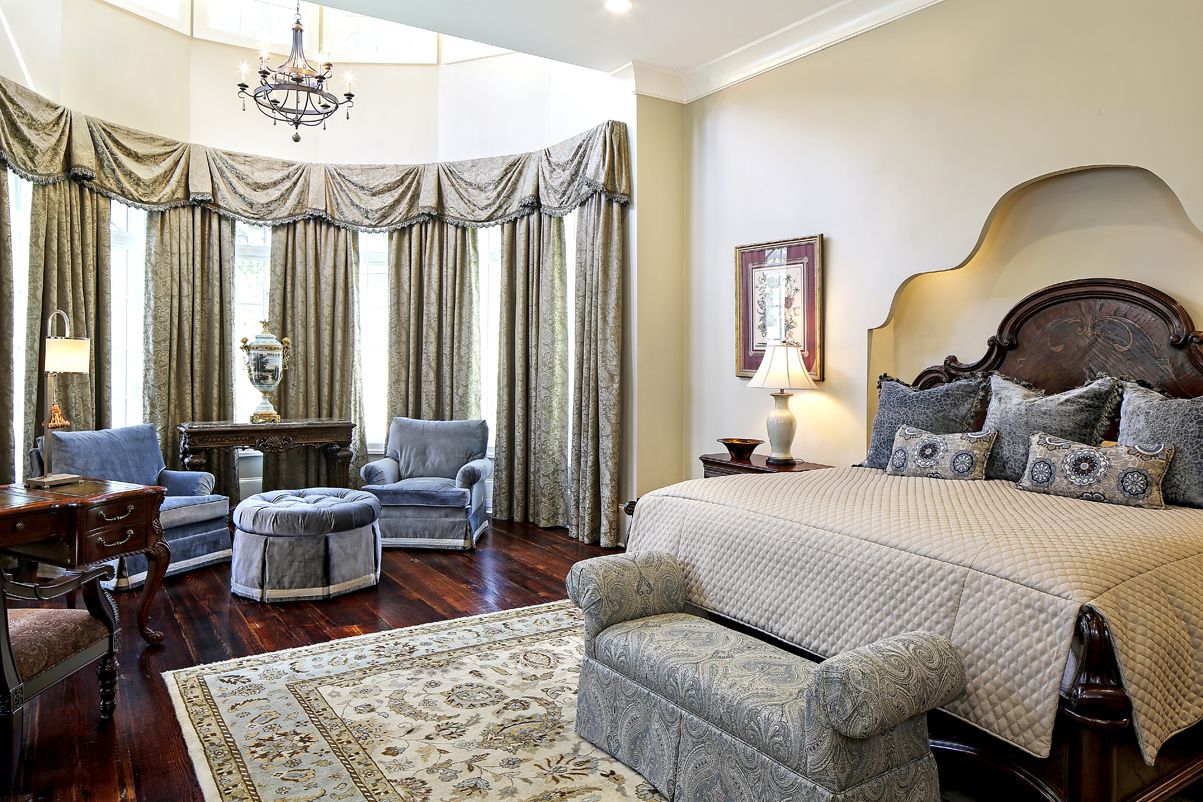 Now and forever: The Tutt home's enduring style
Gloria and David Tutt's home combines aging-in-place amenities with enduring style
When you've lived in 16 houses over the course of a 50-year marriage, you develop a strong sense of what you like and don't like in a home.
That was the perspective David and Gloria Tutt had when they began planning their new residence in The Myrtles neighborhood. After years in a large two-story house on False River, they were seeking a smaller, more manageable space with features to help them age in place.
"We wanted to downsize," says Gloria with only a hint of a laugh. Downsize they did—they shaved an entire 118 square feet off their former square footage when they moved into this new home.
"Once we started planning, we realized that we wanted there to be enough room for the whole family to be together," she explains. "The rooms started to get bigger."
But while the amount of space might be similar, the new home's layout is more practical for this couple and their often-visiting children and grandchildren. Gone are the formal dining room and formal living room. In their place are an expansive casual living area that stretches to the kitchen, a laundry room that doubles as crafting and gift-wrapping space, and a comfortable master suite complete with cozy sitting area.
Arriving at their final layout wasn't a hasty process for the Tutts. "I looked at house plans, Pinterest, Houzz and all over the Internet for a year and a half before we ever contacted an architect or builder," Gloria says. Once they were comfortable with their vision, the couple reached out to architect Sutton Miley and builders Wolfe & Goux Construction to bring it to life. Another key member of the team was interior designer Albert Nolan, with whom the Tutts have had a warm working relationship for 28 years. "I started working with Albert when he was 22 years old," says Gloria. "I just trust him."
Making the home easy to navigate for the couple as they grow older was a key consideration in every design decision, but it didn't mean they were willing to sacrifice style. They opted for a one-story layout—no worries about steep stairs to climb—but gave the exterior a two-story look with a heightened façade at its center. Indoors, doorways and showers were widened and cabinets were equipped with roll-out shelves for easy access. A separate studio apartment out back was built with the notion that a caregiver could someday stay there.
With no designated dining room in the house, there was no place for the couple's china cabinet full of entertaining essentials—or so they thought. Albert suggested putting the large traditional furniture piece inside the oversized pantry, where it now coexists beside all of the cooking supplies Gloria goes to each day.
"I cook a lot," she says. "That is a joy of mine."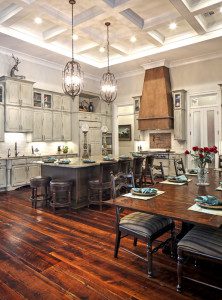 The kitchen, too, is designed with function in mind; a warming drawer is one of Gloria's most-used features, along with an island with a "huge amount of storage underneath" and low-maintenance cabinets and drawers with soft-closure hardware. "We don't have to worry about grandkids banging and booming," she says.
Though the kitchen attracts plenty of interest from visitors, Gloria says one of her very favorite rooms is the laundry room, which includes a large center island, ample cabinet space, and stations for paying bills and wrapping gifts. "I wanted a washroom that was much more than that," Gloria explains. "I call it the all-purpose room." This space also links to a special grooming and lounging area just for the couple's two Yorkies, Lexus and Lincoln.
Outside the back doors is another favorite area—the patio and pool, all protected by an unobtrusive enclosure and heated during the winter months. "We waited until we were in our late 60s to get a pool," David says with a laugh. "But we're loving it with the grandkids. It was around 35 degrees when we moved in here in February, and we were really enjoying this area."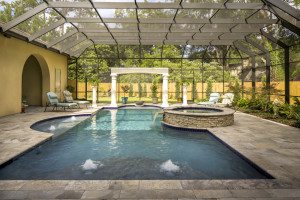 The landscape surrounding the house was also designed for easy care, with the concept created by Samantha Montoya of the Montoya Design Group. "I didn't want any exotic plants because they're too high maintenance," Gloria says. "Most of the things we chose are Louisiana native plants that will be hardy."
The house may be geared toward comfortable retirement living, but David is quick to point out that he and his wife are not retired. They still work together, as they have for "most of our lives," he says, and their office is only 2½ miles from their new home. It's clear that they put as much energy and thought into their home, though, as they do their business, and now the results of their efforts are ready to be enjoyed.
"Building a house really takes a whole group of people working together," Gloria says. "You just have to trust the people you are working with, and you have to be willing to compromise. And now we are really enjoying having this gathering place for all our family."
Though their home is complete, Gloria says she still loves to go shopping and antiquing. "But I never buy anything," she says. "When your house is done right, it's enjoyable to live in, so why change it?"
Click on the photos in the gallery below for a closer look at this home: