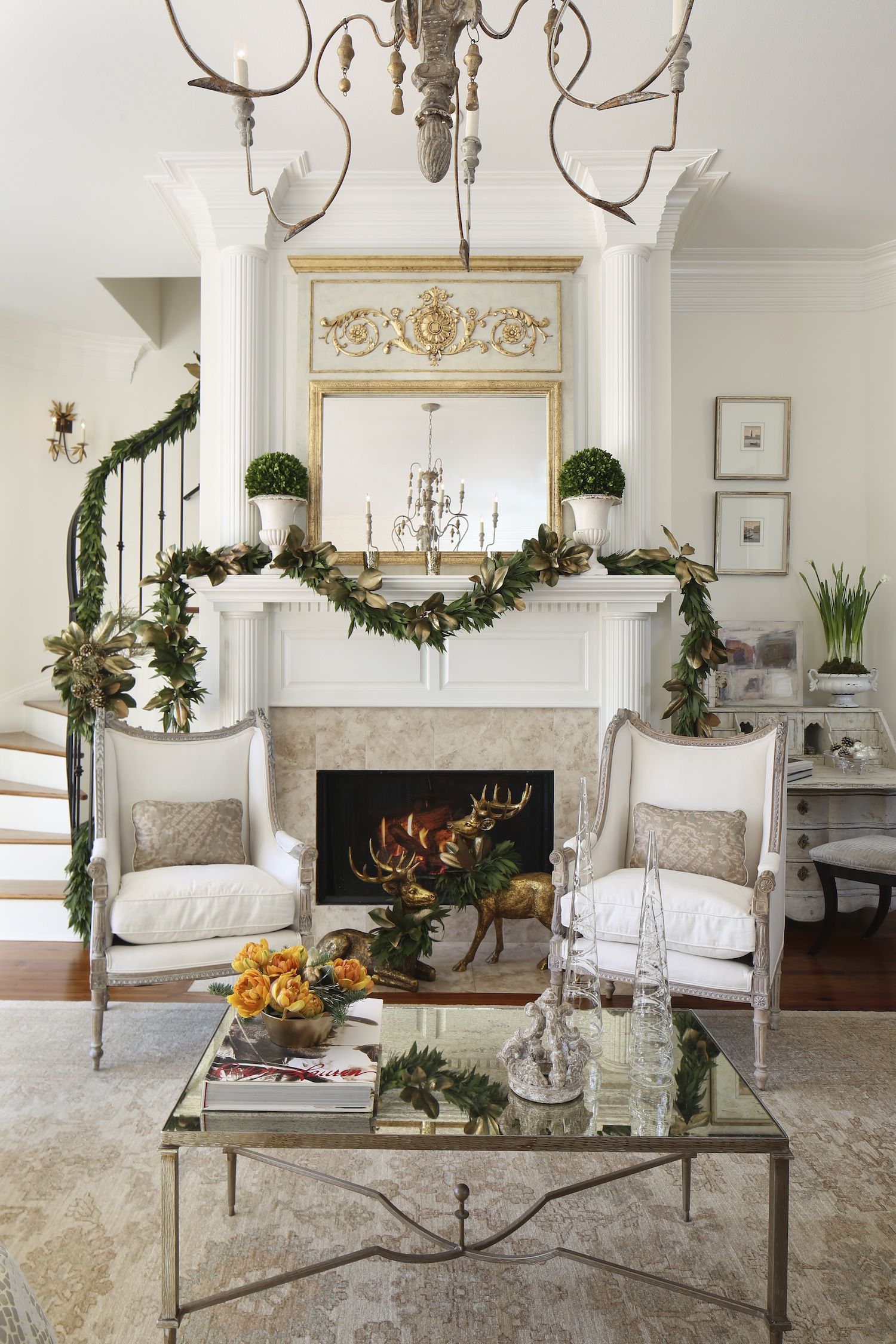 Alayna and Jason Smith's holiday home shines with the spirit of old New Orleans
Every holiday season, the members of the Smith family—Jason and Alayna and their sons Mikey and Ryan—eagerly await one special night. It's not Christmas Eve, though that brings its own magic to their Fair Oaks Estates home, but rather the evening on which their fragrant fir tree, kissed with white flocking on all its needles, arrives.
"The very night it is delivered, it's a family tradition to bake cookies, play Christmas music, and stay up as a family and decorate the tree together," says Alayna.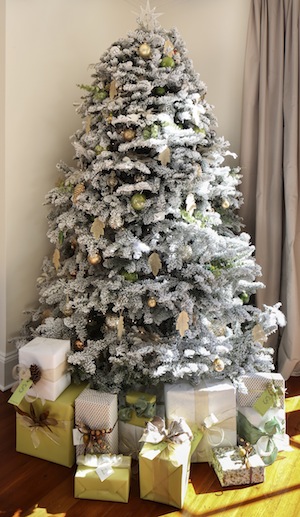 As the boxes of ornaments are brought down, both the boys and their parents pause to reminisce about the origins of each sentimental treasure. "My children love to find the special ornaments they have made in school through the years and to add their personal touches to the tree," Alayna says.
Making new memories is likewise an important part of the season for the Smiths, who have worked to make their home a meaningful reflection of their personalities ever since moving in five years ago. That hasn't always been easy; at first, Alayna says she felt overwhelmed with the prospect of furnishing a whole house after years spent living out of state. "I didn't know where to start," she admits. But fate intervened when one of Mikey's friends came over for a play date. The young guest's mother was Colleen Waguespack, an interior designer with Holden & Dupuy Interiors and a native of New Orleans, like Alayna. "We immediately had a great connection," Alayna says.
The pair got to work almost immediately. "Colleen is responsible for the overall design of the entire house," says Alayna. "Room by room, she has walked me through it all, beginning with changing paint colors on the walls, making minor home renovations and changing out light fixtures, then custom picking each piece of furniture."
Alayna's love for New Orleans style played a starring role in designing the house. "I adore my hometown and the elegance of St. Charles Avenue," she says. "When Colleen and I tackled the living room, a lot of our ideas and thoughts came from home tours we had been on in the Garden District of New Orleans."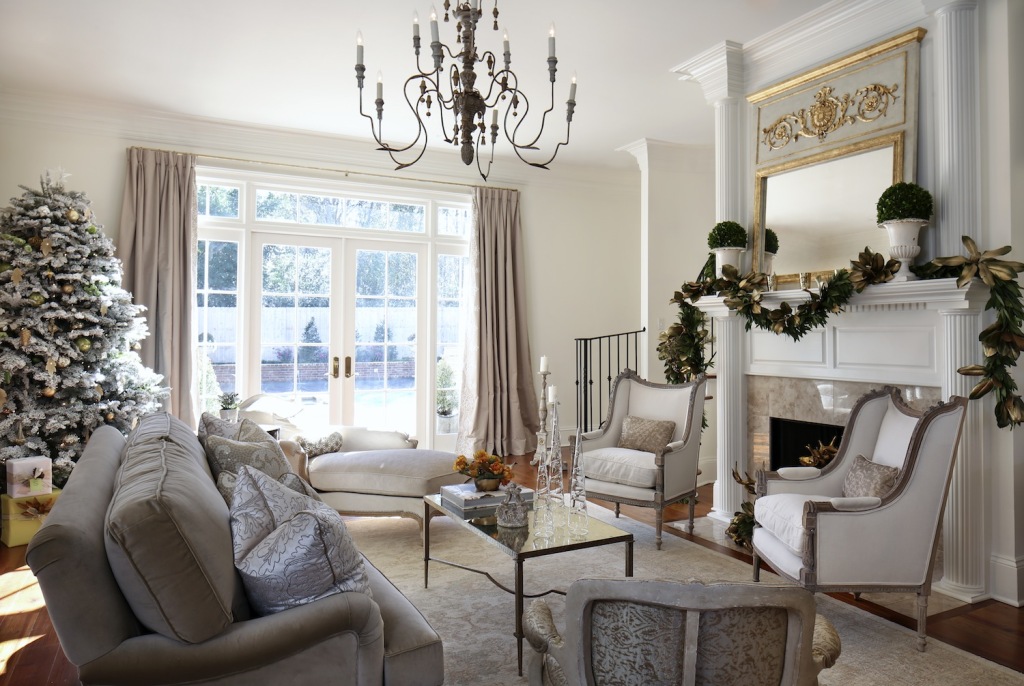 With that inspiration in mind, the ladies have gathered furnishings, artwork and even linens from revered Crescent City resources—having fun together all the while. "We run down to New Orleans after we drop the kids off for school and can be back by four o'clock," Colleen says. "We have never come home empty-handed!"
Colleen says making the process a pleasure has helped to ensure that the Smiths are satisfied with the end result. "Decorating your home is something that should be enjoyable," she says. "The client should feel like they were a part of it. At the end of the day, they are the ones who have to love and appreciate what they own."
As part of the design project, the once forlorn backyard got its own makeover. "It was just a mound of grass," Alayna says. "So two years ago, we assembled the team and began construction." Through the guidance and work of John Jones of Al Jones Architect firm, Chris Huffine of Huffine Pools, J. Adam Town Construction, and Mark Culotta Landscape and Lawn, the transformation included the addition of an outdoor kitchen, a pool and hot tub, and a loggia with custom outdoor curtains—an area that Alayna calls "a great place to sit and read, visit with family and friends, or just relax when you don't want to be out in the sun or in the pool." As in the home's interior, Colleen selected furniture for this space and planned the placement of each accent piece, "so every part of the backyard now has a definite function and purpose," Alayna says.
With the bulk of the design work now complete, Alayna says she loves that the house fits her personal style, which she terms "not your mother's Southern." "I love antiques and have so enjoyed the search and collecting aspect, but I like that my house still feels young and fresh," she says.
It was only fitting, then, that Alayna should call upon Colleen to help with her holiday decorations as well. The Smiths requested trimmings that would complement instead of compete with the furnishings and neutral palette. "I love Christmas and wanted it to feel festive, but at the same time, reds seemed harsh against the soft colors of our house," says Alayna. "So we went for glimmer and sparkle with lots of silver and gold—and a pop of bright green."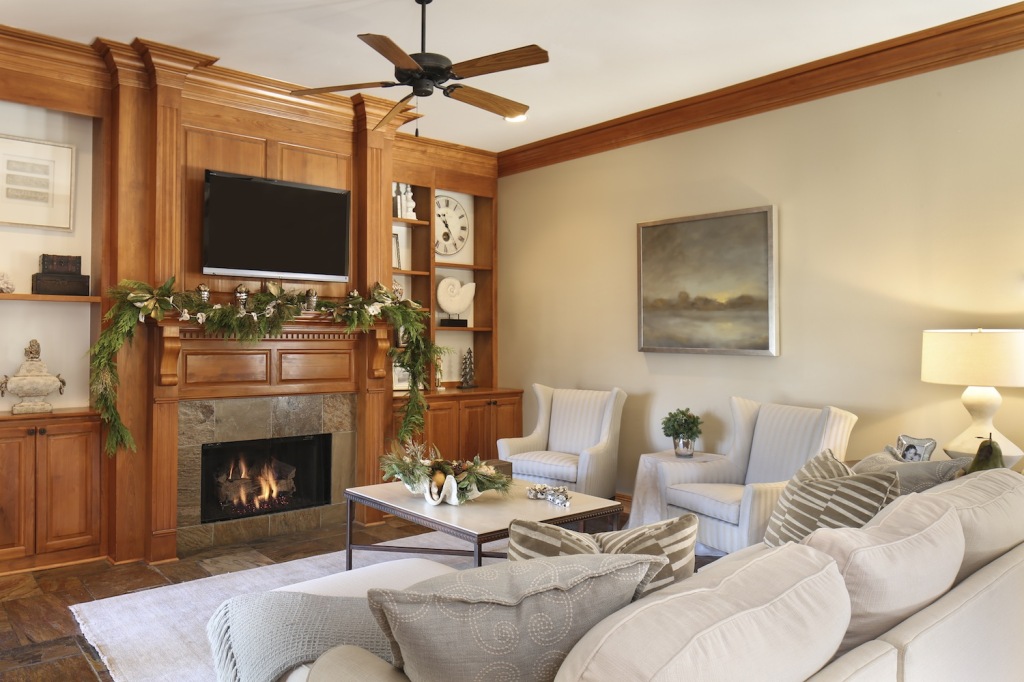 Once Colleen had the foundation of the seasonal look in place, she brought in colleague Sweet Dupuy to introduce another luxe layer. "Sweet has a fabulous eye for decorative accessories and floral arrangements," Colleen says. "She is also very 'crafty,' which I am not. She came through and added gilded magnolia and pine to our garlands and made all of our floral arrangements."
As the Smiths get ready for Christmas this year, Alayna says she looks forward to once again melding her lifelong passion for New Orleans with her family's modern-day activities. After spending Christmas Eve with relatives in New Orleans, the family will quickly switch gears to host a big Dec. 25 celebration at home. "Jason loves to cook, so it's a tradition for him and his mom to create a wonderful gourmet Christmas dinner," she says. "They usually set the menu weeks before and enjoy cooking together in the kitchen all morning, while the boys and all their neighborhood friends run in and out with their new Christmas gifts."
The occasion is a welcome respite for the family, and their festive home is the perfect place to make even more new memories together.
"In today's hustle-and-bustle world, everyone is always so busy, and we often don't get the opportunity to just relax and enjoy the little things in life," Alayna says. "For my family, Christmas is about stopping for a moment to be thankful and to reconnect with our special friends and family."