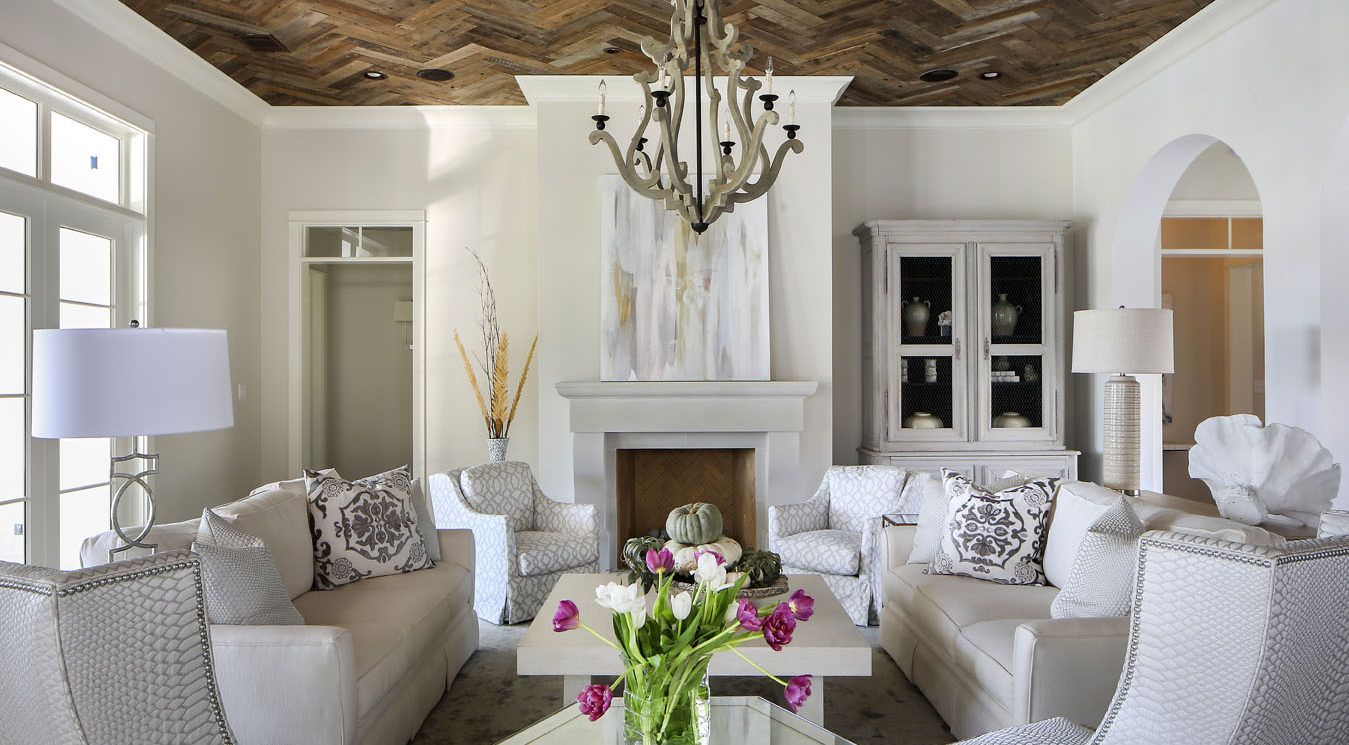 La vida local: A University Club abode combines exotic and homegrown elements
Chuck Williamson has been known to spend several minutes standing in the hot-sauce aisle of the supermarket. He checks every label and won't drop a bottle into the cart unless it says "Made in Louisiana."
If it's so important that Williamson's spicy condiments come from close to home, it's only natural that he's also fired up about ensuring that the components of his family's home have local origins.
"I have friends in the restaurant business, and they are serious about sourcing local ingredients," Chuck says. "I really kind of borrowed that life approach from them. Buying things that are made or sold in Louisiana is a big deal for me."
When Chuck and his wife Meeta set out to build their new home in University Club last year, they insisted that homegrown resources be used—but they also wanted to combine those local ingredients with elements from Meeta's Indian heritage. They assembled a team including architect Mark Matthews, builder Robert Scheffy and interior designer Anne McCanless to bring their vision to life.
"Chuck and I both have very demanding jobs, and we wanted this house to be a place where we could come home and relax," Meeta says.
They had chosen this lot on a lake near the 13th and 14th holes of the neighborhood golf course very deliberately. Chuck and his 12-year-old son Charlie enjoy hitting the course together, so the proximity was perfect for frequent practice sessions. But more importantly for this south Louisiana family, the rear of the house faced east, so the backyard and porch would be in shade all afternoon long. "We wanted to be able to enjoy the outdoor area without the sun overheating it," Chuck says.
The couple drew inspiration from Alys Beach in Florida in working with Matthews to create the exterior look of the house. Constructing the curvaceous parapets required special permission from the neighborhood developer, but along with the stark white façade they helped to create the cool Mediterranean effect the Williamsons sought.
Though Indian design elements are often seen with very bright and saturated colors, McCanless and the Williamsons chose to pair Indian-inspired ornate motifs with softer hues and unexpected textures for the interior décor. Silver-leafed tiles on the master bathroom floor, for example, were inspired by a pretty brocade fabric. Carved woods were given a whitewashed treatment.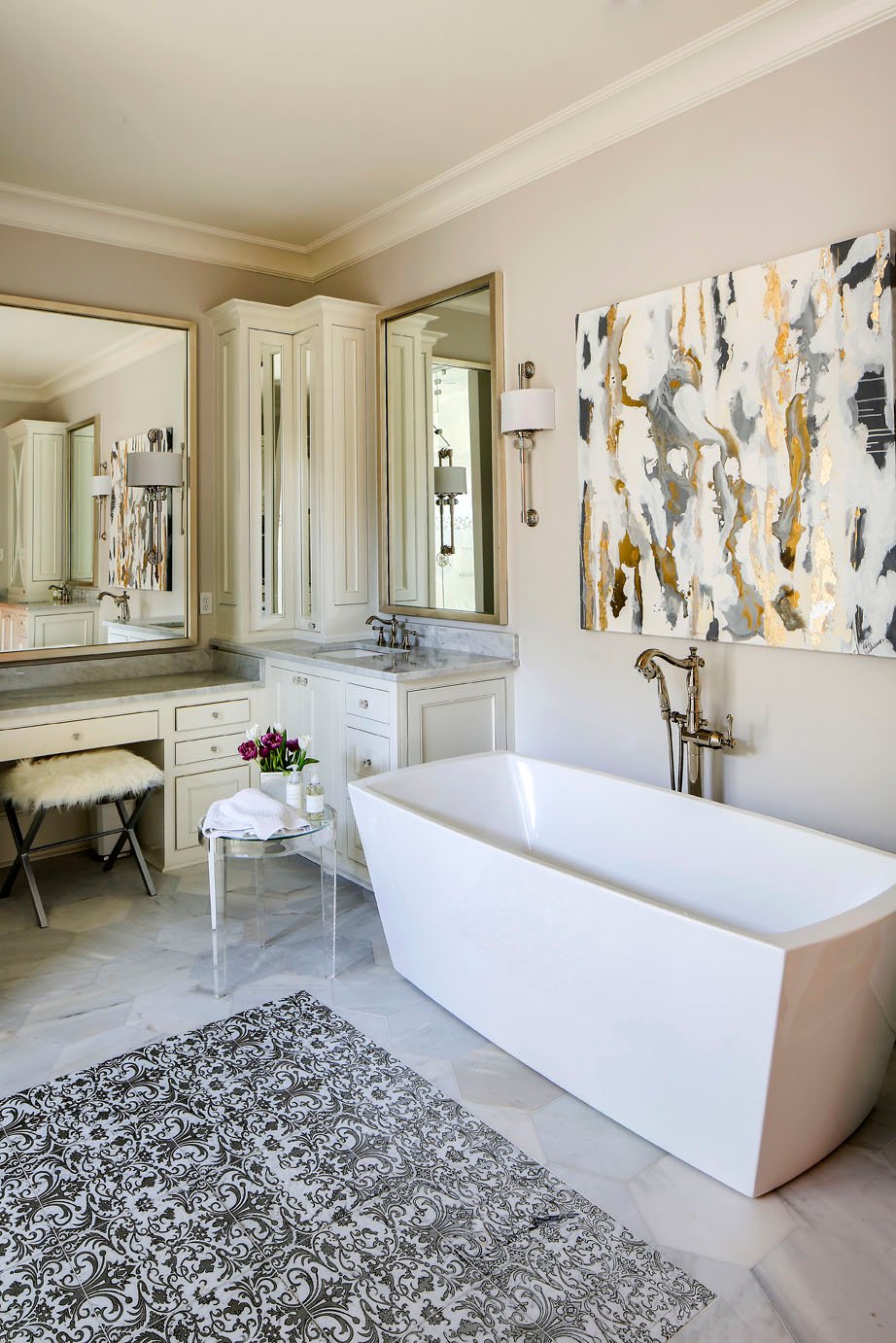 "The whole color palette is much brighter than in our last house," Meeta says. "It feels lighter—more relaxed. It's a softer touch."
Even with the quieter color scheme, the exotic effect feels fresh. Many of the most striking elements can only be noticed by looking up. The living room ceiling is clad in herringbone-patterned dirty-top oak, and a vestibule leading to the master bedroom features a silver- and gold-leafed domed ceiling. "I like unique details," Meeta says.
From furniture to art, the couple worked with McCanless to ensure that every item was purchased from a local source. "We did not buy one thing online," McCanless says.
As CEO of Williamson Eye Center, Chuck is especially sensitive to the need to support local small businesses after the recent floods, and Meeta feels equally passionate about the cause. The Williamson clinic in Denham Springs was heavily damaged by the rising waters, and 33 of its employees' homes were also impacted. Many other local small businesses are struggling to rebound after the storm, Meeta says.
"We want to make this community better for our kids, and that means supporting small businesses and helping the local economy," she says. "It's important for our generation to be active in the community because our kids are going to grow up here, and we want the best version of Baton Rouge that we can give them."
For a closer look at the rest of this home, click on the photos in the gallery below: