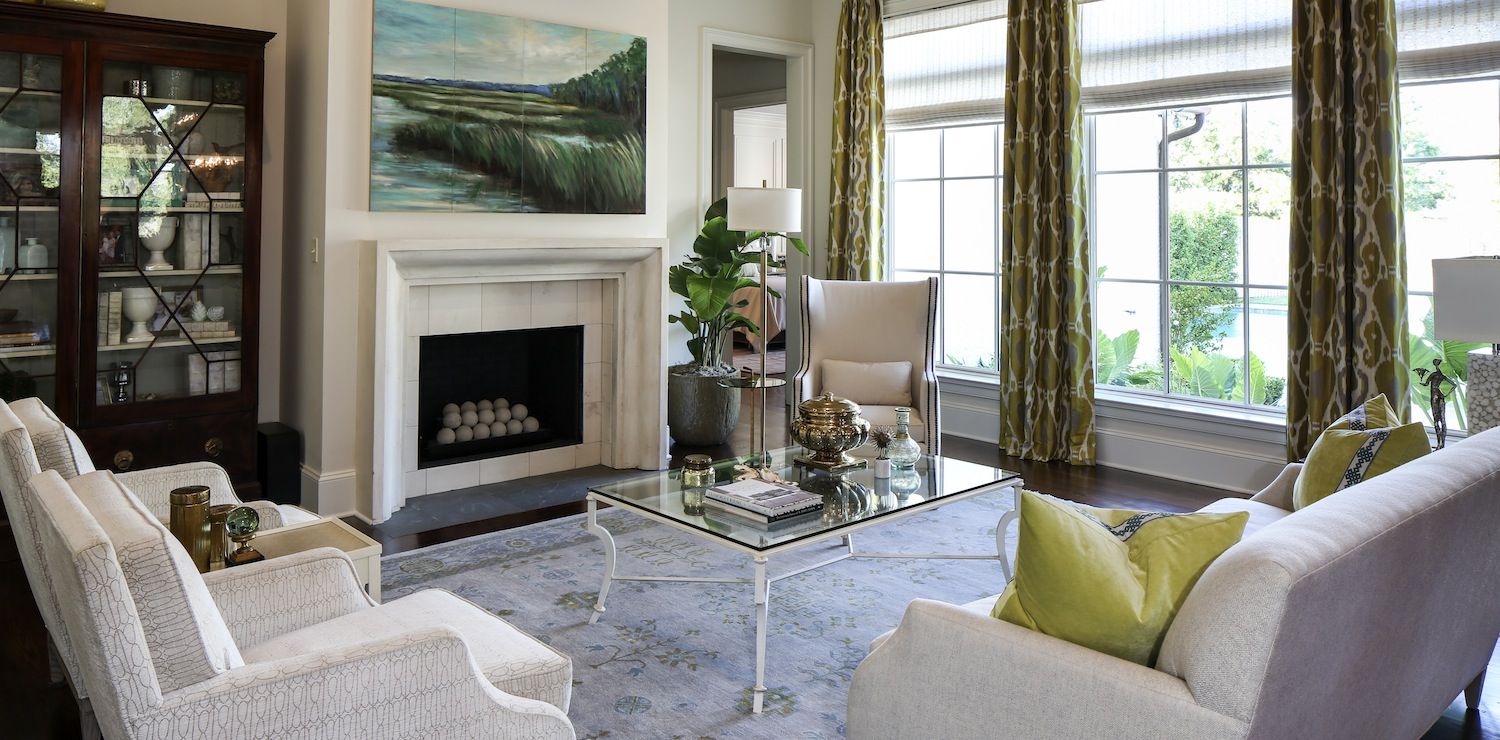 From the ground up: The Uter family home
The Uters commissioned Lafayette artist Kelli Kaufman to paint a marsh scene on four wood panels that conceal a TV over the living-room fireplace. The adjacent antique bibliothèque, one of Ashley's favorite pieces, holds treasures including family photos and shells found on vacations. Photos by Melissa Oivanki.
It took a leap of faith to transform a wooded landscape into the perfect family home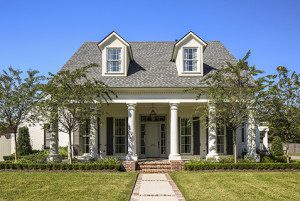 Peering through the treetops on a computer screen, Ashley and Brennan Uter wrestled with their big decision. Should they take a chance on a still-uncleared lot in a new development? Google Earth gave them the aerial view, but it was no crystal ball. Was this finally the place on which they could build the family home they had always wanted?
Though their choice had to be made quickly, thoughts of pulling up stakes had been in their heads for quite a while. "Brennan and I had lived in the Jefferson/Bluebonnet area for 11 years," Ashley says. "We loved the area and found it very convenient. But as our family grew, we needed more space. We looked at some houses, but nothing fit our style—they would all need major renovations."
As it turned out, other neighborhood friends of the Uters were facing the same dilemma. So when a friend of a friend set out to create a new one-street development nearby, they recognized that this was a rare chance. Armed with their Google view, they made a big move.
"We jumped at the chance to stay in our same area but have land to build a custom house," Ashley says. "We did question ourselves a few times for rushing into a decision, because many factors were causing delays on clearing the property and developing it. But what made us keep the faith was that a few families who we liked very much were also planning to build in the same neighborhood."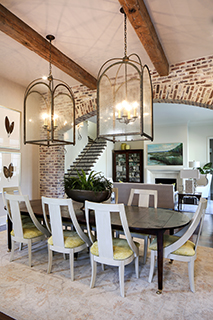 While the Uters waited for all of the infrastructure in the development, dubbed Six Oaks Estates, to be put into place, they met with architect Mark Matthews to design their new home. Ashley was set on a Greek Revival look for the exterior, so the more difficult decisions involved the interior layout. They ultimately opted for an open floor plan centered around a kitchen/dining/living area hub. "These are the spaces where we spend the most time," Ashley says. "I strived to create a cozy home without much separation, in hopes of allowing for plenty of quality time as a family."
Since one of Brennan's biggest hobbies is cooking, the couple brought in kitchen designer Richard Ourso to ensure that their new kitchen would work well for concocting big family meals. They incorporated an 8-foot island that creates a central spot for the family to meet, for the three girls to do homework or help with cooking, and for everyone to comfortably eat.
An outdoor kitchen was also high on the priority list. "We looked at multiple designs and couldn't make up our minds," Brennan says. "Finally the mason and I drew a design on the floor, and they went to work."
Brennan took on the outdoor kitchen project as his own, experimenting with concrete countertops. "They worked out on the first try," he says. "Well, almost! The first counter was upside down."
He cut and formed the tall copper hood over the grill himself, and he and Ashley's father, Dave Hartman, milled the entire cypress ceiling together. For the L-shaped bar, Hartman contributed boards from a McIlroy Swamp sinker cypress log that he had acquired and milled three decades earlier. "This was all great time spent with my father-in-law," Brennan says.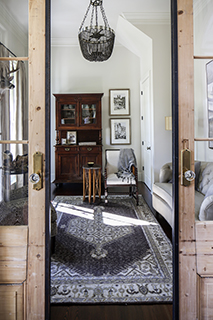 Back inside, Ashley partnered with interior designer Holly Harrison once the house plans were complete. "I liked that Holly let me use my style and directed me on how to add to it," Ashley says. "She has been so vital to our home-building process. I have her on speed dial!"
Holly and Ashley worked on finding the right furniture for more than a year, making sure each piece was in keeping with the couple's style, a comfortable blend of traditional and clean lines. "My style has evolved to seek less clutter over the years," Ashley says. "I definitely enjoy having less than more when it comes to my house. It makes me feel at peace to see things neat and in their place."
The three youngest Uters have their own favorite spots in the new house. Twelve-year-old Emily Ann loves to study and listen to music in her room upstairs, while 9-year-old Addie often welcomes friends to hang out. The youngest, 5-year-old Ellie, prefers to be in the pool whenever it's warm. "The girls know they can clear the table at any time and play a game of bingo with their friends," Ashley says. "Not much is off limits, and the house is livable, for sure."
The family gathers for dinner each night around their new dining room table, taking a moment to talk about something positive from the day. From this vantage point, they can see all around the open areas and admire the details that make their house truly theirs.
"They always say you would change something after building, but we really feel that we took the time and used the right people to get the job done to fit our family's lifestyle," Ashley says. "We are definitely in our happy place."
Click on the photos in the gallery below for a closer look at this home: