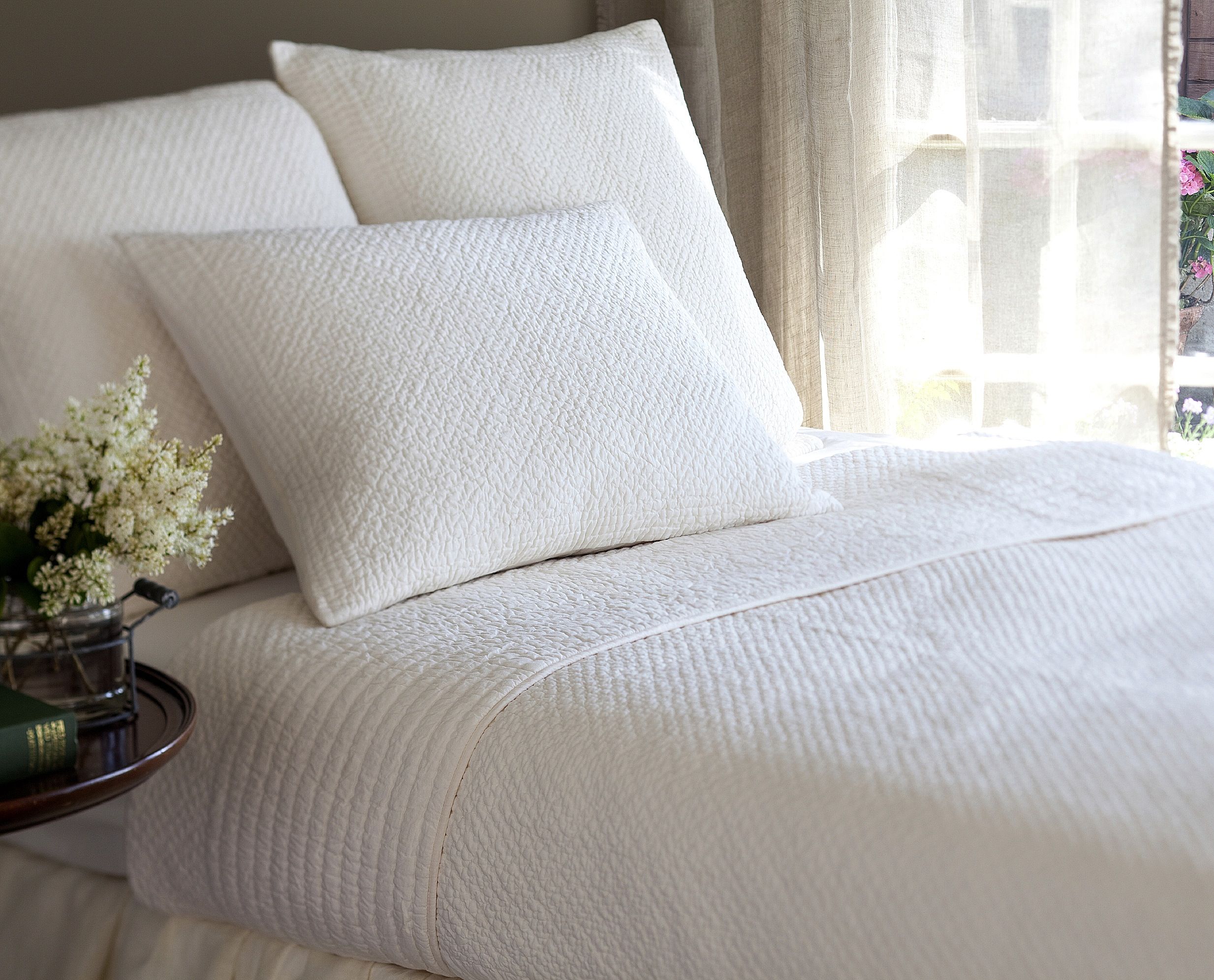 Good to know: The well-made bed
The start of a new year is a good time to reconsider the spot where you spend your sleeping hours. "Putting your bed together is a like a blank canvas, with opportunities galore," says Lazette Phillips of Custom Linens. "We want our clients to look at their bed as a haven to get into every night." Read on for Phillips' advice, in her own words, on everything from the softest sheets to the fluffiest duvets.
Thread count:
When it comes to assessing the true quality of linens, thread count is only part of the equation. It tells how many threads are in a square inch of fabric, but what that number does not reveal is the quality of the threads, the weaving process and, most importantly, what your hand feels. Cotton is categorized by the length of the fiber, and extra-long staple cotton allows the fiber to be spun into much finer, softer and stronger yarns. The product is more breathable, produces less lint, and becomes softer with each laundering.
Weave:
Two basic weaves are used to produce cotton sheeting. Percale is a tight, uniform weave that results in a smooth, crisp feel and a matte finish. Sateen features long expanses of exposed yarns that create softness and a satin-like sheen. There are also jacquard weaves, characterized by complex woven-in designs, and dobby weaves, which have small geometric, textured, woven-in designs such as bird's-eye piqué.
Linen:
Linen is the oldest fiber produced. It has stood the test of time for durability; it resists moths and does not produce lint. It's extremely absorbent, making it ideal for warm climates. But if wrinkles bother you, then the charm of linen sheeting is not for you!
Laundering:
The process of laundering your sheets is of the utmost importance. Always check care labels. Never use fabric softeners or dryer sheets, which coat and weaken fibers, or chlorine bleach, which weakens fibers and can yellow sheets. Always pre-wash new linens to set the threads. A cold pre-soak is suggested with minimal liquid detergent. I advise the use of mild detergents, as harsh ones break down the fibers. The water in our area is very soft, so don't add too much detergent or it will be hard to rinse out. Use cold or warm water for washing and the lowest heat when drying.
Pillows:
Pillows are usually created in three densities—soft, medium and firm—though one of our vendors also offers an extra-firm option. To keep the neck in line with the spine, side sleepers find comfort when using medium to extra-firm pillows, while back sleepers enjoy soft to firm pillows and stomach sleepers are usually most comfortable with soft to medium pillows. The filling, down or synthetic, is a matter of individual preference. Some people feel that down is too warm, while others love it. For those with allergies, a line from Ogallala labeled "hypodown" is a combination of white goose down and Syriaca clusters, which suppress allergens.
Duvets:
We recommend duvets filled with Hungarian white goose down. Construction is very important to ensure there is no shifting of the down. We prefer a baffle box construction. There are different choices in fill power, which is the amount of space that one ounce of down will occupy. The larger the cluster of down, the more space it occupies; it traps more air, making it fluffier and warmer. We feel a 600 fill power is a great start.