Have you ever stayed in a spectacular hotel on vacation and wanted to bring the luxe look back to your own abode? You are not alone. Cutting-edge interior decor often hits the hotel industry first but ultimately trickles down to residential projects with plenty of usable, hard-working products that look fantastic. At the recent Hospitality Design Exposition and Conference in Las Vegas, more than 7,000 designers, architects and developers checked out the latest innovative products of more than 900 hospitality design manufacturers. Although targeted to a different market, the following design elements transfer beautifully to residential settings—with sophisticated results that makes you feel as though you are living in a five-star hotel.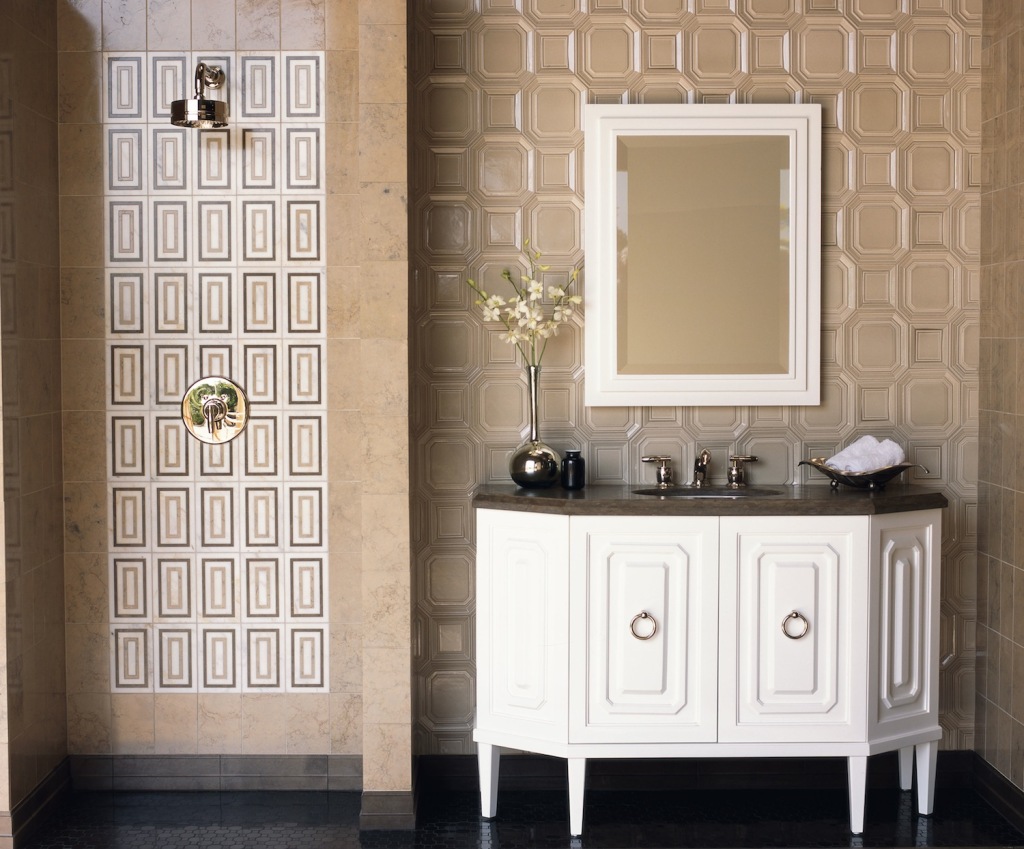 Inspired by Hollywood Regency, Art Deco and Classic Modernism, the bold architectural designs of this tile by Walker Zanger go beyond kitchen and bathroom. Featuring ceramic tiles as large as 18 by 20 inches, this Studio Moderne collection provides tools to create new focal points in the home—using tiles as distinctive pieces of architecture for applications as diverse as a dining room wall, foyer or outdoor patio.
Outdoor decor is just as important as interior design in the hospitality industry, and it should be for homeowners as well. South Louisiana residents spend a great deal of time around pools, porches and patios. Let's make it fun! The furnishings and design elements in these outdoor spaces can be festive and long-lasting at the same time. The planters, seating and whimsical elements make everyday barbecues more of a celebration.
The hospitality industry knows that countertops help create the scene. That's why such care is taken in selecting the right elements to create sophisticated bathrooms and kitchens that wow the guests. This dining area inside Saks Fifth Avenue in Chicago features a recycled glass countertop at the bar that has a translucent effect. It's durable and beautiful. In addition, the recycled glass by Architectural Systems could be used for vanities, cladding and paneling.
Wallpaper has long been a favorite of the hospitality industry due to its durability and style. Today's homeowners—after more than a decade of ripping the paper off walls—are again embracing this design trend. And the modern options are more varied than ever. Metallic wall coverings, like these by Carl Robinson, are the perfect punch in small spaces such as powder rooms. For a striking effect, cover an accent wall with these gilded sensations to ground a large space.
Walls become conversation pieces when they're covered in textured panels reminiscent of ocean waves or geometric designs. That's why Soelberg Industries' unique panels are found in hip hotel lobbies and lounges, where moody lights cast a dramatic glow over their undulating surfaces and set a chic scene for mingling guests. But these panels offer an equally dramatic impact when used on a more intimate scale; try one on the front of a bar or on a focal wall behind an accent table.
Karen Giffel is an interior designer servicing the Capital Region. She frequents design markets and reports the latest trends to inRegister readers. Contact Karen at [email protected].