Designer tip: Shane Griffin on built-in bookcases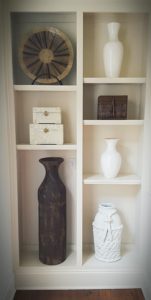 Built-ins can be both a blessing and a curse to a homeowner prone to collecting books or small decor items—maybe even valuable artworks or family heirlooms they like to keep on display. On one hand, they look sharp and polished and keep a space looking open and uncluttered. On the other hand, they can become the exact opposite if too overpowered by the same things they're meant to display.

"My tip would be keep it simple and make it personal," says Shane Griffin, owner of Shane Griffin Designs. "Some homes have a large amount of built-ins, and people often feel the need to fill every inch, which can sometimes can make a room feel cluttered and disjointed. When I work with built-ins, I want there to be a feeling of calm and interest when I'm done."
Griffin offers two schools of thought:
"One—if you have a lot of shelves, remove some of the shelves and try making larger spaces. Keep accessories in similar tones; this will help keep order and draw your eye to the built-in as a whole, and not to each individual piece," he says. "Two—I like to have items the clients have collected, like family photos. Make it a personal reflection of your family without making it looking like a showroom. Unless you want it that way!"
To learn more about Griffin and his designs, visit his Facebook page.