Designer Tip: Dee Keller on Chic Holiday Décor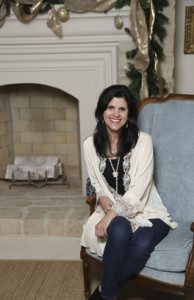 Amidst all the gift-wrapping and cooking and wrangling kids home for the holidays, finding a cohesive way to decorate your home for a party or get-together can often fall to the wayside. That's why we turned to Dee Keller this month for her effortless expertise in all things interior decorating.
Although each person's home has its own style, Keller suggests trying to find color palettes and textures that help luxe Christmas decorations to fit subtly into a home's everyday décor.
"What I strive for is comfort with sophistication," Keller says in our December issue. "I like to mix abstract and contemporary art with traditional pieces. I have a lot of antiques and I like to use them, even if it's not in a traditional way." In other words, no house is too grand or humble—the right décor is simply whatever adds a little spark and variety to the beauty and warmth already present year-round.
To see more photos of Keller's home, check out the article in our December issue, available on newsstands now.