Designer tip: Angela Poirrier runs down trends with staying power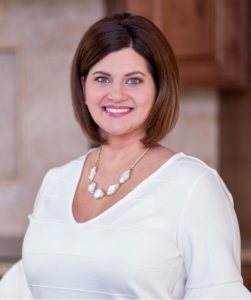 It's easy to indulge in trends when it's as simple as grabbing a few reasonably priced items from the center row in Target. Why not take a chance when the price tag reads a mere $15? However, things become much more complicated when the prices start to rise and the items in question become decidedly more permanent, as is the case with kitchen and bath design. Unlike in other spaces, throw pillows and other small fixes are absent, making larger and more encompassing changes the primary means to create an impact. For Angela Poirrier of Acadian House Kitchen & Bath Studio, the key to updating a space in a way that won't need to be updated again in just 10 years is looking more deeply into trends in order to see what will last both in utility and style for years into the future.
"We have configured a list of top trends for renovations around south Louisiana through experience with clients," explains Poirrier, who will be leading design seminars this Friday, September 7, at 1 p.m. and Saturday, September 8, at 9 a.m., which will focus on renovation design. "The trends I am going to focus on in the seminars are based on what clients ask for most, but also what has worked best."
With years of experience under her belt, Poirrier says the most important thing to remember in approaching any project is functionality. For this reason, honed white quartz countertops are on the top of her list when it comes to lasting trends. The alternative stone choice allows for the achievement of a much-sought-after look without the problems associated with porous stones like marble.
"We've seen natural stone counters in honed and textured finishes for years, but more and more quartz manufacturers are implementing alternative textures into their lines now," she says. "Clients can get the look of a honed white marble but without any of the maintenance of a natural stone."
Taking trends to the walls, Poirrier notes that while subway-tile backsplashes are classic, to add a more dynamic and personalized look, a geometric backsplash is a choice worth taking a chance on.
"Geometric backsplash tiles are an edgy twist on the original subway tile," says Poirrier, noting the popularity of mod styles in everything from clothing to homewares. "There are varied colors and textures in addition to the beautiful sleek edges that create streamlined geometric patterns. Geometric shapes are the perfect way to have a little visual interest without getting too busy."
In her seminars this Friday and Saturday, Poirrier will go through her entire list of trends, with the help of brand experts and other special guests. In addition, Poirrier will also be going through the three steps of the renovation process that ensure you invest in a space that will suit both your aesthetic and practical needs.
"We are partnering with Baton Rouge Emergency Aid Coalition for this seminar, which comes on the two-year anniversary of the 2016 floods," says Poirrier, noting that guests will be able to make donations to the organization during the events. "We just wanted a way for us to lend our expertise and give back to the community. By putting tons of resources together in one room, we hope we can help answer questions and make the whole process of rebuilding less stressful."
For tickets to the seminars, as well as more information, visit the event page here.