From the December issue: Erin Debosier Tew's SPACES creates a vision for homeowners
In art, certain people are gifted with "the vision." They can visualize the perfect proportions, angles and color combinations they want before even setting brush to canvas. For most people, however, to appreciate art and to choose the art they want to display, they must first see it.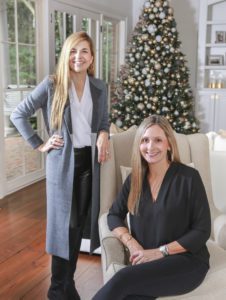 So it is with interior design, as Erin DeBosier Tew discovered in her first experience in remodeling someone else's home. Taking three downstairs bedrooms and an upstairs master bedroom and completely flipping the configurations, Tew was able to grant Val DeBosier's new home in the Country Club of Louisiana a more functional and inviting layout.
"I know what I like, but I need to see it," says DeBosier. "Erin drew the new layout on graph paper to show me how it could be done."
In working under the discerning eye of DeBosier, Tew recognized a need for homeowners who don't necessarily have "the vision" to see their design options before making big decisions.
Erin recently closed her home and seasonal décor store Red Door Interiors, but says she was excited to take on a new adventure. This month, she is bringing her concept of creating a vision for homeowners to life with the opening of her design finishing showroom SPACES.
Traditional, Classic European, Seaside, Modern Farm and Factory, Cosmopolitan and Modern Organic: by creating a variety of design scenes for customers, Erin hopes to help others find their inspiration and articulate how they want their home to look and feel. She brings lighting, floor coverings and furniture together to show homeowners in person how potential elements can work together to create a look.
"It was very hard for me to make the decision to close Red Door. It was started in my backyard," says Erin. "But I had finally come to a place where I realized it was OK to go in a new direction. And working on this project made me realize that there is a need to take away the design mystique for people who may not have the vision."
Take a look inside Tew's visionary showroom SPACES tonight, December 14, at its Southdowns Village location from 5 to 8 p.m. during the store's grand opening celebration. And to read more about the renovation process of Val DeBosier's home and Erin's soon-to-open showroom SPACES, read this article from inRegister's December issue, on newsstands now.