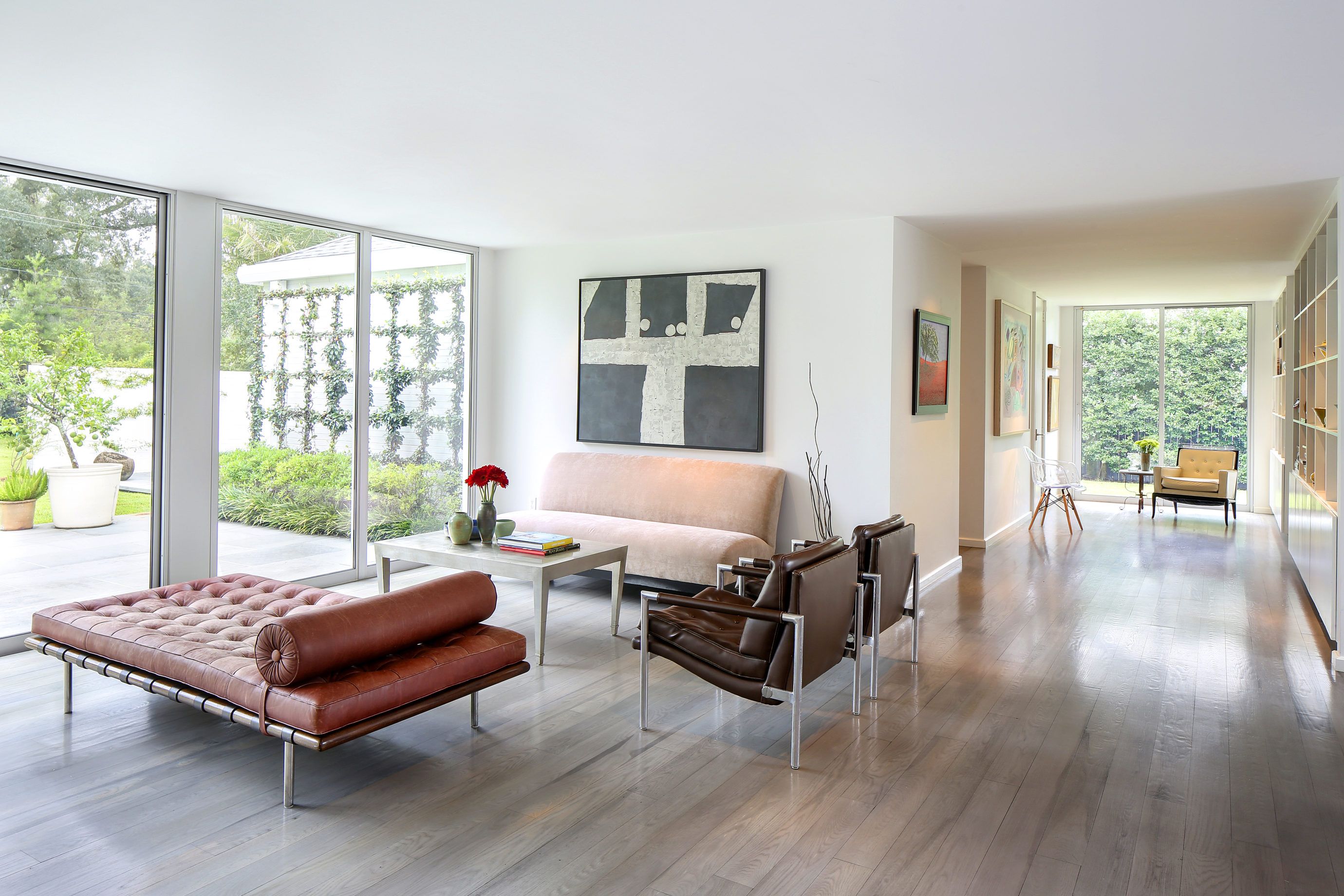 Clear vision: Glass walls and lush views at a Meadow Lea home
---
Low-slung ceilings made the choppy rooms seem even darker, with minimal natural light trickling in from dated, sliding glass doors. The ranch-style house was pretty typical of one built in the 1950s, but the potential to create something current and personal in the space was significant. Think great bones, great corner lot, great established neighborhood. That's why homeowners Price Mounger and Jim Grieshaber didn't let a few load-bearing walls deter the reconstruction of their recently purchased Meadow Lea house.
"I love a good sledgehammer, says Price, smiling. "Improving a house is so much fun."
And where others see only problems, Price and Jim recognize potential. They have a long history of wielding sledgehammers and ripping a place to the studs. This is the fourth home refurbishment for this duo; albeit the 18-month renovation proved to be the most extensive they've tackled so far. They tore through many interior walls to create an open floor plan while many exterior walls were replaced with floor-to-ceiling glass to let in ample light. They took the 3,200-square-foot house down from four bedrooms to two, allowing for more space in the living quarters. And although the 8-foot ceilings couldn't be raised—the former flat roof is still solidly in place beneath a pitched roof—the entire house reads wide and airy, light and bright.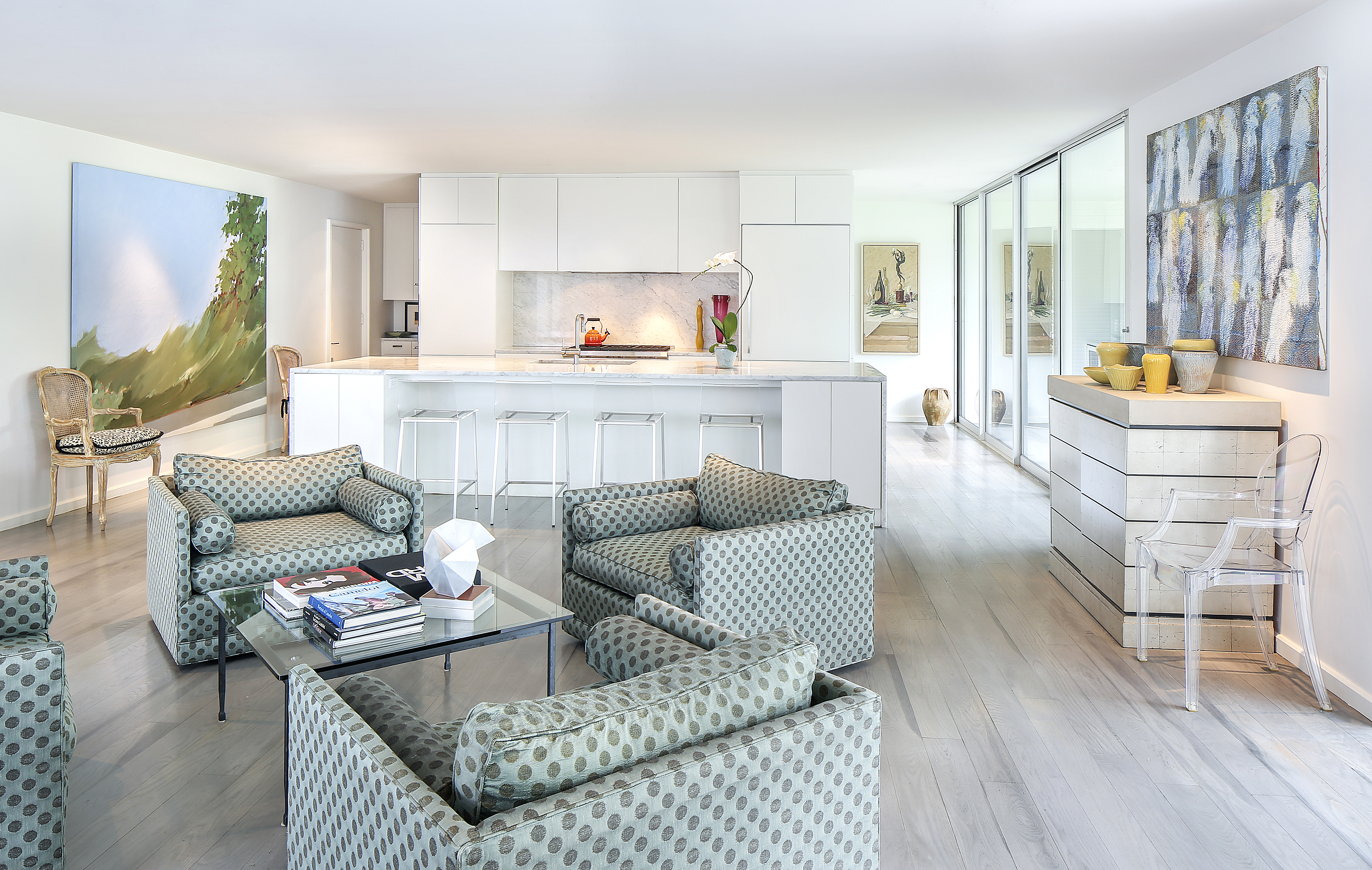 "We wanted to open it up so we could really see everything. We gutted the house, installed glass windows and doors, then we walled up the property to create privacy," says Jim, noting that the construction of the windows stalled the completion of the project. "We had to get rid of the timeline. Once you get rid of the timeline, then there is no stress."
They turned to Jim's brother Eric—an architect with The Hopkins Company in New Orleans—to create a vision for the renovation, as well as a game plan. He's the one who replaced every exterior wood wall with glass and created a kitchen that—thanks to minimal hardware and well-placed, out-of-sight appliances—blends seamlessly with the open-concept living areas. That left Price and Jeff plenty of room to place furniture and art collected over the years.
"The house absolutely told us what to do," says Jim. "We wanted it to be warmer than standard modern design. It has a vintage vibe."
Indeed, the antique furnishings that once saturated a home they shared in New Orleans mostly have been replaced with handcrafted pieces with a midcentury modern aesthetic. They both agree that the less furniture in the space the better. And while oversized soft goods aren't cluttering up the open floor plan, artwork without a solid wall on which to hang is stacked up in a back room, ready to rotate into the fold.
"I think that most people decorate with furniture," says Price, looking around at the pieces in his house. "I decorate with art."
Price has a penchant for Southern creatives, and has collected works by Elemore Morgan Jr., George Dunbar, Lin Emery, Ida Kohlmeyer and Hunt Slonem to name a few. He surrounds himself with pieces he loves, pieces that have a story and a history. Which is why he enjoys knowing the craftsman who made his dining room table as much as he loves knowing the history of the street on which he now dwells.
"We loved the style of the neighborhood and the style of the house," says Price. "We did not even consider tearing it down and starting over. We like history."
Instead, Price and Jim extended a tall brick wall around the property and personally planted trees and landscaping to enclose the glass house into a private retreat. They recently added an outdoor kitchen that mimics their interior sensibility and style. Now during many cool evenings in the fall and the spring, they can be found outside with the glass doors open to the elements.
"It's nice to take something not perfect and give it new life and make it better," says Price. "And it's great to see the finished product. Renovations are a lot of work, but we love the process."
---
See more photos from this home in our gallery below: