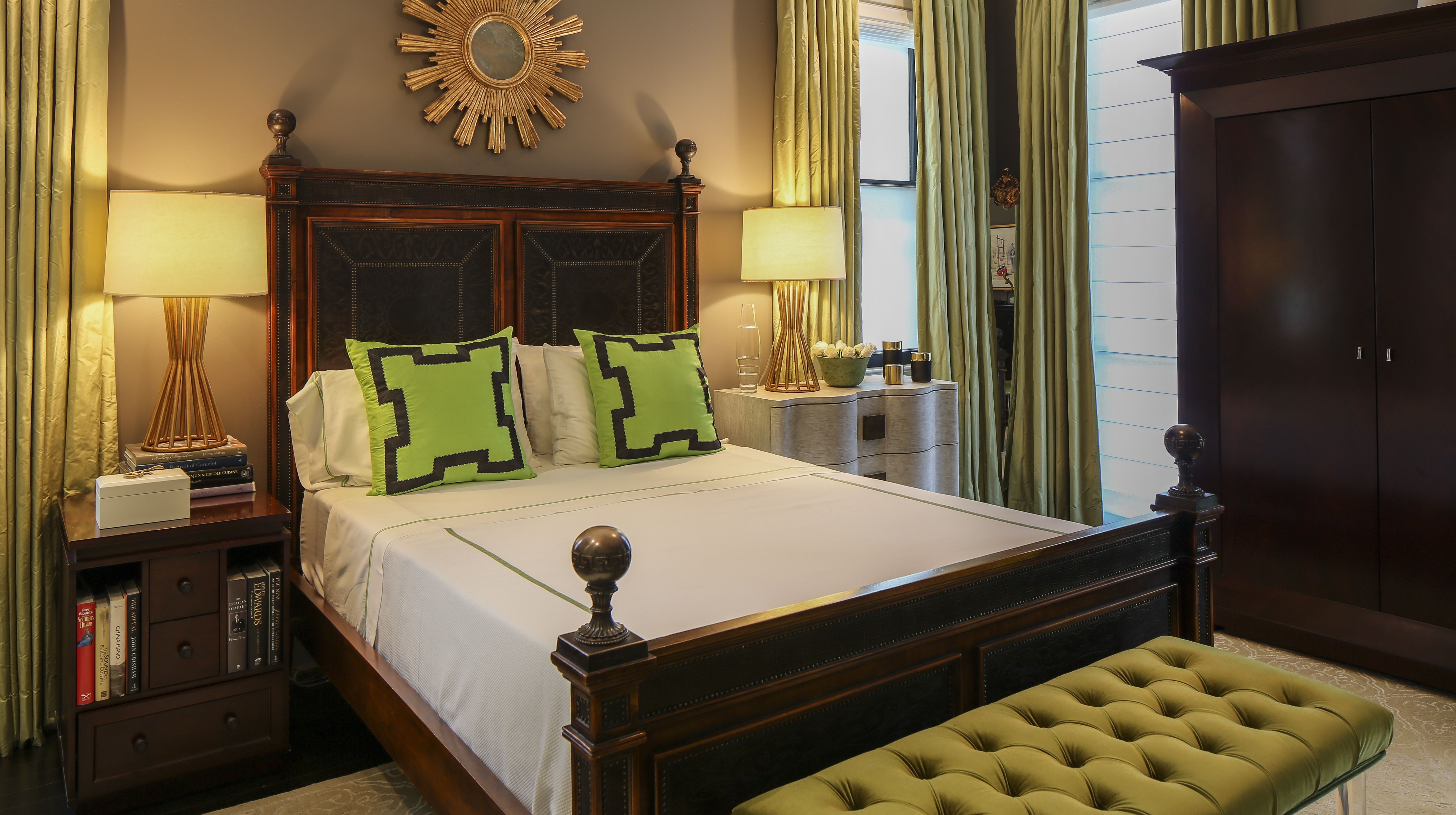 Capitol gains: A sleek Spanish Town renovation
A moody gray hue on walls brings warmth to the master bedroom, while bits of bright contrast come in the form of chartreuse curtains and a tufted bench. Unmatched bedside tables in contrasting styles suggest "his" and "her" spots. "Design is nothing more and nothing less than a composition," says interior designer Ty Larkins. "It's all about balance." Photo by Melissa Oivanki.
Within walking distance of their day jobs as lobbyists, Cheryl McCormick and Derrell Cohoon enjoy a home with history
A shared passion for politics makes long days spent inside Louisiana's Capitol rewarding for Derrell Cohoon and Cheryl McCormick. But when Friday evening comes around, this husband-and-wife team of lobbyists takes a different view of the towering building—as seen from the steps of their home in Spanish Town.
"The view of the Capitol grounds at night is spectacular," says McCormick. "Every Friday, unless it's so hot we can't stand it, you'll find us on the front porch drinking our glasses of wine and talking to our neighbors."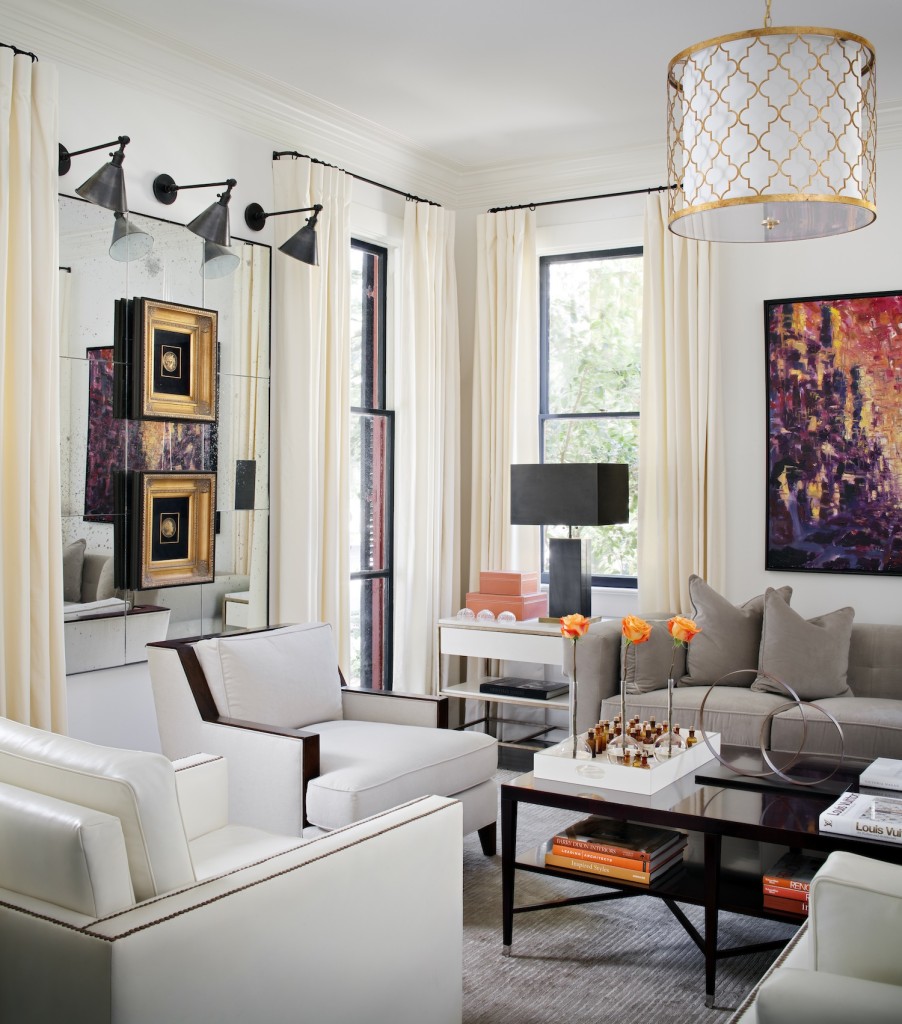 Considering the couple's careers, it's fitting that their house has its own connection to Louisiana political history. While the details are a bit murky, it is believed that it was built in the late 1800s by Baton Rouge Mayor Robert A. Hart, who was also a developer and would later own Magnolia Mound Plantation. The house changed hands several times over the years before Cohoon and McCormick discovered it in 2000. "We wanted to be downtown, and we found out about this house before it went on the market," McCormick says. "Once we saw it, that was it."
A decade after moving in, the couple reached out to interior designer Ty Larkins for help reworking their kitchen and den. But Larkins had bigger ideas. "He had a vision for the entire first floor," says McCormick. "When we saw that vision, it became ours as well."
Larkins' idea involved uniting all of the rooms with a sophisticated, urban ambiance that would work within the home's historical context. "They wanted a New York, Upper East Side style of life—elegant modern," he says. "Not futuristic modern, not funky. Elegant."
To that end, Larkins conjured new touches like columns between the entry and living room and overscale mirrors as a nod to mirrored walls often found in city-dwellers' cramped apartments.
"My broad task was essentially to update the architecture in a more modern 21st-century kind of way without destroying the built-in character of this old relic," Larkins says.
Another goal of the redesign project was to better showcase the couple's extensive collection of Louisiana art, which Larkins says "somehow did not live up to its full potential" within their existing décor. He started by painting walls in a crisp white—Benjamin Moore's "White Dove"—to offer a gallery-like backdrop for paintings. To heighten the drama, the original wood floors were stained in a nearly black Jacobean shade.
Showing off the details of each colorful painting also required a new approach to lighting. "There was no lighting in the ceiling, except for in the dining room," says McCormick. "We had been told you can't put recessed lighting in these old houses. Well, 45 recessed lights later, I can confirm that it definitely can be done. And to me, that has transformed the house."
As per the couple's original request, the kitchen was a major focus of the renovation. "We didn't want a table and chairs anymore," McCormick says. In its place, they got an oversized bar with stool seating and plenty of storage beneath.
The room retains the overall black and white palette but with an unexpected infusion of warmth from a pair of custom copper and brass hanging light fixtures. "They had copper pots before," says Larkins. "This gives them that same feeling but in a more interesting way."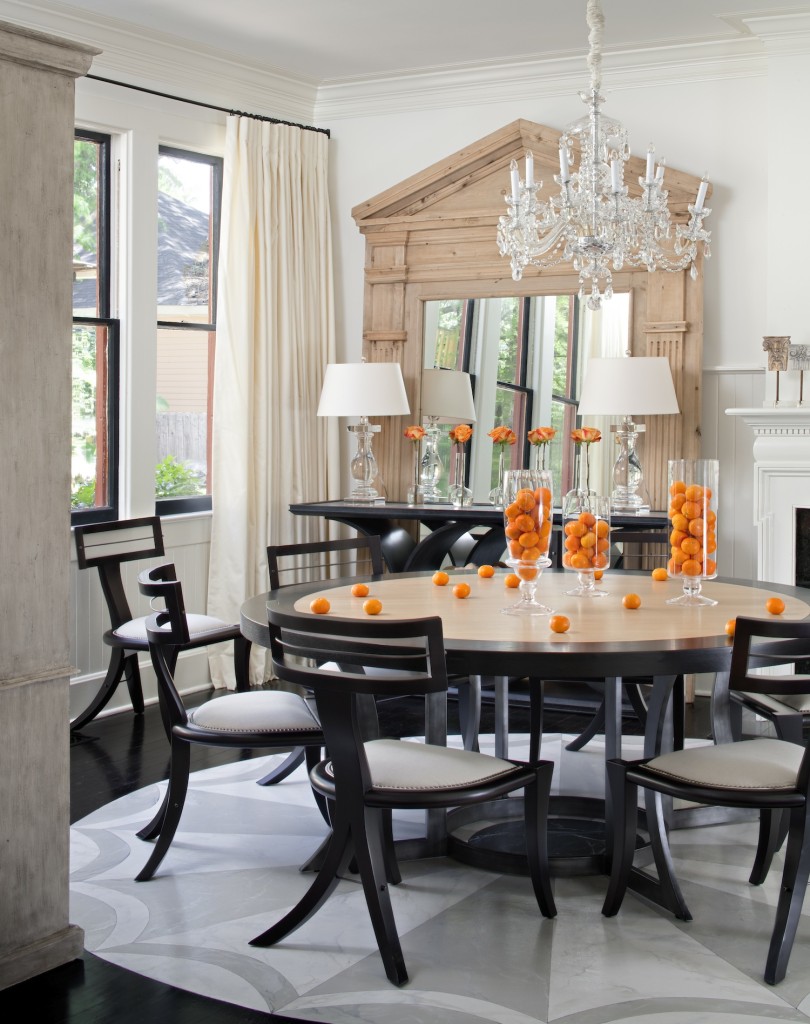 With its deep gray walls, the master bedroom is the only room that deviates from the stark white vibe. Here, masculine dark wood pieces are balanced by delicate choices including a white vanity table and a bench with clear acrylic legs. "I tried to go back and forth, juxtaposing different elements to make it all come together," says Larkins.
Because the houses here are so close together, Larkins frosted the panes of the master bedroom's side windows to provide privacy while still letting in the sunlight. "That's another idea we borrowed from apartments in New York, which are often very near each other," Larkins says. "The side windows are not visible from the street, so it allowed us to do that without taking away from the curb appeal."
Even with all the interior changes, the couple claims the new rear deck and the front porch as two of their favorite spots. Like their Spanish Town compadres, they welcome the opportunity to greet friends and passersby and take advantage of a Southern lifestyle from a bygone era.
"Derrell likes to say we have front porches and we know how to use them," McCormick says. "We know our neighbors and they know us. It's the best of both worlds—it's like our own little community but just steps away from the epicenter of our wonderful city. We wouldn't live anywhere else."
Click on the images in the gallery below for a closer look at before and after photos of this home: