10 questions with Studio C co-owner Greg Vernice
Retail spaces are typically thought of as places where people solely go to purchase goods, but recently many retailers have begun to incorporate relaxation and services into their shops to make consumers feel like they are shopping within the comfort of their own homes. Studio C is a local example of this trend. This blended space consists of a gallery, interior design studio and a retail shop that offers a wide variety of goods but also provides shoppers with a cup of coffee and comfortable place to sit. After owning a few home furnishing stores in New York City and traveling to Costa Rica to find their signature relaxed design aesthetic, Studio C owners Greg Vernice and Damien Boisvert brought their design and retail experience to Baton Rouge. To learn more about Studio C, we sat down with Vernice to learn more about the business.
---
1. What is a typical day like for you and your team? Office hour is in the morning, when we plan out what the day will look like, set up the beverage station, that sort of thing. In between customers, the day is spent working out merchandise displays; we do a lot of rearranging. Our aim is to always make the store feel fresh. Any down time is spent working on our own range of products or chasing down artists or makers we have discovered.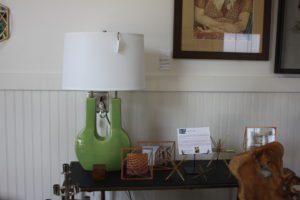 2. What is your professional background? How did you get into the retail field? I think it is in my blood. When I was very young my aunt and uncle owned a store, and one of my favorite things to do was to go and help them clean and rearrange the shelves. Even after I finished design school, the first thing I did was open a shop.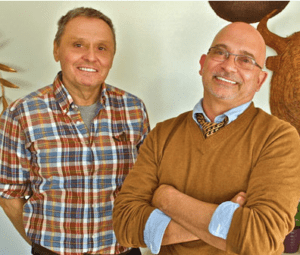 3. What was your reason for starting the company? When did it launch, and how has it grown or changed since then? Being new to town, we needed a showcase to present our rather idiosyncratic take on interiors to potential clients. We are now in our third year. We think of the store as a hybrid design studio and general store–a gathering place that happens to sell things, so we will continue to evolve by doing more events, such as book signings. Our "Provisions For Living" department, which is contained in one room, has been popular beyond our expectations and is constantly being expanded; that section is going to be stuffed to the rafters come fall. Look out for more practical items and hard-to-find tools such as tube wringers, wick trimmers and jars of matches.
4. What are the first things people see when they enter your store? A curated vignette in which we bring together aspects from all sections of the store.
5. What sets your store apart? Editing. We are all about a mix with a distinctive viewpoint.
6. What is one thing you think customers should know about your company that they might not be aware of? That we actually got our start in The Foyer on Perkins Road. We still maintain a satellite shop there today.
7. How do you keep your store's inventory fresh and up to date? We shop by all means possible: trade shows, online magazines and blogs, referrals, day trips to shows or festivals, you name it. We are travelers, so that is definitely reflected in our offerings.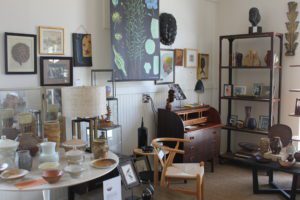 8. Can you share a hint about what shoppers will see in your store next season? Well, aside from the fact that every month is a new season for us, we have over the years been putting together a collection of vintage portraits. They are an obsession. By the fall we hope to have a mini full-fledged portrait gallery.
9. What are a few must-have items this season? We are crazy about a new handmade pieced cowhide and viscose rug we found in a grayish palette. The pattern is Moroccan in feel. We will also be featuring a lot of home textiles with an earthy, hippyish vibe.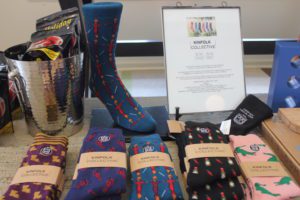 10. What are a few of your best-selling products? We have become well known for our selection of well-priced barware and glassware, both new and vintage, and people love our various candle ranges and anything Louisiana. Interestingly enough, our current best-seller is an item we weren't sure was a right fit for us at first: socks! Our customers love the boldly patterned socks from Bonfolk Collective, formerly Kinfolk Collective, out of New Orleans. They come in seven patterns: voodoo dolls, crawfish, hot sauce, jazz, LSU, Saints and alligators. We seek out local products as much as possible, and we like Bonfolk's mission. For each pair of socks sold, one pair is donated to a homeless shelter.