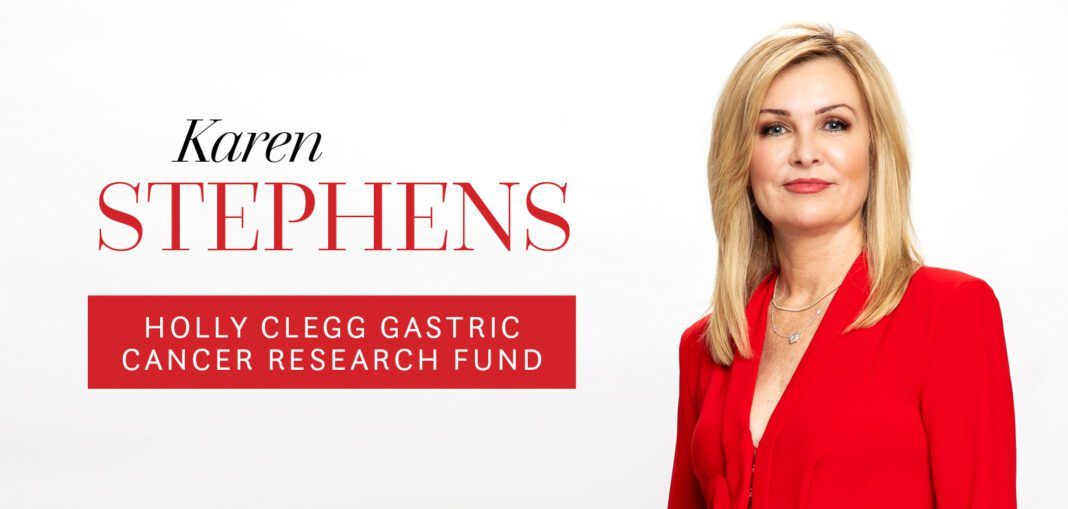 Women with a Cause 2023: Karen Stephens

---
---
"My job is easy because all I have to do is say 'Holly Clegg' and people jump into action."
That's the magic of Clegg's continued influence on Baton Rouge, says Karen Stephens, whose efforts at the helm of the Holly Clegg Gastric Cancer Research Fund pay tribute to the late, beloved chef and cookbook author whose words often graced the pages of inRegister before her passing in November 2019. Founded by Clegg in the aftermath of her diagnosis in August 2018 and carried on by her family and her friend Stephens, the fund devotes all money raised to the MD Anderson Cancer Center for gastric cancer clinical trials, an under-researched and underfunded area of study due to the relative rarity of the disease.
"Holly and I met 25 years ago, and there was just an instant bond," says Stephens. "Her family was generous enough to let me journey with her through the very end, visiting her during her treatment in Houston and during her hospice care in Dallas. She was the kind of person to think about others, even on the day she got the worst news of her life. On the day she found out she would enter hospice, she knew what she wanted to do—she wanted to start a nonprofit and begin helping other people."
Stephens rallied with family and friends—referred to as #TeamHolly—to host the first annual fundraiser for the cause in August 2019, an extravaganza with hundreds of guests inside the Varsity Theatre, where multiple bands performed and local chefs presented their best dishes. Every aspect of the event, says Stephens, was donated in full due to universal admiration for Clegg, who attended the event in person to thank guests for their efforts and lend words of hope for the future.
Later given the title "Whisk Away Gastric Cancer" in reference to the small whisk charm Clegg often wore on a necklace, the fundraiser's social aspects retreated to the back burner during the first two years of COVID-19, but came back again to the Renaissance Hotel in 2022 for a multi-course dinner prepared by several local chefs.
"We've already been seeing some success with clinical trials we've helped fund, as well as peer-reviewed publications, which are important parts of evaluating the scientific merit of the studies," says Stephens.
With $600,000 raised during the past few years, the team behind 2023's Whisk Away Gastric Cancer looks forward to another strong turnout—all for a friend lost too soon, and for others who continue to suffer from the disease.
"It's just our love for Holly that keeps us going," says Stephens. "I promised her then that I would do this. I will continue this fight."
---
Quick Glance:
What do you love about the volunteer efforts that you do?
It's a promise I made to Holly. I was viewing the journey firsthand, and Holly was so positive and upbeat—my tolerance for complaining is zero after watching what she went through and how she did it with no complaints. I know how hard of a journey gastric cancer is, and I want in on anything that helps people battle that.
What is something we don't know about your cause?
Gastric cancer is rare. It's not like breast cancer, which doctors tend to know what to do with. They know what kind of chemo to give you; they know the protocol. But they're still trying to figure out the protocol for gastric cancer. Holly only experienced symptoms for five days before her diagnosis, which is why these clinical trials are so critical.
For more info, visit facebook.com/TeamHollyHealthyCookingBlog.